Adrien Barrère (1874-1931) produced a series of lithographs of the Professors in the Faculties of Medicine and the Law, four of the former and two of the latter. Barrère printed the plates himself and sold 420,000 over a period of twenty-five years and provides an informal glimpse into French medicine of the early 20th century
Information provided on the caricature cast is based on the original work of orthopaedic surgeon Mr David Le Vay MS FRCS and his 1971 publications in The Practitioner
The fourth and final Barrère lithograph was been produced around 1910. Surgery is well advanced into the modern era, judging by the clutter of instruments in the foreground and the fact that the larger group on the left, all surgeons, are wearing over-shoes.
From left to right the personalities depicted are as follows:
(1) Bernard Joseph Cunéo (1873-1944), holding an unrecognizable organ, was surgeon at l'Hôtel-Dieu; member of the Académie nationale de médecine (1933). 
(2) Antonin Gosset (1872-1944), holding a liver and forceps, was a pupil of Terrier and continued his work in asepsis.
(3) Pierre-Alfred Duval (1874-1941), in profile with a cigarette, was a surgeon and obstetrician.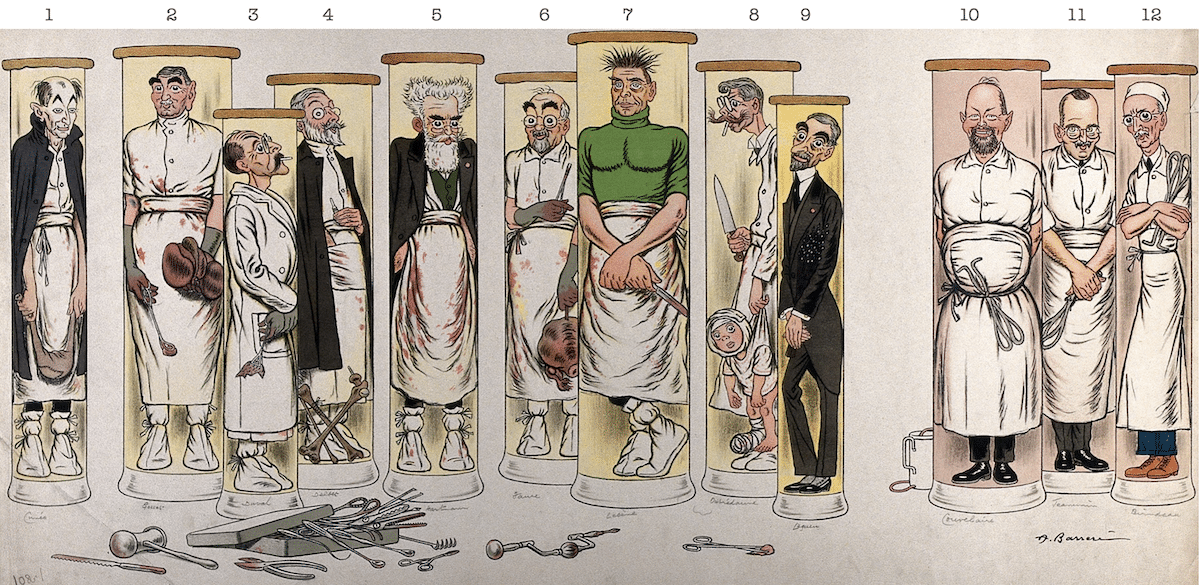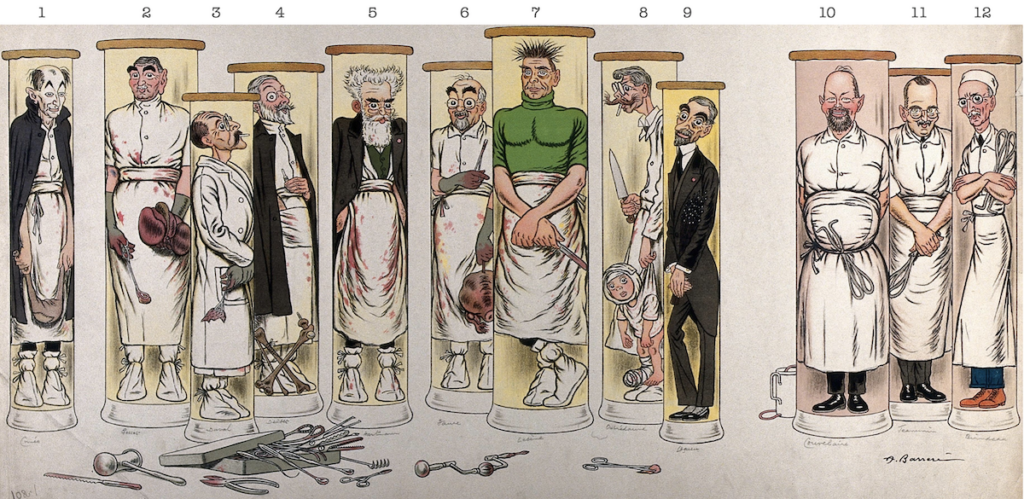 (4) Pierre Delbet (1861-1957), a very distinguished man, part surgeon and part artist. He was Professor of Clinical Surgery at the Hopital Laennec by the age of 30 and an academician in operative medicine from 1921. He wrote a treatise on general surgery and did work on aneurysms. He invented the Delbet plaster for Pott's fracture and he has a crossed tibia and femur with him in his jar, and the femur has a pin in its neck.
(5) Henri Hartmann (1860-1952), with white hair and beard, was Professor in Operative Surgery at the Hopital Bichat, an academician in surgical pathology from 1918 and President in 1936. He was also a member of the surgical section of the Medical Society of London.
(6) Jean-Louis Faure (1863-1944), holding a uterus and adnexa impaled on a corkscrew, was gynaecologist at the HOpital Tenon, an academician in surgery and obstetrics from 1924, and author of works on hysterectomy, history and psychology.
(7) Paul Hippolyte Victor Lecène (1878-1929), green-shirted Frankenstein's monster carrying a bloody knife…
(8) Louis Ombridanne (1871-1956), shown rather maliciously in profile with a knife, dragging along a helpless bandaged child, was mainly interested in paediatric and plastic surgery. His name often appears in the older orthopaedic literature, for he was interested in leg-lengthening and the surgery of poliomyelitis and scoliosis.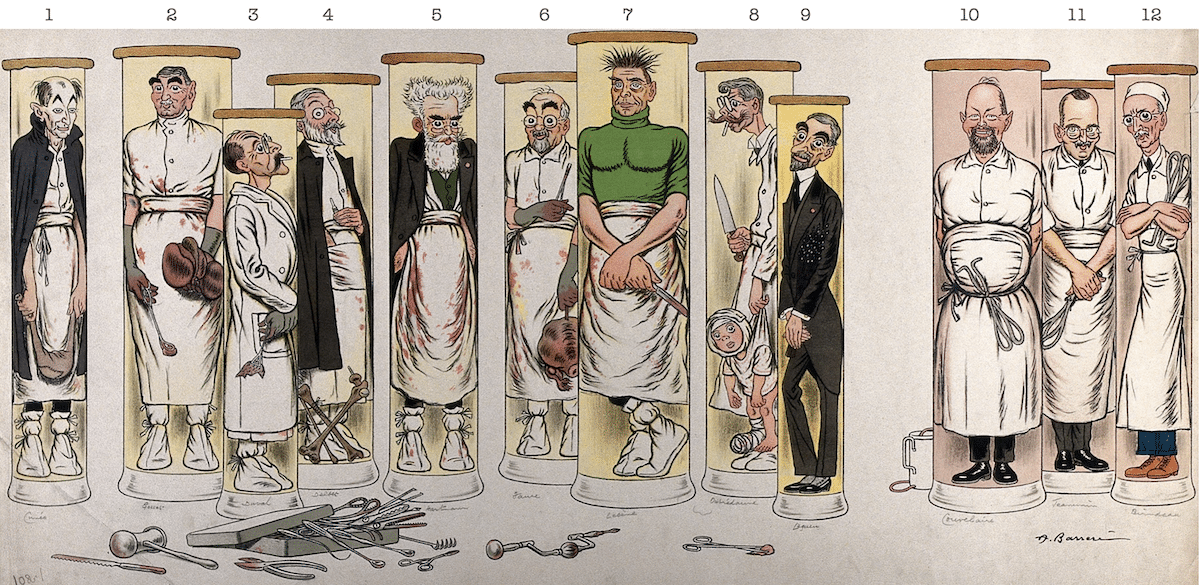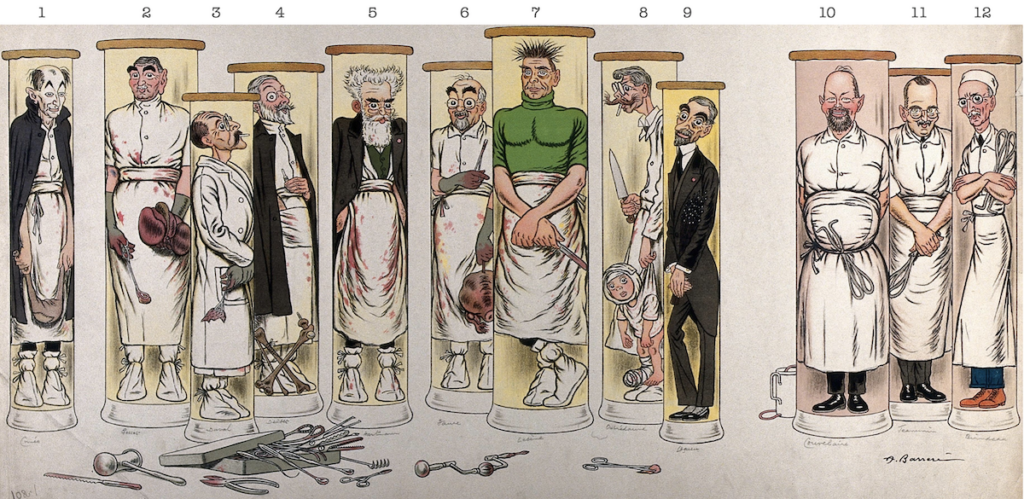 (9) The small dapper man in the dark suit is Felix Legueu (1863-1939), a genitourinary surgeon
The lithograph ends on the right with a trio of obstetricians:
(10) Alexandre Adrien Marie Couvelaire (1873-1948)
(11) Cyrille Jeannin (1874-1947)
(12) Auguste Marie Joseph Victor Brindeau (1867-1955)
---
References
Original image
LITFL Lithograph series
Review articles
---
---
eponymictionary
the names behind the name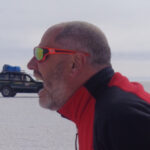 Prof. Nicolas Peschanski currently works as a Consultant in Emergency Medicine at the Urgences Adultes-SAMU-35 SMUR, Centre Hospitalier Universitaire de Rennes. Nicolas does research in Emergency Medicine at U1096 INSERM EnVI Normandy University research Unit. He's Associate Prof. teaching Clinical Medicine and Emergency Medicine at Rennes-1 University School of Medicine. Involved in the #FOAMed development, he is a current member of the french Society of Emergency Medicine Guideline Committee.
Associate Professor Curtin Medical School, Curtin University. Emergency physician MA (Oxon) MBChB (Edin) FACEM FFSEM Sir Charles Gairdner Hospital.  Passion for rugby; medical history; medical education; and asynchronous learning #FOAMed evangelist. Co-founder and CTO of Life in the Fast lane | Eponyms | Books | Twitter |