Adrien Albert Athanase Baneux (1874-1931) was a was a French medical caricaturist, poster artist and painter in Paris during the Belle Époque
Baneux went by the pseudonym Barrère and details of his life are sparse. A perpetual student, at various times he studied both medicine and law but qualified in neither.
Instead Barrère discovered that he had a profitable talent for witty drawings and this soon came to absorb him. He turned to illustrating and particularly to the art of caricature, also designing a large number of posters for Parisian cinemas and Grand Guignol.
Best known for his humour and caricatures, notably in satirical newspapers such as Fantasio, Le Rire (Rouge) and L'Assiette au beurre, his war sketches nevertheless occupy a singular place in his career.
---
Biography
Born on November 13, 1874 in Paris, baptised Adrien Albert Athanase Baneux
1914-1918 active during the War as an artist at the front and produced 'L'Album du Poilus' containing 125 drawings
1929 – exhibited at the Salons des Humoristes
Died on May 5, 1931 in Paris
---
Medical Caricatures
Barrère produced a series of lithographs of the Professors in the Faculties of Medicine and the Law, four of the former and two of the latter. These were printed by Barrère himself and sometimes col­oured by hand. They were produced in the Latin Quarter of Paris and he sold 420,000 over a period of twenty-five years. A seventh medical plate was created, but he decided against publishing it.
The caricatures are faithful and at the time deemed to be a fair depiction of each physician or professor, most associated with some insignia of his particular discipline. Above all they are accurate as Barrère had first hand acquaintance in the lecture-room or operating theatres.
A detailed description of each of the lithographs can be found on their respective pages from the link in their title below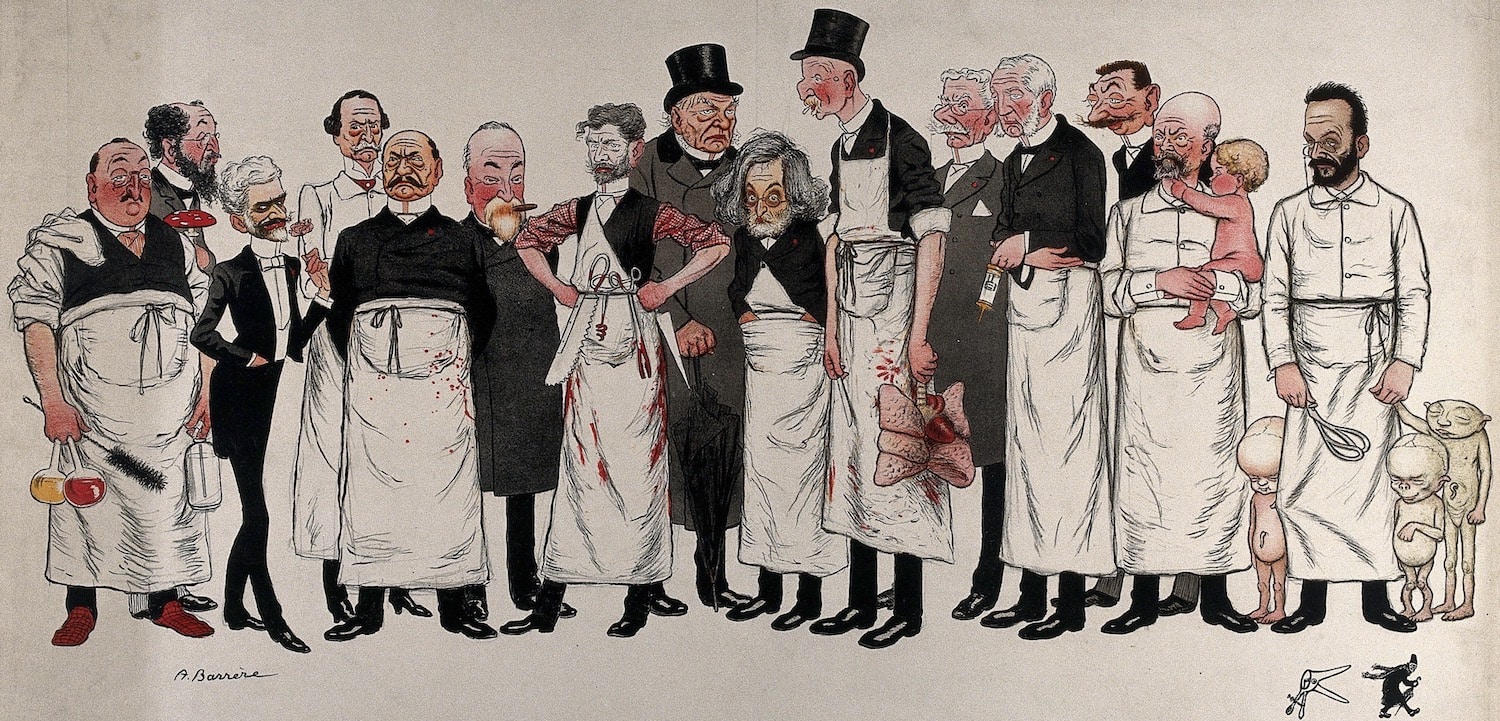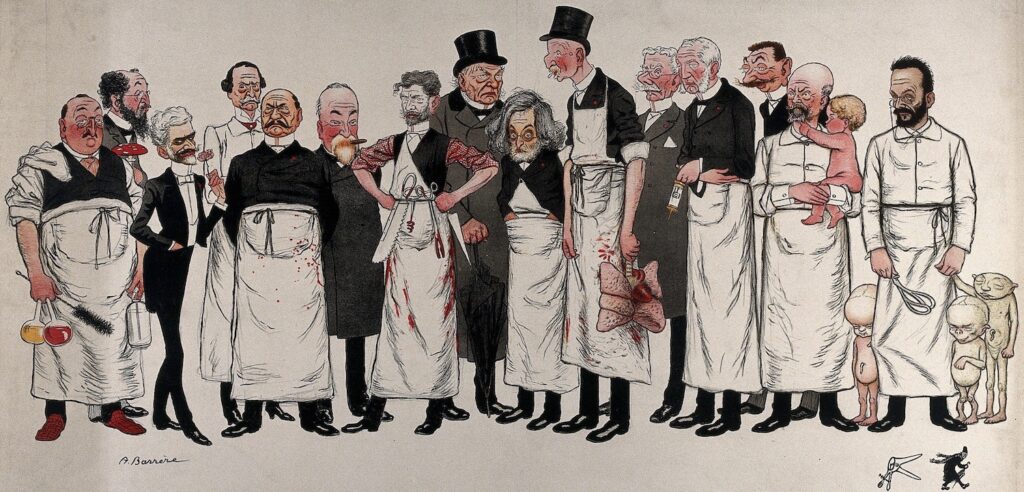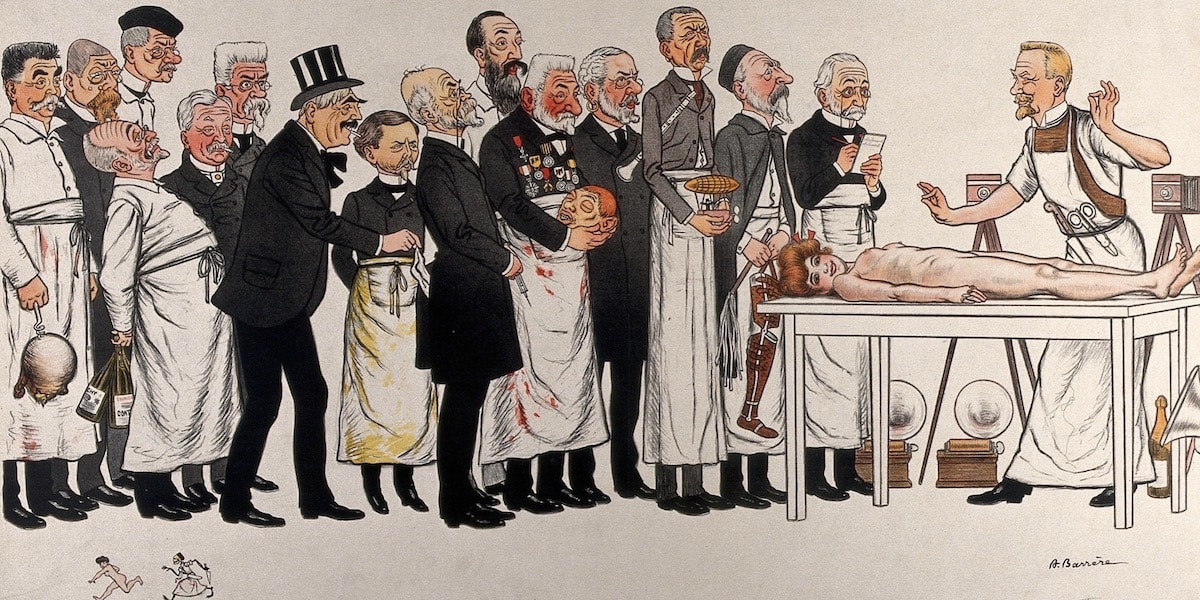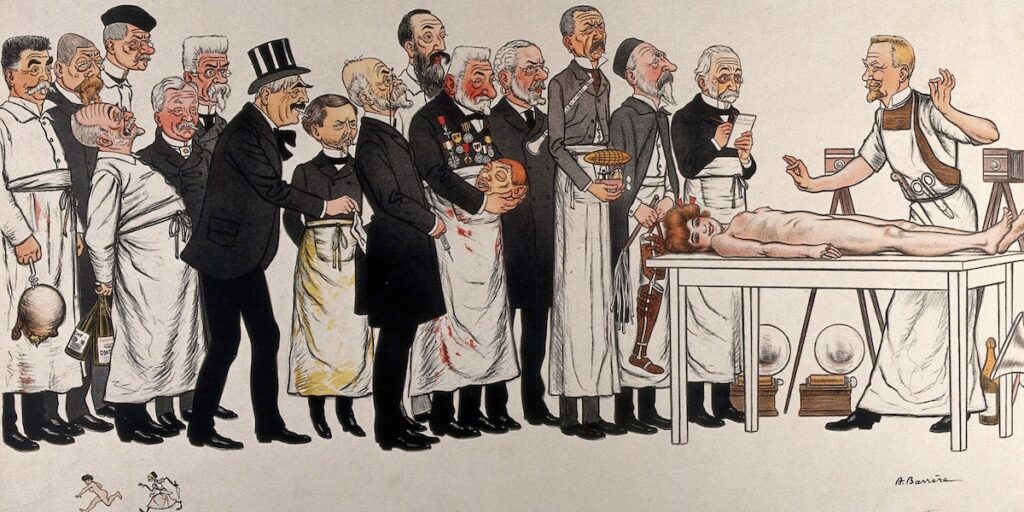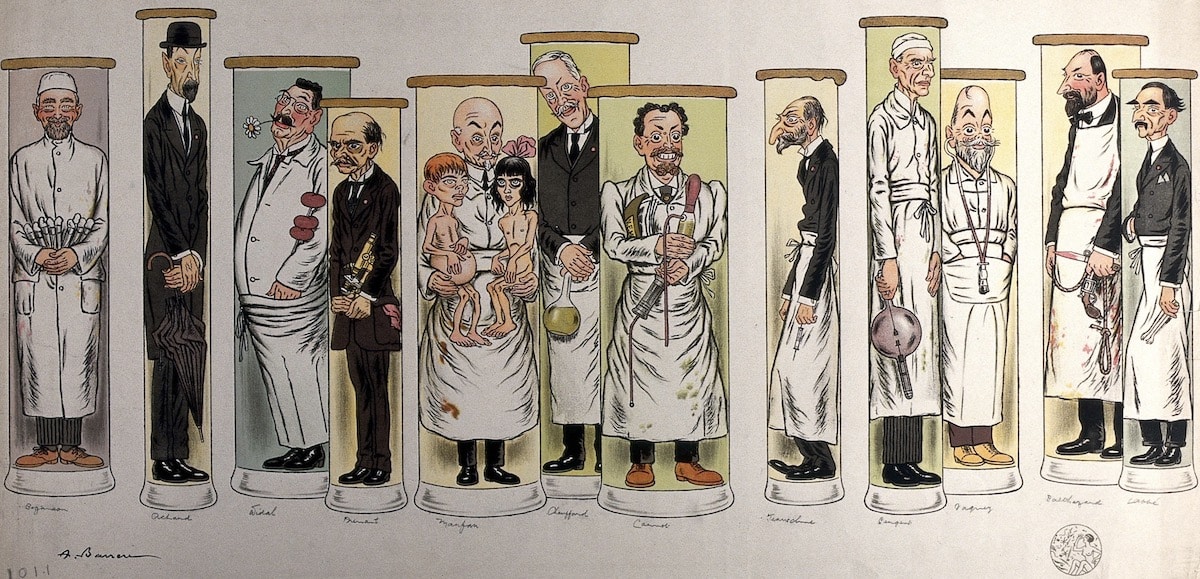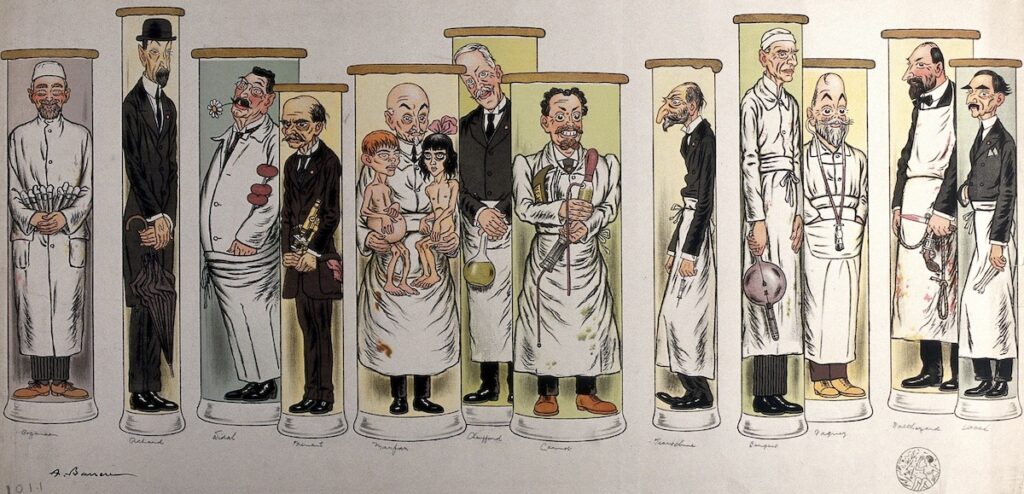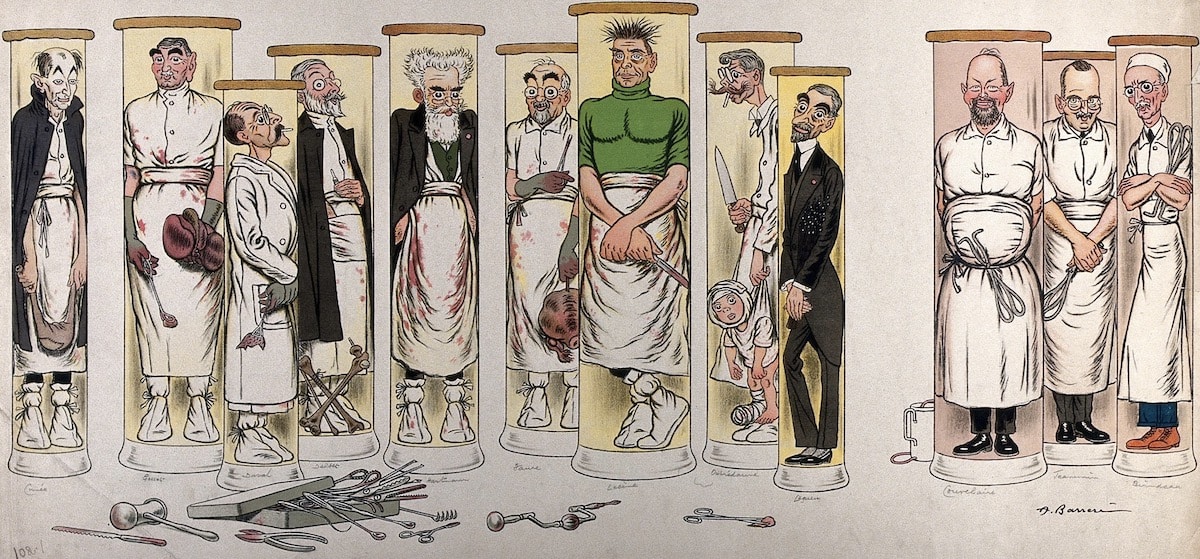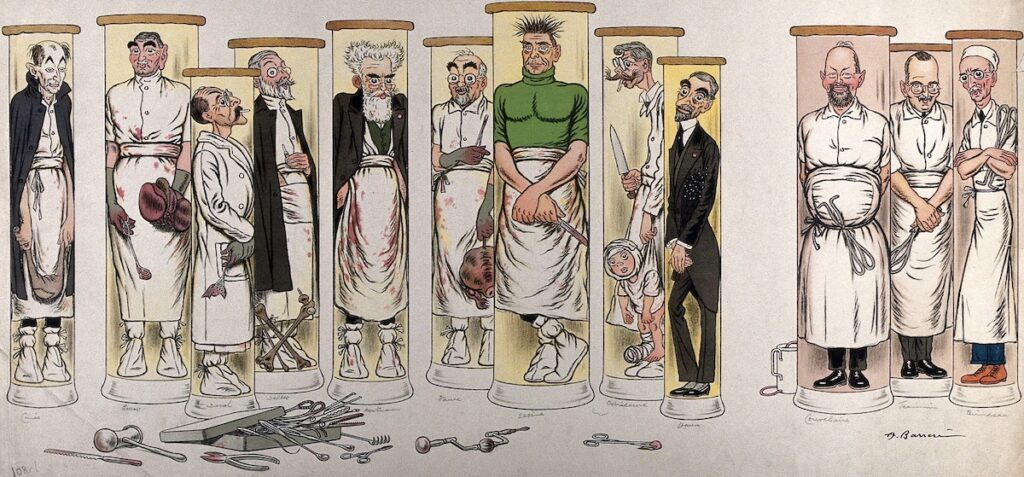 ---
Barrère and the Great War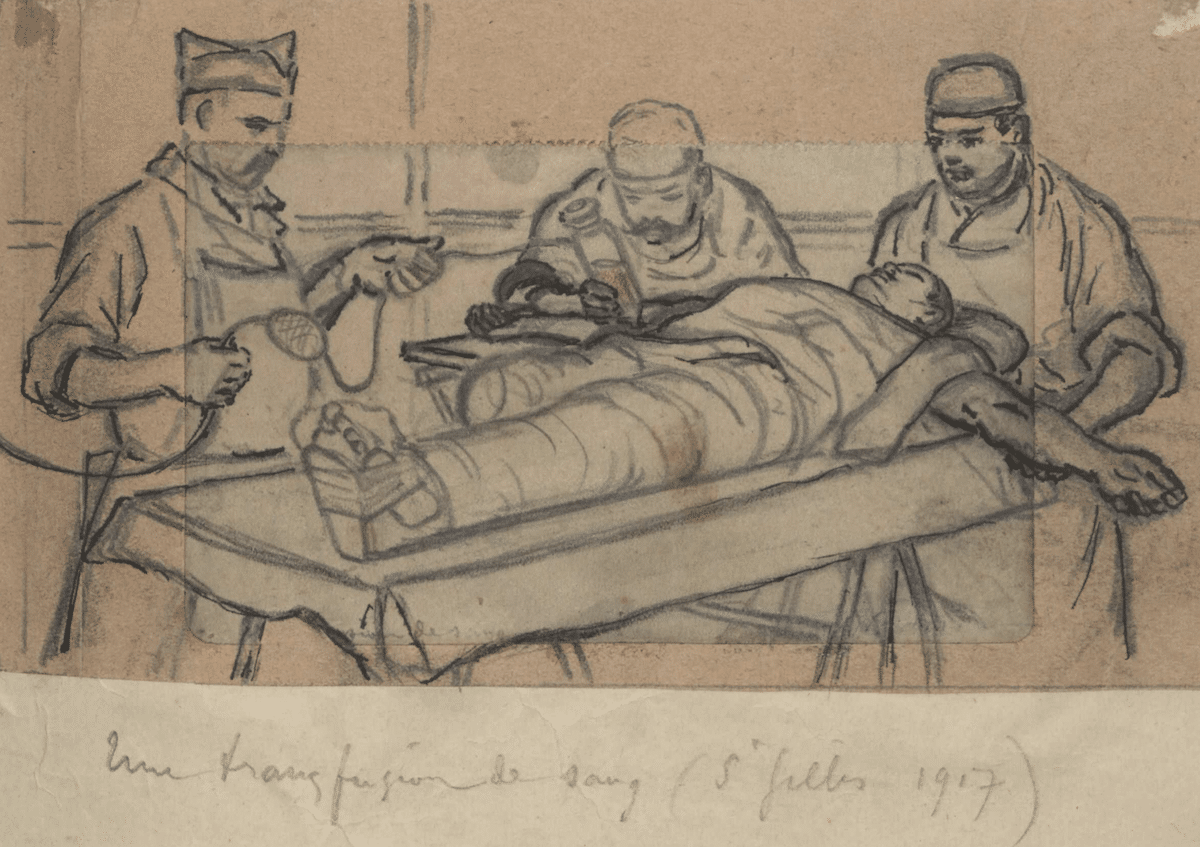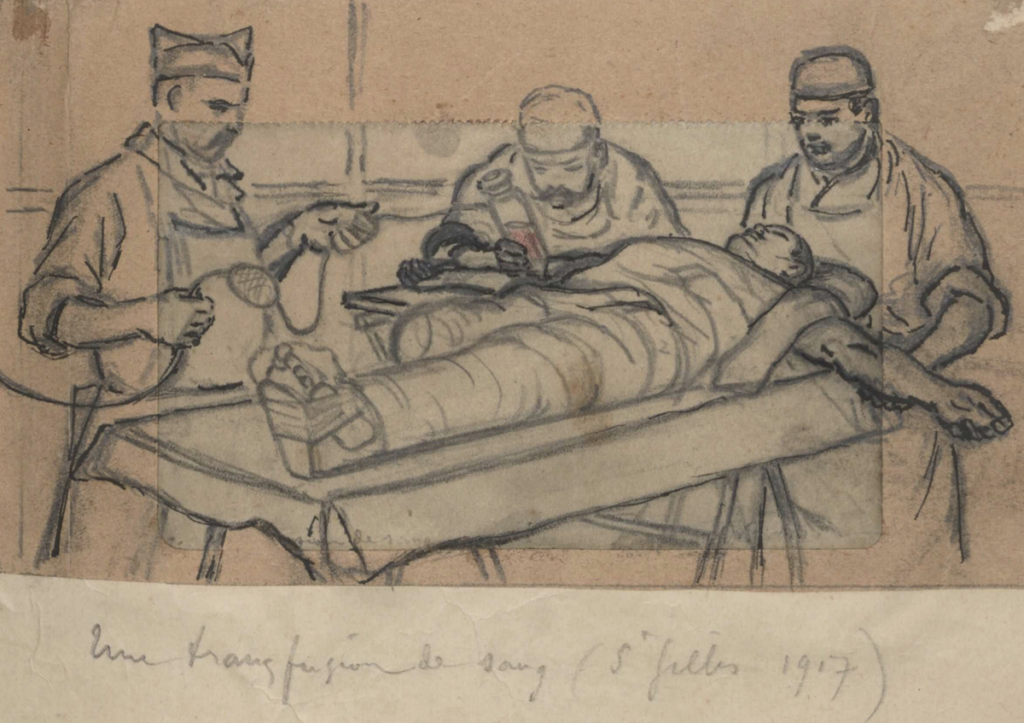 Barrère was fascinated by medicine and the doctors and nurses he met. He aptly recorded war medicine, and the avant-garde and innovative techniques which evolved during the war such as blood transfusion, IV infusions, radiography, psychiatry, etc.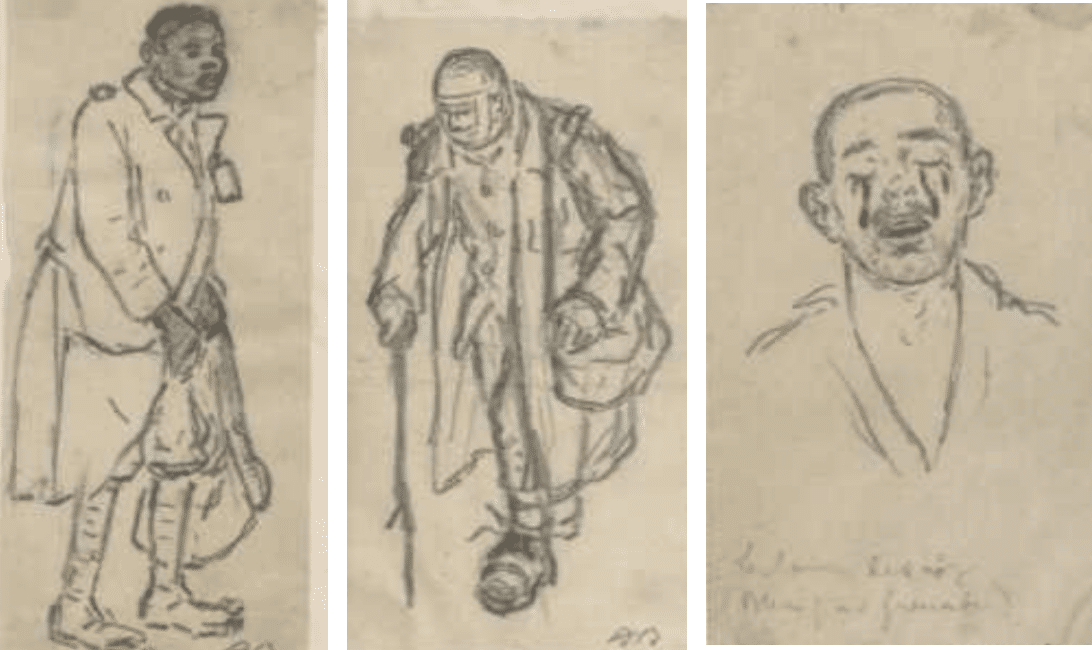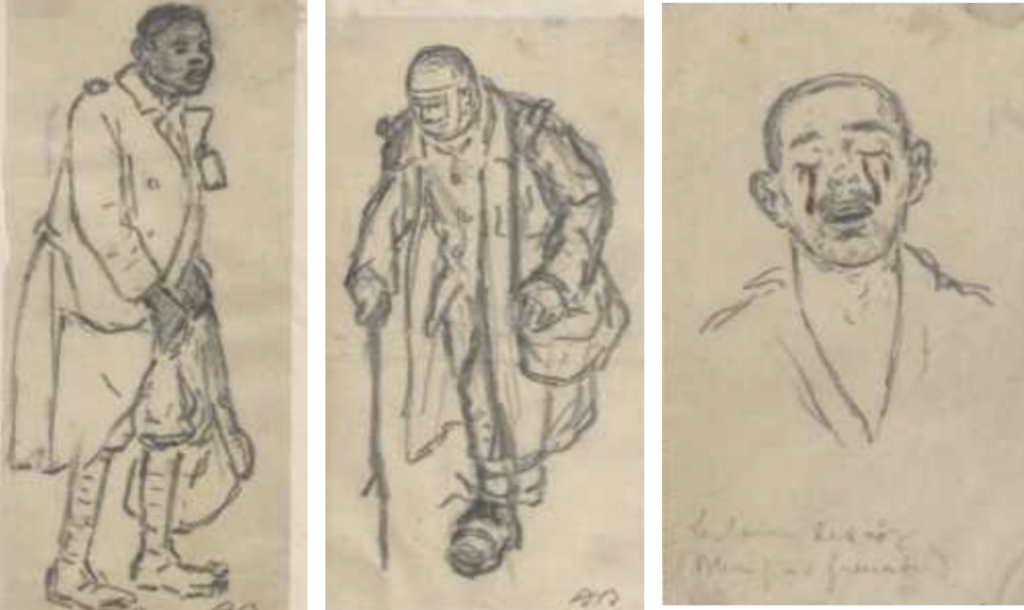 Barrère sketched quickly, capturing a snapshot on the battlefields, in the trenches, in field hospitals and on airfields. The faces are drawn with striking realism: they are serious, tortured by both physical and psychological pain that cannot leave anyone indifferent to the suffering.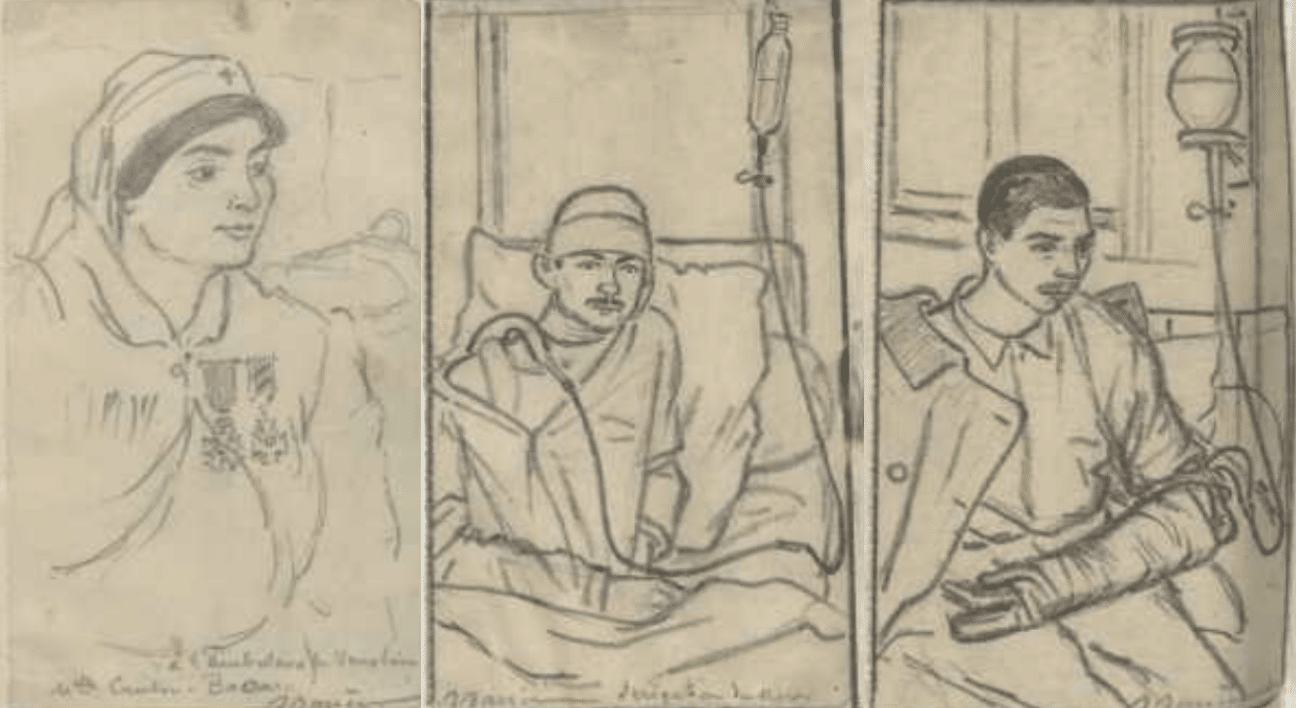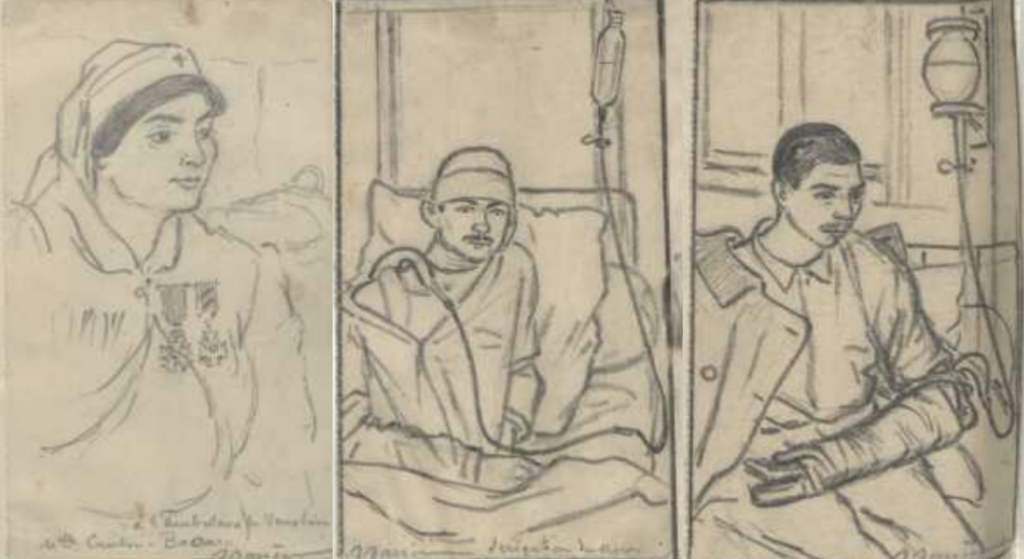 The sketches are an exceptional testimony to the daily life of the soldiers, the living conditions, and equipment, with a particular focus on medical care, which evolved a lot during the war. The sense of synthesis and observation of the artist brings a striking realism to the whole and encourages us to the duty of memory.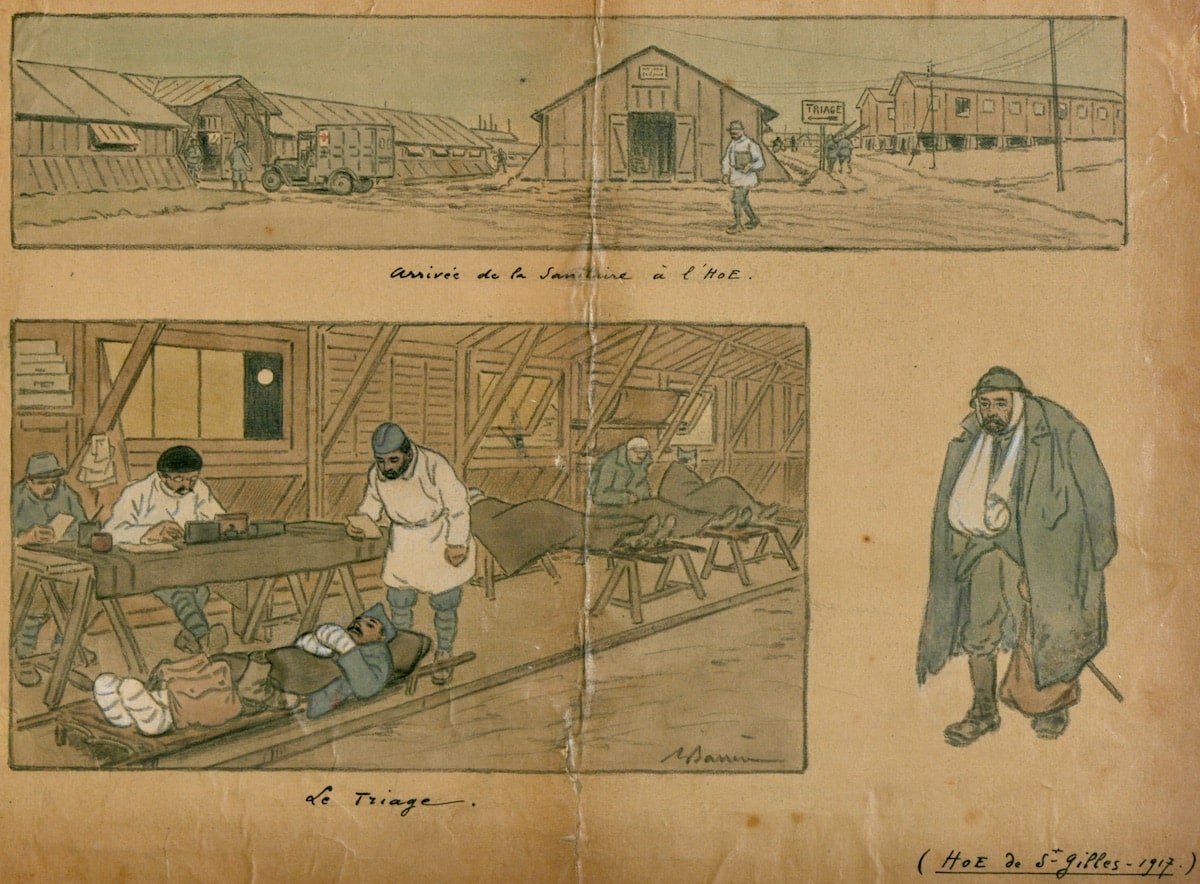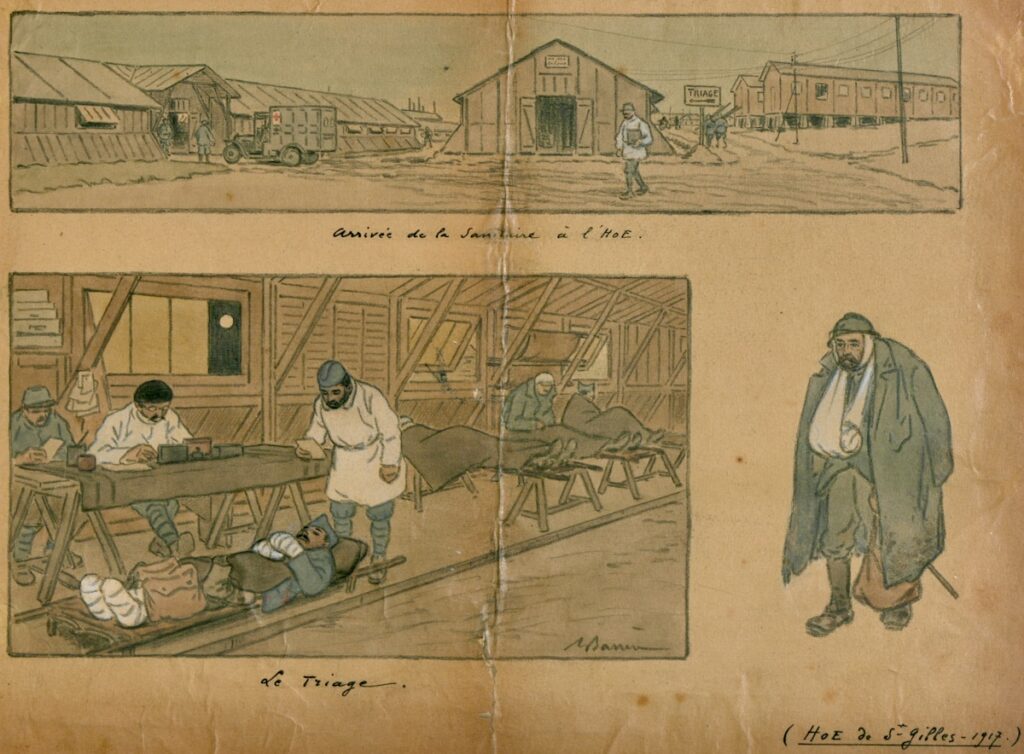 ---
Major Publications
---
Controversies
Adrien Barrère

is the Pseudonym of Adrien Albert Athanase Baneux
---
References
Biography
LITFL Lithograph series
Peschanski N, Cadogan M.

A vivid grouping (1903). LITFL
Peschanski N, Cadogan M. Sixteen French doctors (1906). LITFL

Peschanski N, Cadogan M.

Twelve Professors of Pathology

(1910). LITFL

Peschanski N, Cadogan M.

A Cluster of Surgeons

(1910). LITFL
Eponymous terms
---
[cite]
---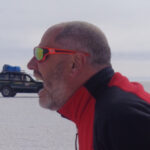 Prof. Nicolas Peschanski currently works as a Consultant in Emergency Medicine at the Urgences Adultes-SAMU-35 SMUR, Centre Hospitalier Universitaire de Rennes. Nicolas does research in Emergency Medicine at U1096 INSERM EnVI Normandy University research Unit. He's Associate Prof. teaching Clinical Medicine and Emergency Medicine at Rennes-1 University School of Medicine. Involved in the #FOAMed development, he is a current member of the french Society of Emergency Medicine Guideline Committee.
BA MA (Oxon) MBChB (Edin) FACEM FFSEM. Associate Professor Curtin Medical School, Curtin University. Emergency physician, Sir Charles Gairdner Hospital.  Passion for rugby; medical history; medical education; and asynchronous learning #FOAMed evangelist. Co-founder and CTO of Life in the Fast lane | Eponyms | Books | Twitter |