Adrien Barrère (1874-1931) produced a series of lithographs of the Professors in the Faculties of Medicine and the Law, four of the former and two of the latter. Barrère printed the plates himself and sold 420,000 over a period of twenty-five years and provides an informal glimpse into French medicine of the early 20th century.
Information provided on the caricature cast is based on the original work of orthopaedic surgeon Mr David Le Vay MS FRCS and his 1971 publications in The Practitioner
The first of Barrère's drawings is likely to have been produced around 1903. It includes a grouping of fifteen French professors wearing aprons and holding various instruments. There is a tiny vignette in the bottom right-hand corner showing Father Time menaced by a proctoscope.
From left to right the personalities depicted are as follows:
(1) André Chantemesse (1851-1919), Professor of Hygiene and member of the section of public health of the Academy. He wears an apron and carries flasks, a brush and a siphon. He made important discoveries in bacteriology. Along with Georges Fernand Isidor Widal (1862-1929) he described the dysentery bacillus; and demonstrated the pathogenicity of coliform organisms that did not ferment lactose. Chantemesse wrote on the relations between mosquitoes and yellow fever, flies and cholera; and in 1907 he immunized horses with dead typhoid bacilli and used their serum to treat patients.
(2) Gabriel Pouchet (1851-1938), carrying a spotted fungus, was Professor of Pharmacology and Materia Medica and member of the section of medical chemistry and physics of the Academy from 1917. He directed the National Public Health Laboratory and wrote on pharmacology, toxicology and medico-legal subjects.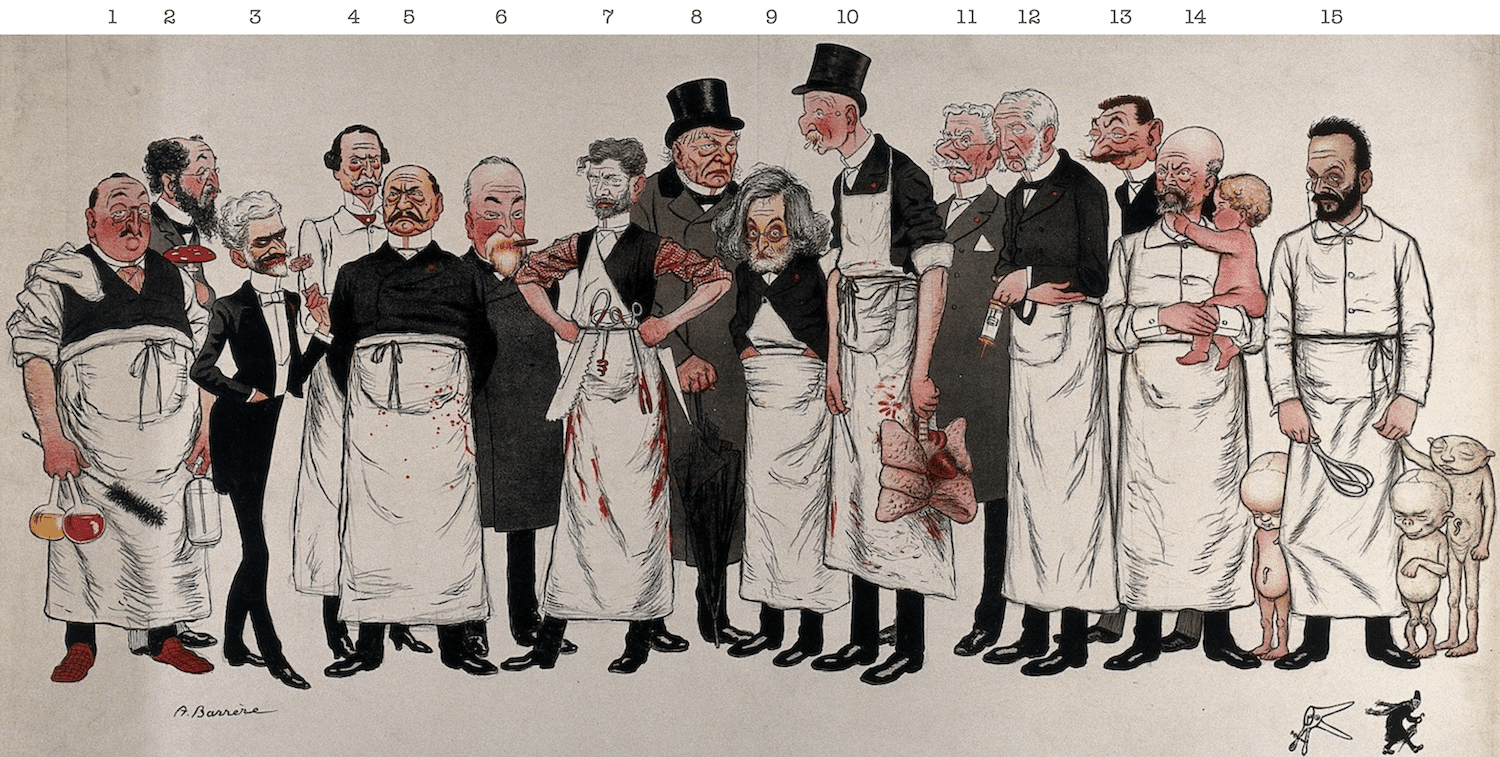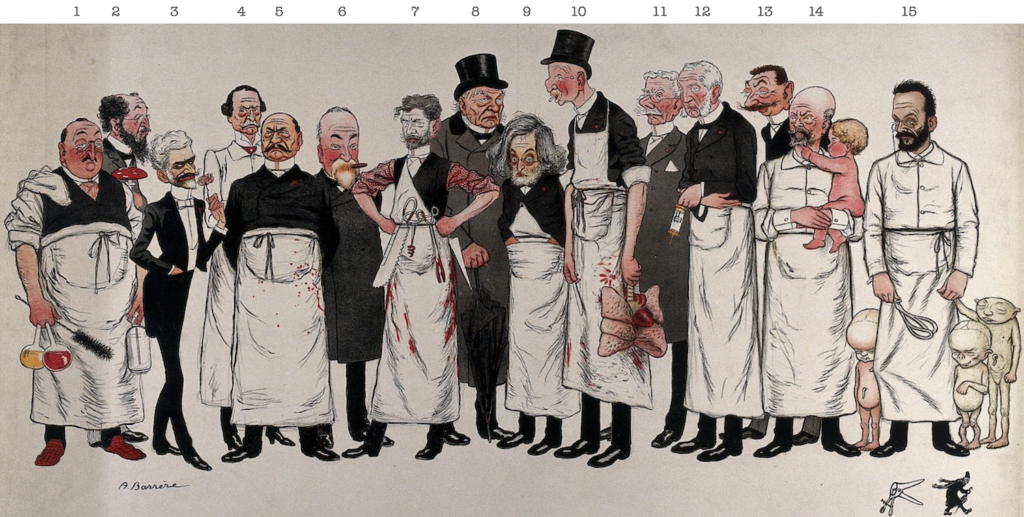 (3) Paul-Julien Poirier (1853-1907), surgeon and anatomist and member of the section of anatomy and physiology of the Academy from 1897. Not sure why he is holding a carnation….
(4) Georges Dieulafoy (1839-1911), Professor of Clinical Medicine and member of the Academy's section of medical pathology from 1890. Dieulafoy worked at the Hôtel-Dieu, a favourite pupil of Armand Trousseau (1801-1867). Best known for his advancement of clinical pathology and his work on thoracocentesis. He described Dieulafoy's triad (défense musculaire) hypersensitivity of the skin, tenderness and muscular contraction at McBurney's point as an early indication of acute appendicitis. He campaigned for early surgical intervention in acute appendicitis – an operation first performed in Paris in the 1890's.
Dieulafoy was renowned as a fascinating and dramatic lecturer, once bringing a horse into his lecture theatre to demonstrate the preparation of antidiphtheritic serum. He lectured at the Academy on chronic renal disease (le brightisme), and his 'Manuel de pathologie interne' sold 50,000 copies in France in 1911. He was also a wit and, when offered the post of Dean of the Faculty, declined on the ground that he 'lacked the necessary deficiencies'.
(5) The magisterial, aproned figure of Georges-Maurice Debove (1843-1920) was Professor of Clinical Medicine, President of the National Conseil d'hygiène, member of the section of therapeutics of the Academy from 1893 and perpetual President, a rare honour, from 1913. Debove was a prominent pupil of Jean-Martin Charcot (1825-1893) and under Charcot's guidance he wrote a series of fifty handbooks on medical topics.
Debove invented tubes for gastric lavage and gastric feeding; instruments for thoracocentesis; and one of the earliest sterilizable syringes. He also helped to clarify the nosology of certain chronic neurological disorders, such as amyotrophic lateral sclerosis and the myopathies.
(6) Paul Brouardel (1837-1906), seen smoking a cigar was Professor of Legal Medicine and elected to the hygiene and legal medicine sections of the Academy in 1880. He was at one time President of the Conseil d'hygiène managing the epidemics of cholera at Toulon and Marseilles in 1885.
(7) Samuel-jean Pozzi (1846-1918), in shirtsleeves and bloodstained apron, carrying a saw and a myoma corkscrew. Pozzi was Professor of Gynaecology, elected to the surgical pathology section of the Academy in 1896. At various times was president of the Societies of Surgery, Anthropology and Gynaecology. Eponym: Pozzi's senile pseudorickets [Osteodystrophia chronica deformans hypertrophica]
(8) Paul-Jules Tillaux (1834-1904), with top-hat and umbrella, was an anatomist and surgeon, elected to the section of anatomy and physiology in 1879. Eponymously affiliated with Aïe crépitant de Tillaux (1895); Manœuvre de Tillaux; Appareil de Tillaux; the Tillaux fracture; the Spiral of Tillaux; and the Tillaux enucleation "from behind forward"
(9) Georges Hayem (1841-1933), depicted as a small man with long white hair and beard, and wearing la Légion d'honneur was Professor of Therapeutics. A pio­neer in internal medicine, he was one of the founders of modern haemato­logy, the first to discover the platelets and count them accurately (using Hayem's chamber). Hayem's fluid was a diluting fluid for blood used in counting erythrocytes; and the Hayem-Sahli haemocytometer a microscope used for determining the number of platelets in a stated volume of blood.
(10) Andre-Victor Cornil (1837-1908), seen sporting a top-hat carrying a heart and lungs, worked at the Hôtel-Dieu and followed Charcot as Professor of Morbid Anatomy. A pathologist and pupil of Vir­chow, Cornil advanced the status of morbid histology. He was one of the first to introduce Pasteur's discoveries into regular medical education; and it was in his laboratory that Widal, in 1889, in­augurated undergraduate instruction in bacteriology.
(11) Paul Berger (1845-1908), with white handkerchief and la Légion d'honneur, was Professor of Clinical Surgery at the Hôpital Necker, and member of the section of operative medicine of the Academy. He was interested in reconstructive surgery and ortho­paedics. He is noted for Berger's operation (a method of interscapulothoracic amputation); improvements in hernia/intestinal suturing; and in 1897 the introduction of surgical masks in theatre
(12) Jean-Casimir-Félix Guyon (1831-1920), with side-whiskers, apron and syringe, was a surgeon and urologist. Membre de l'Académie de médecine 1878, and from 1890 professor of genitourinary surgery at the University of Paris. The first chair of urology in France. In 1907, in Paris, Guyon and some 20 fellow urologists from Europe, the United States and South America founded the Association Internationale d'Urologie. Eponymously remembered for the Guyon canal (transmitting blood vessels and the ulnar nerve from the forearm to the hand);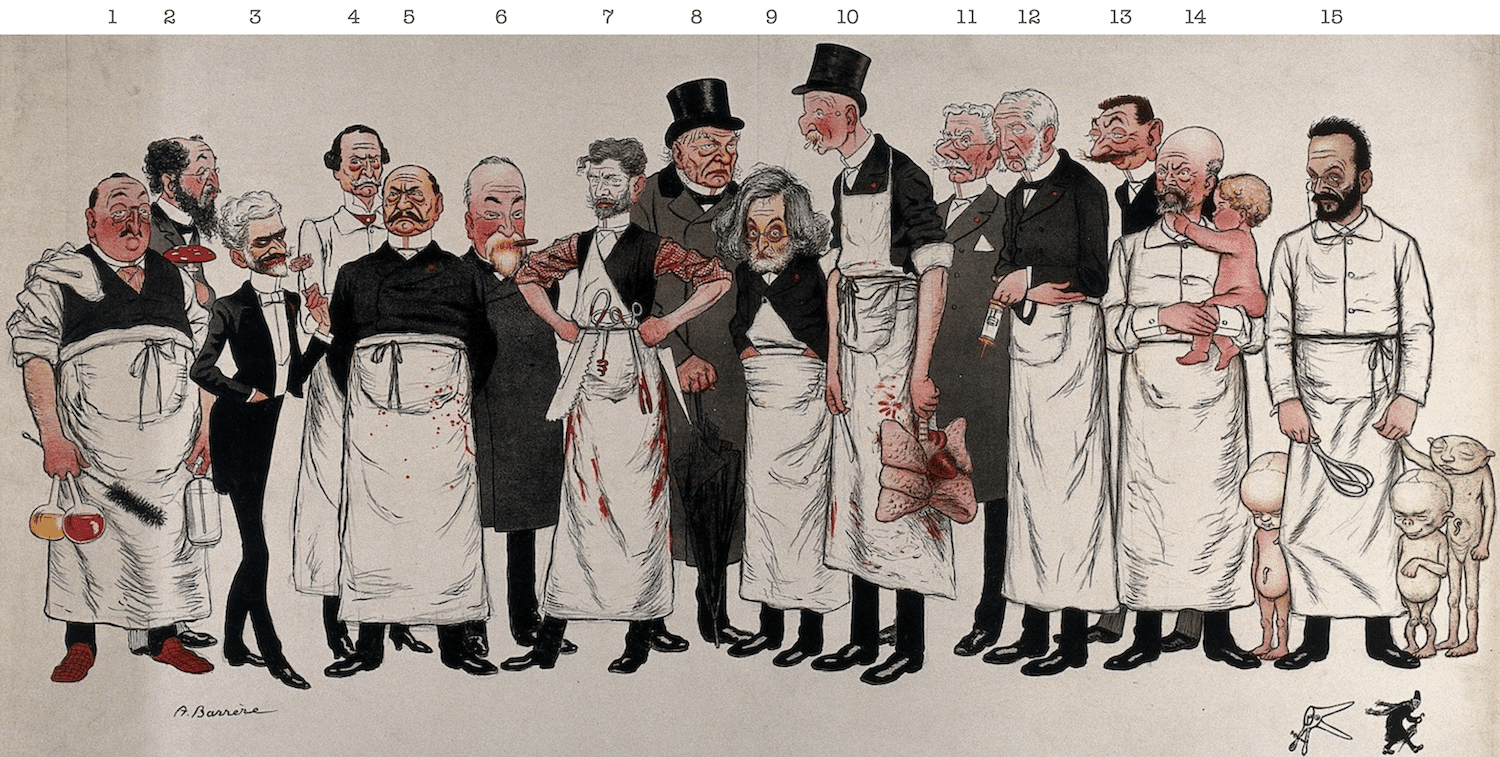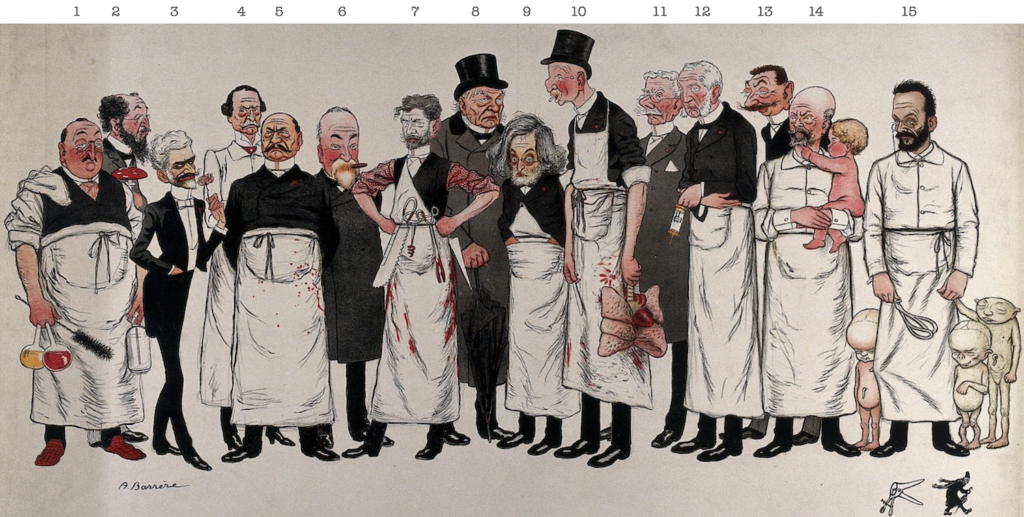 (13) Pierre-Émile Launois (1856-1914), histologist and endocrinologist. He was particularly known for his investigations of the pituitary; helping to clarify the syndromes of dystrophia adiposo-genitalis and Launois syndrome (pituitary gigantism); and Launois-Bensaude Syndrome, a benign symmetric lipomatosis without alcohol association. He later concentrated his efforts exclusively to the Hôpital Lariboisière.
(14) Adolphe Pinard (1844-1934), holding has a baby pulling at his beard was Professor of Obstetrics, elected to the obstetric section of the Academy in 1892. He was pioneer of modern perinatal care; his provision of social care to deprived pregnant women progressed to a recognition of the value of medical care of mother and baby before as well as after birth. Pinard opened the first child welfare clinic in France and used to follow up his children from birth until they were 2 years of age. Inventor of the Pinard horn (fetoscope)
(15) Pierre-Constant Budin (1846-1907), worked in France to improve the lives of newborns and their mothers during the late nineteenth century. Budin stressed the importance of proper nutrition in infants and educated new mothers on breastfeeding and infant care. Budin founded a system of clinics at the Hôpital de la Charité that supervised the care of infants after discharge from maternity hospitals..
---
References
Original image
LITFL Lithograph series
Review articles
---
[cite]
---
eponymictionary
the names behind the name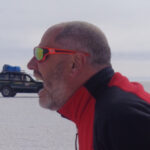 Prof. Nicolas Peschanski currently works as a Consultant in Emergency Medicine at the Urgences Adultes-SAMU-35 SMUR, Centre Hospitalier Universitaire de Rennes. Nicolas does research in Emergency Medicine at U1096 INSERM EnVI Normandy University research Unit. He's Associate Prof. teaching Clinical Medicine and Emergency Medicine at Rennes-1 University School of Medicine. Involved in the #FOAMed development, he is a current member of the french Society of Emergency Medicine Guideline Committee.
BA MA (Oxon) MBChB (Edin) FACEM FFSEM. Associate Professor Curtin Medical School, Curtin University. Emergency physician, Sir Charles Gairdner Hospital.  Passion for rugby; medical history; medical education; and asynchronous learning #FOAMed evangelist. Co-founder and CTO of Life in the Fast lane | Eponyms | Books | Twitter |