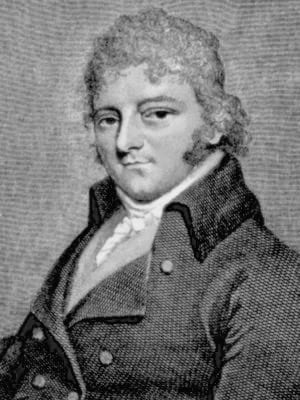 Caleb Hillier Parry (1755 – 1822) was an English physician.
Parry is best remembered for his accurate description of the pathophysiology of ischaemic heart disease
He was the first to establish a relationship between angina and coronary heart disease, and that the functional efficiency of the coronary arteries was more indicative than their structural integrity
Described the concept that ischaemic heart disease resulted from energy demands of the myocardium, which the vascular system was unable to supply
1825: He was the first to write accounts of the condition now known as progressive hemifacial atrophy (Parry-Romberg syndrome – 1846); congenital idiopathic dilatation of the colon (Hirschprungs disease – 1886) and expopthalmic goitre (Graves disease – 1935)
The most dangerous state incidental to the human mind is a calm acquiescence in the accuracy and extent of its own attainments – Parry CH
---
Biography
Born 21 October 1755 Cirencester, England
Cirencester Grammar School with Edward Jenner
1771 – Dissenters' Academy, Warrington (Not Church of England, so unable to have Oxbridge education)
1778 – Medical doctorate, Edinburgh University
1779 – General Practitioner; physician to the Puerperal Charity Hospital and Casualty Hospital, Bath
1816 – Suffered a stroke in 1816 which left him with aphasia and right hemiplegia. With the assistance of his daughter, Parry edited his notes, cases and observations using his left hand to annotate.
Died 9 March 1822
---
Key Medical Attributions:
Following the death of Caleb Hillier Parry aged 66, his son Charles posthumously published his fathers case notes and writings in 1825 including further illuminating insights.
Parry described 5 cases of exophthalmic goitre [Parry CH, 1825 pp110-128], predating the classical accounts which were subsequently published by Graves (1835) and Basedow (1840). Sir William Osler suggested the manifestations of hyperthyroidism, goitre and exophthalmos be named Parry's disease [1898;836-837]
Parry described idiopathic dilatation of the colon preceded Harald Hirschsprung's description at the Berlin Congress for Children's Diseases in 1886. Parry's description of 'Hirschsprung disease' was in a male adult with chronic digestive disturbances. Autopsy revealed an enormously distended colon with no evidence of obstruction in the alimentary canal [Parry CH, 1825 pp380-386].
---
Medical Eponyms
---
Major Publications
---
References
--- eponym
the person behind the name