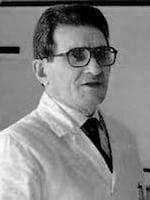 Cesarino Romano (1924-2008) was an Italian paediatrician.
Paediatrician with clinical and research activity focused on cystic fibrosis, endocrine and metabolic pathologies.
In the last years of his professional activity, he helped develop the field of Emergency Pediatrics in Italy; establishing a Post-Graduate Course of Emergency Pediatrics and publishing the first text of Emergency Pediatrics in Italy, Pediatria d'urgenza.
Eponymously affiliated with Romano-Ward Syndrome which he described in 1963, independent of Irish paediatrician, Owen Conor Ward
---
Biography
Born on July 5, 1924 in Voghera, Italy
1952 – Graduated in Medicine, University of Pavia
1957 – Directed the Section for the study of Cystic Fibrosis of the Pediatric Clinic
1958 – Appointed Paediatrician, University of Genoa; directed the cardiology department; head of Electrocardiography Laboratory and the Cardiology Section of the Pediatric Clinic
1960 – Director of the Center for Social Pediatrics for Endocrine-Metabolic Diseases of the University of Genoa
1963 – Described a new familial congenital arrhythmia; reported for the first time in the international medical literature a new electrocardiographic sign present in hypothyroidism and hypercalcemia.
1966 – Inspired and contributed to the establishment dell'Associazione Italiana per la Lotta contro la Fibrosi Cistica
1972 – Appointed Professor of Paediatrics
1985 – In collaboration with Afzelius and Gargani he described a new variant of primitive ciliary dyskinesia
1976-1996 Director of Paediatric department, University of Genoa
Died on April 23, 2008
---
Medical Eponyms
Congenital (autosomal dominant) long QT syndrome (LQTS). Unlike Jervell-Lange-Nielsen, there is no congenital hearing loss present. Multiple genetic mutations identified linked to cardiac potassium and beta-adrenergic channels.
Independently described in 1963 by Cesarino Romano and by Irish paediatrician Owen Conor Ward (1923-2021). Both reported an autosomal dominant long-term QT syndrome, later known as Romano-Ward syndrome.
Romano described an inherited functional syncopal heart disorder with prolonged QT interval in a 3-month-old female patient ("Aritmie cardiache rare dell'eta'pediatrica"). Two brothers of his patient had exhibited the same symptoms and died suddenly one at 44 days and one at 4 months of age.


---
Controversies
Romano and Ward are forever bound by their eponym but did they get on? The answer is yes! Ward recently speaking of Romano said 'We remained good friends until his death'
---
Major Publications
Romano C, Gemme G, Pongiglione R. Aritmie cardiache rare dell'eta pediatrica. [Rare cardiac arrhythmia of the pediatric age II, syncopal attacks due to paroxysmal ventricular fibrillation]. Clin Pediatr (Bologna) 1963;45:656–683.
Romano C, Gemme G, Pongiglione R. Aritmie cardiache rare dell'eta pediatrica. [Rare cardiac arrythmias of the pediatric age. I. Repetitive paroxysmal tachycardia]. Minerva Pediatr. 1963 Nov 3;15:1155-64
Romano C, Gemme G, Raffaelli E. Studio elettrocardiografico del mixedema congenito. (Particolare interesse di una fase terminale di "tipo ipercalcemico") [electrocardiographic study of congenital myxedema. (special importance of a terminal phase of hypercalcemic type)]. minerva pediatr. 1963 jun;15:655-69.

Romano C.

Congenital Cardiac Arrhythmia

. Lancet 1965; 285(7386): 658

-9

Romano C.

La fibrosi cistica. 1972

Romano C.

Atti Simposio Nazionale su broncopneumopatie croniche e ricorrenti dell'età pediatrica: Genova 5-6 maggio 1973.

Afzelius BA, Gargani G, Romano C.

Abnormal length of cilia as a possible cause of defective mucociliary clearance

. Eur J Respir Dis. 1985 Mar;66(3):173-80.

Lorini R, Di Pietro P, Romano C. Pediatria d'urgenza. Elsevier 2005.
---
References
Biography
Eponymous terms
---
---
eponym
the person behind the name
Associate Professor Curtin Medical School, Curtin University. Emergency physician MA (Oxon) MBChB (Edin) FACEM FFSEM Sir Charles Gairdner Hospital.  Passion for rugby; medical history; medical education; and asynchronous learning #FOAMed evangelist. Co-founder and CTO of Life in the Fast lane | Eponyms | Books | Twitter |