This ECG is from a 49 year old. He self-presented to the emergency department with chest pain, initial ECG is below.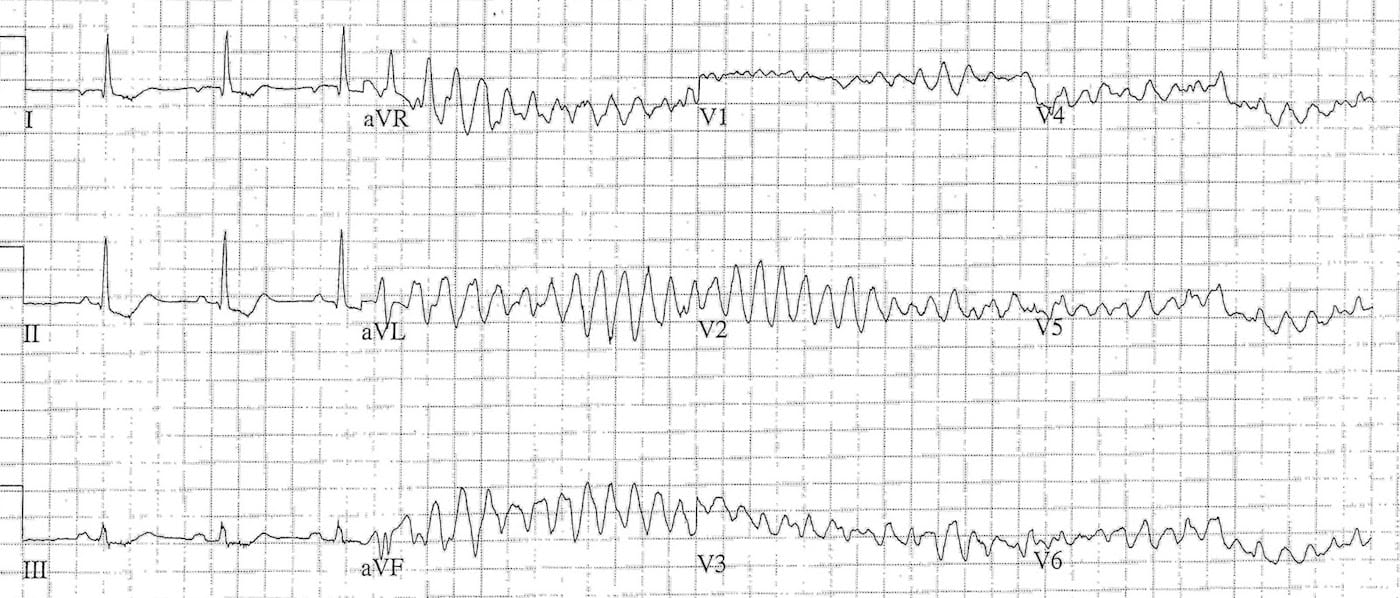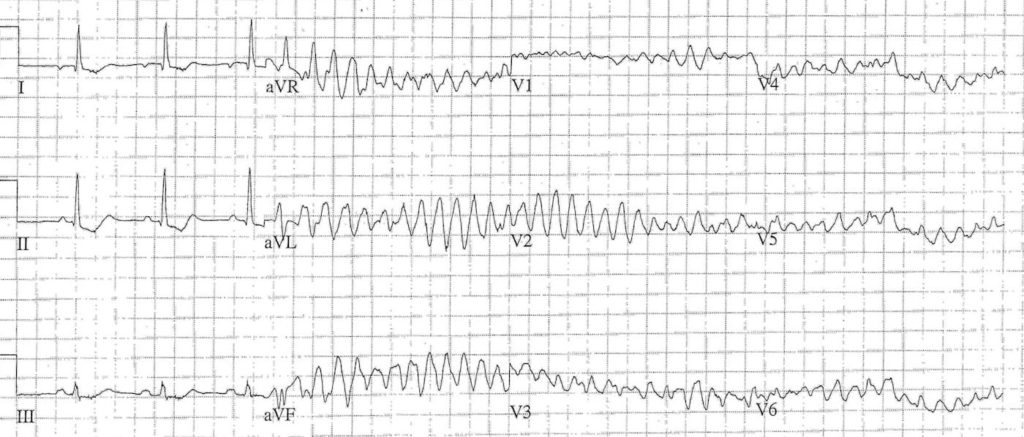 ---
Describe and interpret this ECG
ECG ANSWER and INTERPRETATION

Initial 3 Complexes

Rate: ~65-68
Rhythm: Regular
Axis: Normal

Intervals:

PR – Normal (~160ms)
QRS – Normal (100ms)
QT – 400ms (QTc Bazette ~420-430 ms)

Segments:

Additional:

Interpretation:

Ectopic Atrial Rhythm with ischaemic features

Subsequent ECG

Ventricular ectopic with 'R-onT' phenomenon
Polymorphic VT –> VF

Interpretation:

Acute myocardial ischaemia / infarction causing polymorphic VT / VF
---
OUTCOME

What happened next ?

CPR
Received 4 x 200J shocks
150mg iv amiodarone
100 mg iv lignocaine

Subsequent ROSC was achieved after < 10 minutes. Post ROSC ECG showed anterolateral ST elevation.The patient underwent inter-hospital transfer for PCI.PCI revealed a proximal LAD lesion with 90% occlusion, which was stented.

Echo showed:

Normal LV size with anterior, septal and apical akinesis and overall moderate systolic impairment
Probable LV apical thrombus
Normal right ventricular size and apical akinesis and overall mild systolic impairment.

The patient was subsequently discharged on warfarin, anti-platelet therapy, ACE inhibitor, beta-blocker, and a statin.
---
CLINICAL PEARLS

Things to think about

The role of early revascularisation with thrombolysis prior to inter-hospital transfer
The role of lignocaine/lidocaine in shock refractory VT/VF
Several International Guidelines on ALS are linked to below and the recommendations on the use of lignocaine vary between guidelines
---
---
Emergency Medicine Specialist MBChB FRCEM FACEM. Medical Education, Cardiology and Web Based Resources | @jjlarkin78 | LinkedIn |