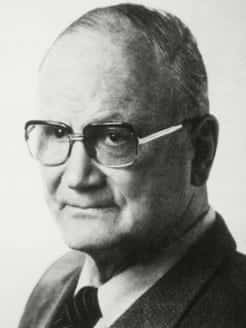 Friedrich Wegener (1907-1990) was a German pathologist
Wegener described the histological findings of three cases of granulomatosis with polyangiitis (GPA) in 1936 and 1939.
Wegener's affiliation with the condition was popularized in papers by Ringertz (1947); Johnsson (1948) and Churg (1954).
However his eponymous association with the auto-immune vasculitis was rescinded following revelations of his close association with the Nazi Party during World War II, came to light.
---
Biography
---
Medical Eponyms
The eponym 'Wegener granulomatosis' has been replaced with the term 'Granulomatosis with polyangiitis (GPA)'. This transition was in part to achieve nomenclature symmetry with Microscopic Polyangiitis (MPA) and Eosinophilic granulomatosis with polyangiitis (EGPA, Churg-Strauss); and to remove any historical association with Friedrich Wegener following revelations of his association with the Nazi Party in World War II
---
Controversies
1989 – The American College of Chest Physicians (ACCP) recognised Wegener as a 'Master Clinician'. However, in 2000 following revelations about his association with the Nazi Party, the ACCP rescinded the prize and joined the campaign to rename the eponymous clinical condition as GPA
2006 – Woywodt and Matteson publish on Wegener's granulmatosis (Lancet, 2006) and record in detail the significant historical review undertaken to connect Wegener with potential war crimes (Rheumatology, 2006). They conclude:
The facts we have uncovered do not prove Dr Friedrich Wegener guilty of war crimes. However, the evidence suggests that Dr Wegener was, at least at some point of his career, a follower of the Nazi regime…his mentor Martin Staemmler, was an ardent supporter of the racial hygiene…he (Wegener) worked in close proximity to the genocide machinery in Lodz…our data raise serious concerns about Dr Wegener's professional conduct

Woywodt and Matteson 2006
2010 – The American College of Rheumatology, American Society of Nephrology, and the European League against Rheumatism recommended a shift away from eponyms, including Wegener's granulomatosis and proposed the alternative name of Granulomatosis with polyangiitis
---
Notable Quotables
This disease was on the verge of being discovered. Somebody had to do it

1990, Otorhinolaryngoly
Wegener was dismissive of his 1936/1939 studies, stating they contained "…too much vasculitis and not enough granuloma". [1990, Otorhinolaryngoly]
---
Major Publications
---
References
Biography
Historical review
---
eponym
the person behind the name