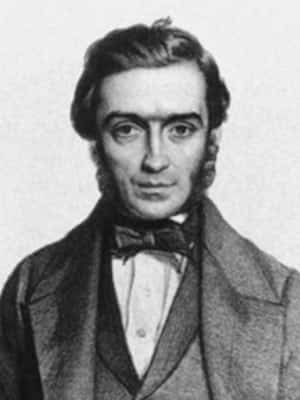 George Budd (1808 –1882) was an English physician.
Credited for his extensive reviews and publications pertaining to gastroenterology and hepatology. His principal works were Diseases of the Liver (1845), and Diseases of the Stomach (1855).
Eponymously associated with Budd-Chiari syndrome and Budd cirrhosis.
From his work as a hospital ship physician, he reported his observations of the causes, treatment, and prevention of scurvy in sailors. His accounts of cholera among seamen were held in high esteem and his work on liver disease was also largely influenced by his experience treating sailors.
Biography
Born 23rd February 1808 in North Tawton, Devon – one of 9 sons to surgeon Samuel Budd, 7 of whom became doctors
1832 – Graduated from Caius College, Cambridge, and trained in Paris and at Middlesex Hospital
1837 – Spent 4 years as visiting physician on the Seaman's Hospital Society hospital ship, 'Dreadnought'
1840 – Conferred a Doctor of Medicine in Cambridge
1840 – Professor of Medicine at King's College Hospital
1880 – Honorary fellow of Caius College, Cambridge, and King's College, London
1863-1867 – retired from his posts
Died 14 March 1882
Medical Eponyms
Budd–Chiari syndrome – Budd described the liver congestion in 1845
Budd's cirrhosis – Chronic hepatomegaly secondary to 'intestinal intoxication'
Key Medical Attributions:
Fasciolopsis buski – the largest intestinal fluke in humans and the cause of fasciolopsiasis. First identified by English surgeon George Busk (1807-1886), who also served on the Dreadnought. He identified the fluke on autopsy of 14 sailors and pointed it out to Budd, who described it in the second edition of 'On Diseases of the Liver' (1853)
Hepatic amoebiasis – credited with being the first in England to describe a case of hepatic amoebiasis associated with disentery, following his experience on the Dreadnought
Nutritional deficiencies
Major Publications
References
Biography: George Budd. Munk's Roll : Volume IV.
Cook GC. George Budd FRS (1808-1882): pioneer gastroenterologist and hepatologist. J Med Biogr. 1988 Aug;6(3):152-9 [PMID 11620443]
Hughes RE. George Budd (1808-1882) and nutritional deficiency diseases. Med Hist. 1973 Apr; 17(2): 127–135. [PMC1081440]
--- eponym
the person behind the name