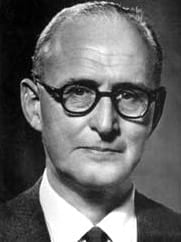 Sir Ivan Whiteside Magill (1888 – 1986) was an Irish Anaesthetist.
Epomnymously affiliated with various anaesthetic devices such as the Magill intubating forceps.
Developed his forceps while working at the Queen's Hospital for Facial and Jaw Injuries in Kent to aid in lifting and guiding the nasotracheal tube into the larynx.
---
Biography
1888 – Born 23rd July in Larne and one of 5 children. His father was a prominent figure, as well as a Freemason of Larne.
1913 – Graduated from Queens University Belfast with MB BCh. He completed Anaesthesia training, which at the time was administration of a single anaesthetic to a patient. Magil commented that it was 'inadequate training'.
1914-1918 – He served in the Royal Army Medical Corps during World War I.
1919 – He worked at the Facial and Jaw Injury Hospital in Kent, where he developed the Magill forceps.
1920 – Queens University Belfast rejected Magill's MD thesis on endotracheal anasethesia, as it considered this unlikely to be of much value.
1935 – He was instrumental in establishing the Diploma of Anaesthesia and was a founder member of Faculty of Anaesthesia of the Royal College.
1937 – Anaesthetist to Duchess of Gloucester during miscarriage.
1939-1945 – Consultant to Amy, Navy and Emergency Medical Service.
1945 – Anaesthetist during Princess Margaret's appendicectomy.
1955 -Anaesthetist during Duke of Windsor's detached retina surgery.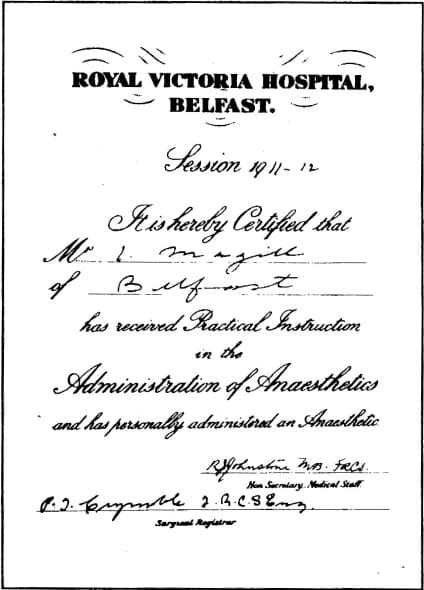 ---
Medical Eponyms
Magill endotracheal tube (1928)
---
Major Publications
Magill IW. Forceps for intracheal anaesthesia. Br Med J 1920; 2: 670 [Magill forceps]
Magill I. A Portable Apparatus for Tracheal Insufflation Anaesthesia. Lancet. 1921;197(5096):918
Magill I. The provision for expiration in endotracheal insufflations anaesthesia. Lancet. 1923; 202(5211): 68–9.
Magill I. An apparatus for the administration of nitrous oxide, oxygen, and ether. Lancet. 1923; 202(5214): 228. 
Magill I. An improved laryngoscope for anaesthetists. Lancet. 1926; 207(5349): 500
Magill IW. Endotracheal Anæsthesia. Proc R Soc Med. 1928 Dec; 22(2): 83–88. [Magill ETT]
Magill I. Technique in endotracheal anaesthesia. BMJ. 1930;2:817–9. 
Magill I. Endotracheal anaesthesia. Am J Surg. 1936; 34(3): 450–5.
Magill I. An appraisal of progress in anaesthetics. Ann R Coll Surg Engl. 1966; 38: 154–65.
Magill I. The heritages of the past are the privileges of the future. Anaesthesiology. 1967;28(1):202–8
Magill I. Blind nasal intubation. In: Lest we forget. Anaesthesia. 1975; 30(4): 476–9
---
References
Bateman BT, Alston TA. Commonly used eponyms in anesthesia. J Clin Anesth. 2009 Feb;21(1):67-71
Maltby R. Notable Names in Anaesthesia. The Choir Press; pp 123-125 (2013)
London Daily Telegraph, Nov 29th, 1986
Anaesthesia History Association Letter, Vol.5, No.2,  April, 1987
McLachlan G. Sir Ivan Magill KCVO, DSc, MB, BCh, BAO, FRCS, FFARCS (Hon), FFARCSI (Hon), DA, (1888-1986) Ulster medical journal, 2008 Sep; 77(3): 146-152
Yartsev A. The endotracheal tube in detail. Deranged physiology
---
---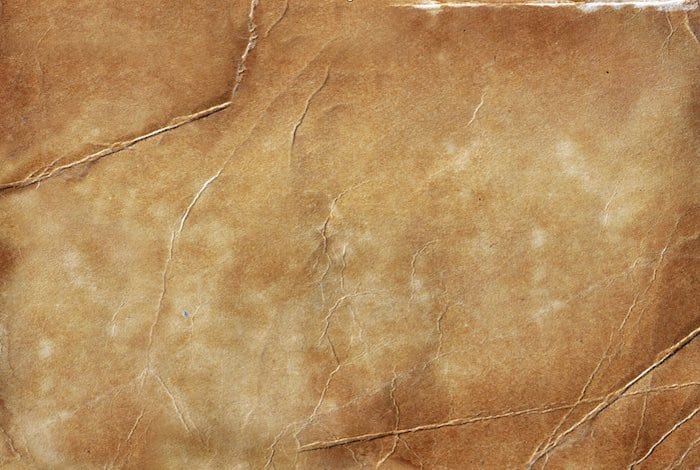 eponym
the person behind the name