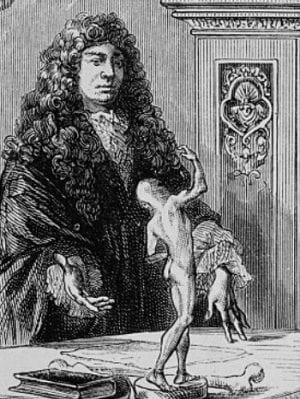 Joseph Guichard Duverney (1648-1730) was a French Anatomist and Surgeon.
Anatomist of some renown – 1681, he dissected an elephant before king Louis XIV in 1681. Considered to be the first French otologist of the 17th century and one of the first European otologists.
Duverney published one of the first complete works on otology – Traité de l'organe de l'ouïe in 1683, discussing the anatomy, physiology and diseases of the ear. Translated into many languages and a key reference book for the 17th and 18th century
In 1683, Duverney identified a temporal bone tumor, believed to be the earliest description of cholesteatoma. Maladies des os ("Diseases of the bones") was published posthumously in 1751 and includes a description of the eponymous 'Duverney fracture' [284-285] and the first full description of osteoporosis
Biography
Born 5 August 1648
1667 – medical doctorate in Avignon, France
1682 – Professor of anatomy at Jardin du Roi
Died 10 September 1730
Medical Eponyms
Duverney fracture – fracture of the iliac wing which is not associated with any other pelvic fractures
Controversies
Alternative spelling – Joseph-Guichard Du Verney
Major Publications
Duverney JG. Traité De L'organe De L'ouie: Contenant La Structure, Les Usages & Les Maladies De Toutes Les Parties De L'oreille (Treatise on the organ of hearing) 1683.
References
Peltier LF. Joseph Guichard Duverney (1648-1730). Champion of applied comparative anatomy. Clin Orthop Relat Res. 1984 Jul-Aug;(187):308-11. [PMID 6378482]
Mudry A. Guichard Joseph Duverney, premier otologiste français au XVII e siècle [First French otologist in the 17th century] Ann Otolaryngol Chir Cervicofac. 2000 Sep;117(4):203-9. [PMID 11011182]
Mostofi SB. Who's Who in Orthopedics. pp 92-93 Springer; 2005 edition
--- eponym
the person behind the name