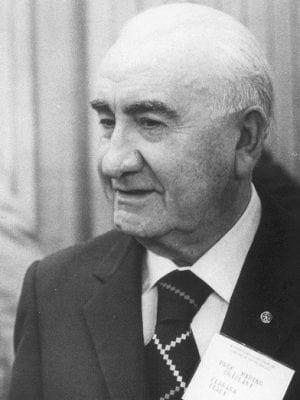 Marino Ortolani (1904 – 1983) Italian pediatrician.
Professor Marino Ortolani revolutionized the management of Italian pediatric wards
Developed a test for hip instability in the infant (1936) and promoted early diagnosis of this condition to the medical community.
Eponymously affiliated with the Ortolani sign and test first presented to the Accademia delle Scienze di Ferrara (the Academy of Sciences in Ferrara) in 1936.
Biography
Born 25 July 1904
Died 1983
Medical Eponyms
Ortolani sign and test (1936)
Key Medical Attributions:
1940s Ortolani studied the pathoanatomy of hip instability
1948 Published his textbook (La lussazione congenita dell'anca)
1952 Ortolani produced a movie about the examination and treatment of hip dysplasia which was translated into many languages to promote early diagnosis and treatment of Developmental Dysplasia of the Hip (DDH)
Through his career Ortolani published 31 articles on the subject of hip dysplasia and developed various braces to treat the infants with hip instability.
Major Publications
Ortolani M. Un segno poco noto e sua importanza per la diagnosi precoce di prelussazione congenita dell'anca. La Pediatria, 1937;2: 129.
Ortolani M. La lussazione congenita dell'anca. Nuovi criteri diagnostici e profilattico-correttivi. Bologna, Capelli, 1948
References
--- eponym
the person behind the name