Reviewed and revised 17 May 2014
OVERVIEW
Meta-analysis is a tool for quantitative systematic review of observational studies and controlled trials that weights available evidence based on the numbers of patients included, the effect size, and often statistical tests of agreement with other trials
Systematic reviews involve a detailed and comprehensive plan and search strategy derived a priori, with the goal of reducing bias by identifying, appraising, and synthesizing all relevant studies on a particular topic (as opposed to a narrative review)
Systematic reviews may or may not involve meta-analysis
Meta-analysis avoids Simpson's paradox, in which a consistent effect in constituent trials is reversed when results are simply pooled
ROLES IN EBM
Increases statistical power through increased sample size
Resolve uncertainty when studies disagree
Improve estimates of effect size
Establish questions for future RCTs
PROS AND CONS OF META-ANALYSIS
Advantages
pooled estimate of effect
allows for an objective appraisal of evidence
may reduce the probability of false negative results
heterogeneity between study results may be explained
avoids Simpson's paradox
Disadvantages
heterogeneity of study demographics, methods, results, quality
selection of studies and data from studies may be biased
use of summary data rather than individual data
inclusion and exclusion criteria may not be detailed
publication bias (many negative studies are not published)
BASIC METHOD
systematic literature search performed and research into possible unpublished trials
data analysed in terms of quality and heterogeneity
large trials weighted most heavily
OR used (most commonly) and combined using random effects model
graphical displays of OR, CI's and pooled OR (Forrest Plot – see below)
Funnel plot used to identify possible publication bias
findings presented as NNT
positive meta-analysis findings should be confirmed with large RCT
EXAMPLE OF FORREST PLOT
The horizontal lines – confidence intervals of the OR
The position of the square – point estimate of the OR
The size of the square – the weight of the study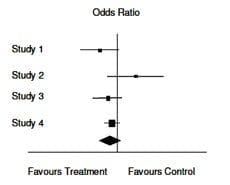 -> the depicted data suggests the treatment is not more effective than control as the 95% confidence limits of the combined OR crosses the vertical line
ASSESSING QUALITY OF THE META-ANALYSIS
Assess for:
Research questions clearly defined
Definition of inclusion criteria for studies
adequacy of the search protocol
assessment of methodological quality of the included studies
calculation of a pooled estimate
plot of the results (Forest Plot)
measurement of heterogeneity
assessment of publication bias (Funnel Plot)
---
References and links
Journal articles
Reade MC, Delaney A, Bailey MJ, Angus DC. Bench-to-bedside review: avoiding pitfalls in critical care meta-analysis–funnel plots, risk estimates, types of heterogeneity, baseline risk and the ecologic fallacy. Crit Care. 2008;12(4):220. PMC2575558.
FOAM and web resources
---