We're ready to RAGE again!
This one is 85:26 min long and includes:
Introduction… kind of (starts 00:00 min)
'What's bubbling up?' (starts 02:08 min) — Dr Smith's ECG blog, DAS Guidelines for tracheal intubation of the critically ill, "The Human Factor" and trauma team performance.
'DNR' (starts 14:58 min) — the RAGE team discuss the concept of 'do not resuscitate' and consensus resuscitation plans, challenges and tips for family discussions and decision-making, and a host of tricky situations (e.g. the family that wants 'everything', patients who want to be organ donors, suspension of DNR orders for operations, and patients with advance care plans who attempt suicide)..
'A blast from the past' by Peter Brindley on 'Joseph Lister' (starts 80:44 min)
'Words of Wisdom' from Karel Habig (starts 83:41 min)
---
Show notes for this RAGE Session:
Introduction
This RAGE Session features Peter Brindley (@docpgb), Karel Habig (@karelhabig), and Chris Nickson (@precordialthump).
What's bubbling up?
"DNR"
Burns JP, Truog RD. The DNR Order after 40 Years N Engl J Med. 2016; 375(6):504-506.
Quill TE, Arnold R, Back AL. Discussing treatment preferences with patients who want "everything". Annals of internal medicine. 151(5):345-9. 2009. PMID  19721022

Medical Treatment Planning and Decisions Act 2016 (Victoria, Australia)
Holt GE, Sarmento B, Kett D, Goodman KW. An Unconscious Patient with a DNR Tattoo N Engl J Med. 2017; 377(22):2192-2193. [article]
Cooper L, Aronowitz P. DNR tattoos: a cautionary tale. Journal of general internal medicine. 2012; 27(10):1383. [PMC3445694]
'Unacceptable' that families 'not told of resuscitation plans' (BBC, 2016) – base on an RCP audit
Doctors 'forced' to allow suicide (BBC, 2013)
Geppert C. Saving Life or Respecting Autonomy: The Ethical Dilemma of DNR Orders in Patients Who Attempt Suicide. The Internet Journal of Law, Healthcare and Ethics. 2010; 7(1)
Henman MP. Suicidal Patients with a Do-Not-Resuscitate Order The Journal of Emergency Medicine. 2017; 52(1):117-120.
Household words (LITFL CCC)
Cessation of CPR (LITFL CCC)
Blast from the Past
Words of Wisdom
---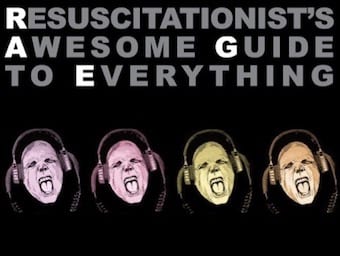 Thanks again for listening to the RAGE!
---