This RAGEback includes commentary and reaction to the RAGE Session Three discussion of severe life-threatening acute asthma. It features comments from Mary Shue on THAM, Greg Miller on lignocaine and someone called Scott Weingart (anyone heard of him?) on non-invasive ventilation.
Here's some stuff on lignocaine (a fairly evidence free zone!):
BestBets: Lignocaine as a pretreatment to Rapid Sequence Induction of patients with Status Asthmaticus
Maslow AD, Regan MM, Israel E, Darvish A, Mehrez M, Boughton R, Loring SH. Inhaled albuterol, but not intravenous lidocaine, protects against intubation-induced bronchoconstriction in asthma. Anesthesiology. 2000 Nov;93(5):1198-204. PMID: 11046206.

More recently though, this paper suggested some beneficial effects on bronchoconstriction post-intubation: Adamzik M, Groeben H, Farahani R, Lehmann N, Peters J. Intravenous lidocaine after tracheal intubation mitigates bronchoconstriction in patients with asthma. Anesth Analg. 2007 Jan;104(1):168-72. PMID: 17179265.
Some stuff by Scott Weingart on Emcrit.org relevant to this discussion:
LITFL Critical Care Compendium links:
---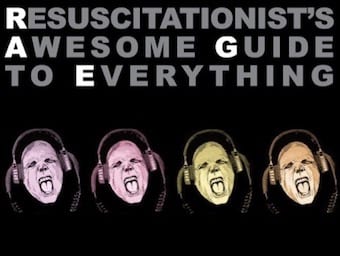 Thanks again for listening to the RAGE!
---