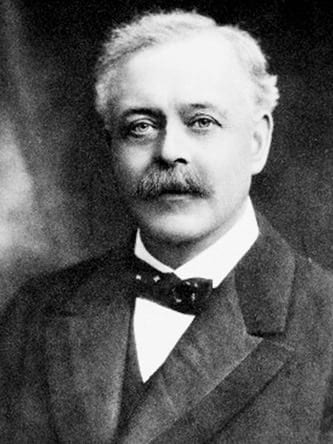 Sir Robert Jones (1857-1933) was a Welsh General and Orthopaedic Surgeon and part time Roentgenologist.
A worldwide driving force for the development of Orthopaedics as a distinct specialty during early 1900s. Published the first clinical radiograph less than 2 months after Roentgen's original report
Eponymously affiliated with the Jones fracture
---
Biography
Born 28 June 1857 Rhyl, Wales.
1878 – Qualified in Medicine, Liverpool. Even prior to this he was assisting his uncle, Hugh Owen Thomas (inventor of Thomas splint), with his work at the historic 11 Nelson Street.
1889 – Obtained FRCSEd. Appointed surgeon at Royal Southern Hospital, Liverpool
1902 – Published his paper 'Fracture of the base of the fifth metatarsal bone by indirect violence', the fracture later went on to be eponymously known as Jones Fracture.
1905 – Specialised in Orthopaedic Surgery
1913 – Nominated President of Orthopaedics for the International Medical Congress
1914-1918 – Initially served as a medical officer in France then back in England he created a nationwide orthopaedic military service. For his tremendous work he was decorated with CB, Knight Bachelor, Knight Commander and finally Baronet in 1926.
1919 – Director of Orthopaedics, St Thomas' Hospital, London.
1921 – Established the Shropshire Orthopaedic Hospital, now known as Robert Jones and Agnes Hunt Orthopaedic Hospital. Jones was reported to operate back-to-back for ten hours with a list of over 20 crippled children every Saturday.
1929 – First President of International Society of Orthopaedic Surgery and Traumatology (SICOT)
Died 14 January 1933.
---
Medical Eponyms
Jones Fracture (1902) – Fracture of the proximal 5th metatarsal bone
Jones Abduction Frame – Apparatus used on hospital beds to aid hip adduction
Jones Bandage – Compression dressing; padded pressure bandage for the knee used post-operatively
---
Major Publications
---
References
--- eponym
the person behind the name