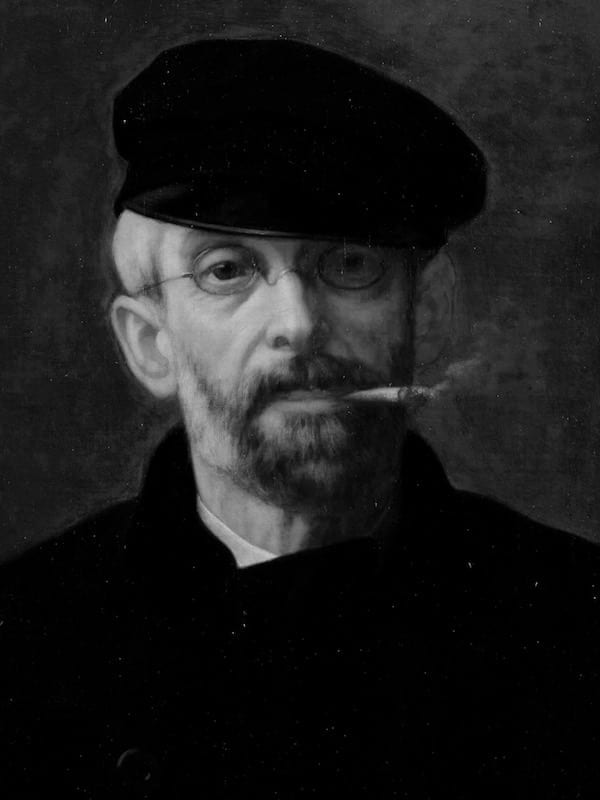 Hugh Owen Thomas (1834 – 1891) was a Welsh Orthopaedic Surgeon.
Descended from three generations of Welsh meddygon esgyrin (bone-setters). Thomas was described as a 'thin dark, fragile man with a sardonic sense of humour. Well under medium height (5ft 3in.) – but of indomitable spirit and unbounded power of application.'
Combined University medical education with the family tradition of bone-setting, Thomas stressed the importance of rest in treatment; that an overdose of rest was impossible and that rest must be 'enforced, uninterrupted and prolonged'
Thomas performed little open surgery and was mainly concerned with the design and use of splints; the famous Thomas splint was still in wide use at the end of World War II.
No other pioneer contributed so much in establishing the fundamental principles of orthopedic surgery.' Mostofi, 2005
---
Biography
Born on August 23, 1834 Bodedern, Wales
1851-1854 Apprentice to his Uncle, Dr Owen Roberts working at St Asaph
1854-57 Medicine at University of Edinburgh (2 years); University College London (1 year) and then Paris (1 year)
1857 – Member of the Royal College of Surgeons MRCS
1858 – Worked 'briefly' with his father Evan Thomas as bone-setter '72 Great Crosshall Street, Liverpool'
1860-1869 – General practitioner at '32 Hardy Street, Liverpool' a deprived area of Victorian Liverpool
1870-1891 – GP and Bone-setter '11 Nelson Street, Liverpool' setting up hospital and workshops next door. In 1873 – Thomas's nephew, Robert Jones arrived at Nelson Street to become apprentice and later his assistant
Died 6 January 1891, Liverpool
---
Medical Eponyms
Thomas test (1875) – diagnostic method for detecting fixed flexion of the hip joint
Thomas knee splint (1865)
Thomas collar – to treat tuberculosis of the cervical spine
Thomas knee splint
1865 – Thomas splint first used to treat diseases of the knee such as tuberculosis by prolonged rest and immobilisation. Only later used for management of fractures of the lower limb
In my opinion, there is no support comparable with what is known as a Thomas's knee splint for any fractures of the middle and lower thirds of the thigh, or fractures of the knee and upper tibia Jones R, 1919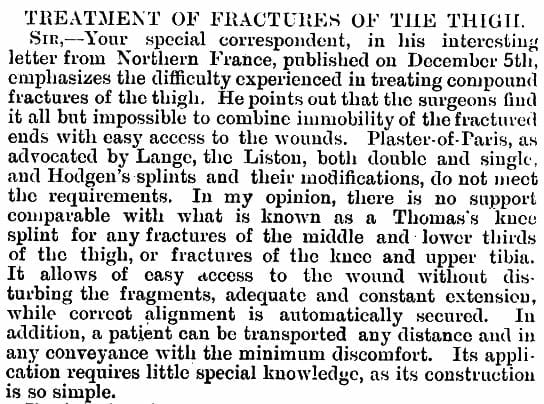 See also: Gray HMW. The early treatment of war wounds. London, Frowde 1919. [Fig 19. Thomas splint in action][Fig 14a, modified upper limb]
---
No other pioneer contributed so much in establishing the fundamental principles of orthopedic surgery.

Mostofi, 2005
---
Major Publications
---
References
---
/
---
eponym
the person behind the name
Associate Professor Curtin Medical School, Curtin University. Emergency physician MA (Oxon) MBChB (Edin) FACEM FFSEM Sir Charles Gairdner Hospital.  Passion for rugby; medical history; medical education; and asynchronous learning #FOAMed evangelist. Co-founder and CTO of Life in the Fast lane | Eponyms | Books | Twitter |