Ruth Wynne-Davies (1926 – 2012) was an English orthopaedic surgeon and geneticist.
As a geneticist Wynne-Davies made significant contributions to the understanding of diverse musculoskeletal conditions, both common and very rare including clubfoot, scoliosis and skeletal dysplasia.
One of the pioneers of serious scoliosis research. As a research fellow, senior lecturer and then reader in Orthopaedics she discovered answers to the questions about the causes of scoliosis that had long puzzled surgeons.
Responsible for setting up specialist clinics throughout the UK and published two seminal and favourably reviewed books: Heritable disorders in orthopaedic practice (1973), and the Atlas of Skeletal Dysplasias, co-authored by Christine Hall and Alan Apley (1986)
Remembered for her description of the only female orthopaedic eponymous term (to date) – Wynne-Davies Criteria for Ligamentous Laxity (1970)
---
Biography
Born as Ruth Blowers on 11 August 1926 in London, UK
1947 – Commenced medical training at the Royal Free School of Medicine. She failed her first year exams as she had never been taught science at school. However, she was not to be discouraged and took a year to bring her scientific knowledge up to standard, then returned to medical school to complete her training.
1953 – Qualified – MB, London
In her early medical career, she worked at Great Ormond Street Hospital as a house officer; surgical registrar at the Elizabeth Garrett Anderson Hospital; and prosector in anatomy at the Royal Free Hospital in London.
1959 – Changed her name to Wynne-Davies in honour of her uncle.
1960 – Fellow of the Royal college of surgeons, FRCS. Orthopaedic registrar for Norman L. Capener (1898-1975) where it became evident to her that she was interested in research rather than surgery. During this time she completed an important piece of work on the genetics of clubfoot, for which she was later awarded the Robert Jones Gold Medal of the British Orthopaedic Association. Wynne-Davis explored the different influences of genetics, joint laxity and environment in a well-defined population of 635 patients who had been treated in Exeter. She was then a senior registrar in orthopaedic surgery to Arthur Naylor and James Wishart in Bradford. At a time when it was particularly difficult to find consultant posts.
1961 – Moved to Edinburgh to work under Prof John Ivor Pulsford James (1913-2001) in his orthopaedic department initially as a research fellow, then senior lecturer with Edinburgh University. Research on genetic problems in orthopaedic disease including clubfoot and scoliosis.
1973 – PhD Edinburgh University; thesis "Genetic and other factors in the aetiology of scoliosis

".

1974 –

Reader in orthopaedics until her retirement

in 1981. Majority of research on infantile scoliosis, comparing New England and the UK. She went on to develop a series of skeletal dysplasia clinics in many of the UK specialist orthopaedic units, including Oswestry, Harlow Wood and Bristol.
1975-1976 – She was a regular contributor to the British Orthopaedic Research Society, and was its president in 1975-1976.
1978 – Founder member of the Skeletal Dysplasia Group for Teaching and Research. This grew from an amalgamation of the BOA skeletal dysplasia section (led by Ruth) and a skeletal dysplasia and metabolic bone disease group run by Christine Hall at Great Ormond Street. The SDG now has a membership of over 300 and runs regular courses and meetings nationally and internationally. She was President for a time, and acted as its Secretary for many years.
1979 – Honorary membership to the Scoliosis Research Society
1981 – Took early retirement from the University of Edinburgh and moved to Oxford
1993 – Part time undergraduate level course in English language and literature at St Hilda's College Oxford.
1997 – Graduated BA(hons) in English language and literature from Oxford University
Died aged 85 on 11 March 2012 in Oxford, UK
---
Medical Eponyms
Wynne-Davies Criteria: If 3 of the 5 pairs of joints examined in any one individual showed this degree of laxity it is taken as positive
Thumb touching forearm on flexing wrist
Fingers parallel to forearm with wrist extension
Elbows extend past 180°
Knees extend past 180°
Foot dorsiflex past 45°
In 1970 Wynne-Davis conducted a survey of genetic and other etiological factors in 589 index patients with congenital dislocation of the hip and their families, with special investigation of acetabular dysplasia, familial joint laxity and a comparison of neonatal and late-diagnosis cases.
All index patients and first-degree relatives were examined for undue joint laxity of peripheral joints (elbows, wrists, hands, knees and feet). The method for examination had previously been described by Carter and Wilkinson (1964) in their investigation of the incidence of persistent generalised joint laxity in patients with congenital dislocation of the hip and in normal school children.
Wynne-Davis demonstrated that familial joint laxity is one etiological factor in congenital dislocation of the hip.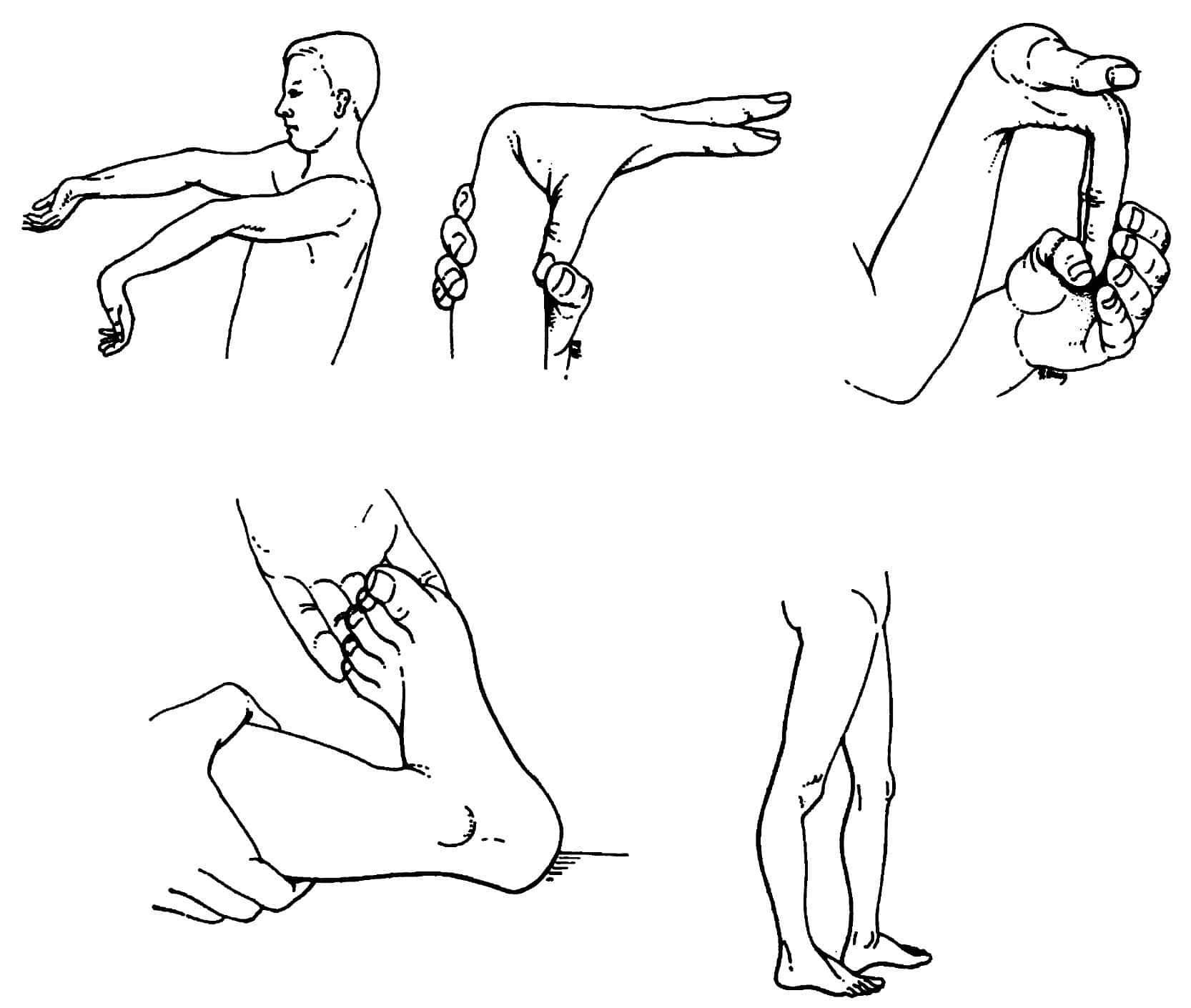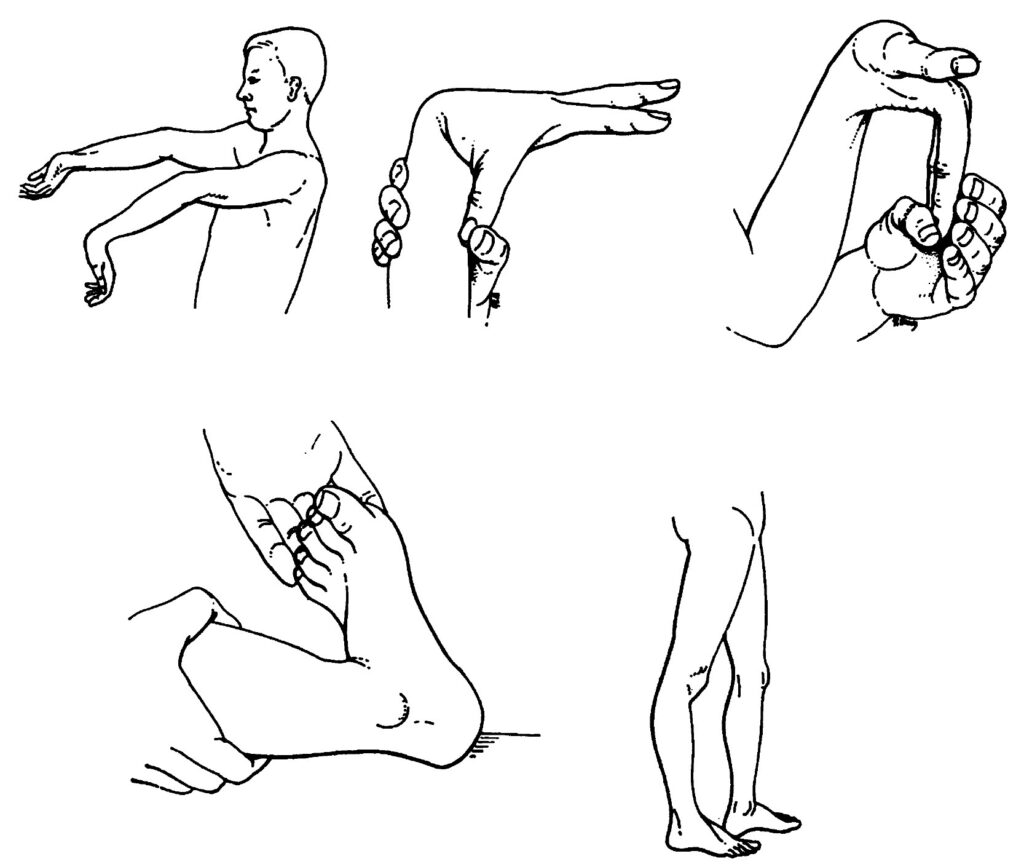 Fig 3. illustrates the amount of joint laxity regarded as excessive: elbows and knees extended beyond 180 degrees, the thumb touching the forearm on flexing the wrist, the fingers parallel to the forearm in extending the wrist and metacarpo-phalangeal joints, and the foot dorsiflexed to 45 degrees or less. If three of the five pairs of joints examined in any one individual showed this degree of laxity it was taken as positive.

Wynne-Davis 1970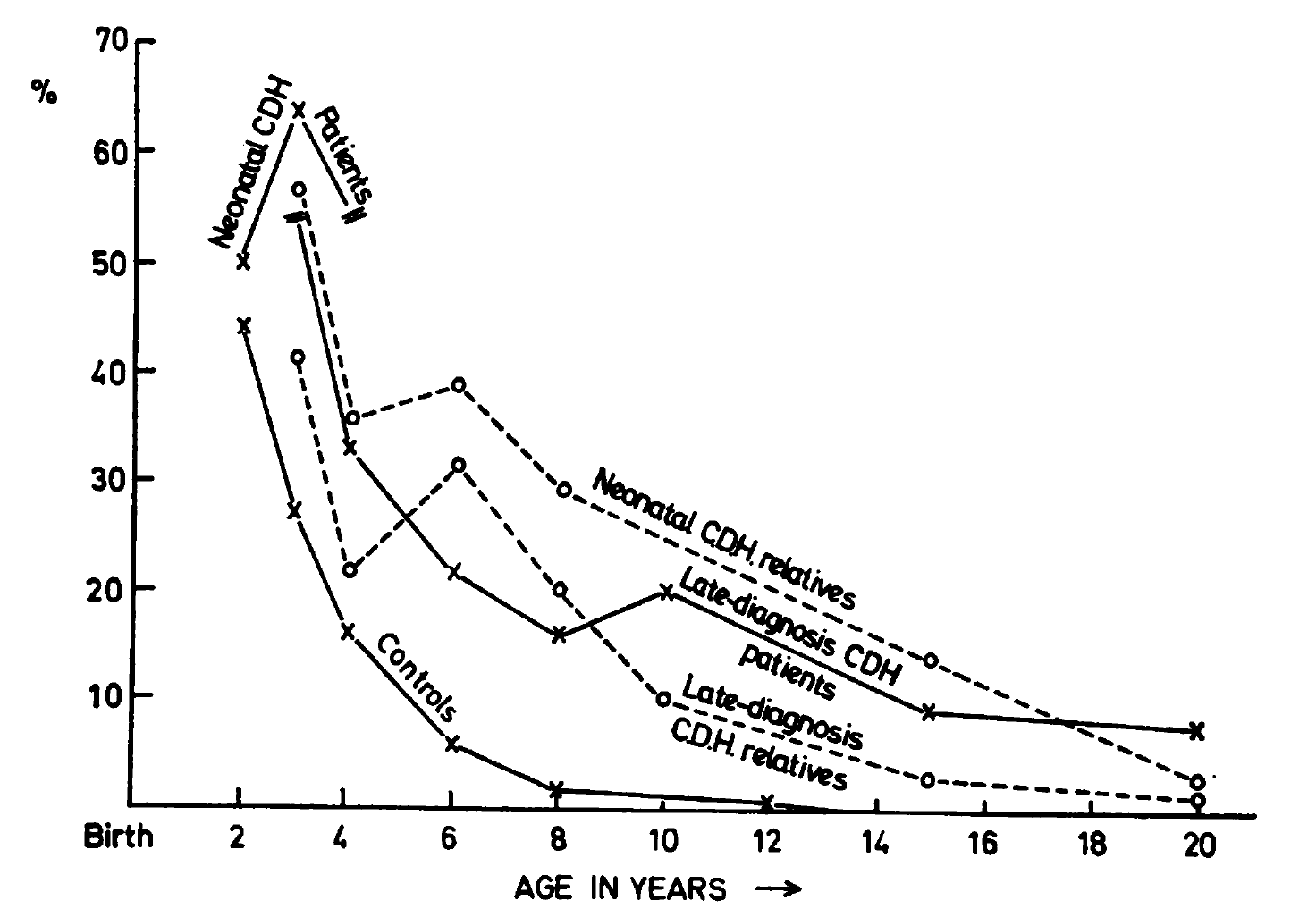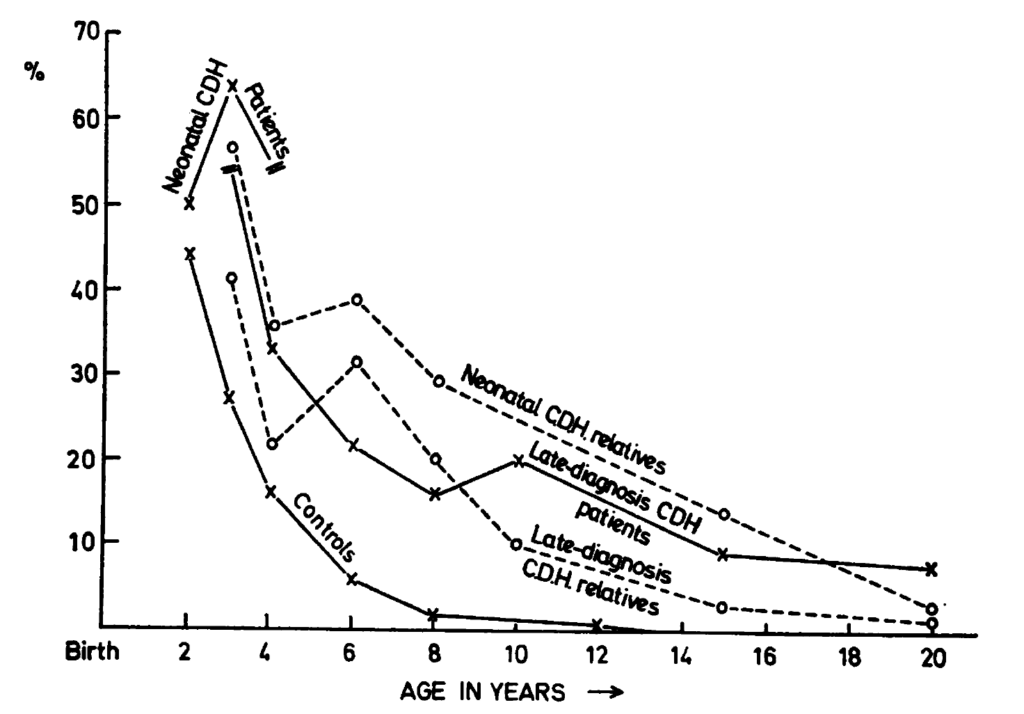 The graph (Fig 4) shows the percentage of individuals in each group examined who had excessive joint laxity. It is based on the examination of 192 neonatal and 397 late-diagnosis CDH patients, 1897 of their first-degree relatives, and 3354 controls.
---
Major Publications
---
References
Biography
Eponymous term
---
eponym
the person behind the name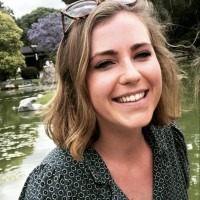 Graduated from Southampton Medical School in 2017 with BMBS. Working in Sir Charles Gairdner Hospital Emergency Department in Perth, Australia.
Associate Professor Curtin Medical School, Curtin University. Emergency physician MA (Oxon) MBChB (Edin) FACEM FFSEM Sir Charles Gairdner Hospital.  Passion for rugby; medical history; medical education; and asynchronous learning #FOAMed evangelist. Co-founder and CTO of Life in the Fast lane | Eponyms | Books | Twitter |