Wagstaffe-Le Fort Fracture
Description
Wagstaffe-Le Fort Fracture: vertical avulsion fracture of the medial aspect (anteromedial) of the distal fibula due to avulsion of the anterior tibiofibular ligament attachment (ATFL).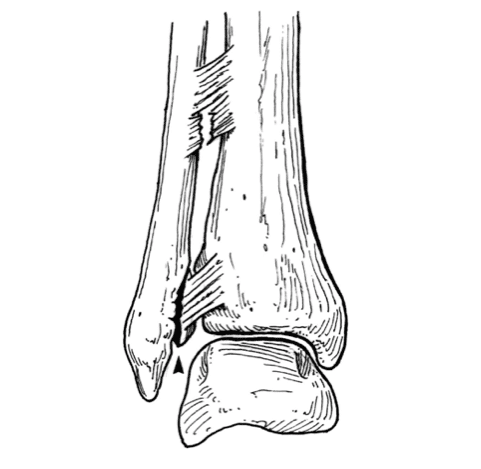 See also: Tillaux-Chaput avulsion fracture – anterolateral tibial avulsion
---
History of the Wagstaffe-Le Fort Fracture
1875 – William Warwick Wagstaffe reviewed 62 ankle fractures sustained between 1866-1868 following direct and indirect violence. He recorded 2 cases in which he could find 'no parallel instance to the two which are subjoined'. Wagstaffe original description:

I find in none of the standard works to which I have able to refer any mention of cases in which the fracture was of the character found in the two cases here recorded. The peculiar feature of these cases was the existence of a vertical fracture of the fibula in its lower end, with a displacement of the fractured portion in such a way that it was twisted round on its long axis.

Wagstaffe 1875
1886 – Léon Clément Le Fort described the same vertical fracture of the anteromedial portion of the fibula (Wagstaffe tubercle) suggesting it was at the site of the anterior inferior tibiofibular ligament (AITFL) insertion. He observed and described 3 clinical cases of isolated fracture of the anterior margin of the lateral malleolus corresponding to the attachment of the ligamentum malleoli lateralis anterius. In his opinion the fracture was produced by forced supination-adduction of the foot.
2002 – Park et al reviewed AITFL avulsion fracture classification. The Wagstaffe fracture (isolated vertical fracture of the distal fibula avulsed by the anterior tibiofibular ligament) was classified as type I, or primary Wagstaffe fracture)
Types of Wagstaffe fractures. (A) Type I, displaced avulsion fracture of the distal end of the fibula. (B) Type II, fracture of the anterior spike of the proximal fibular fragment. (C) Type III, fractures of the anterior tubercles from both of the tibia and fibula

Park et al 2002
2019 – Birnie et al proposed a new AITFL avulsion fracture classification system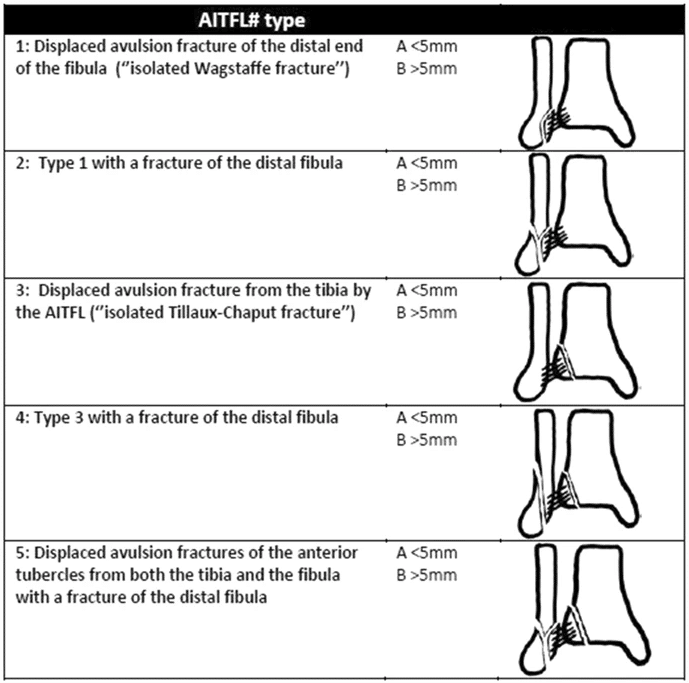 ---
Associated Persons
---
Alternative names
Wagstaffe-Le Fort Fracture
Le Fort-Wagstaffe Fracture
Wagstaffe Ankle Fracture
Le Fort Ankle Fracture
---
References
Original articles
Historical review
---
---
eponymictionary
the names behind the name
Associate Professor Curtin Medical School, Curtin University. Emergency physician MA (Oxon) MBChB (Edin) FACEM FFSEM Sir Charles Gairdner Hospital.  Passion for rugby; medical history; medical education; and asynchronous learning #FOAMed evangelist. Co-founder and CTO of Life in the Fast lane | Eponyms | Books | Twitter |