William Warwick Wagstaffe
William Warwick Wagstaffe (Sr) (1843-1910) was an English General surgeon and anatomist.
Belonged to the progressive school of surgery, an early advocate of the direct reduction of intussusceptions. Most notable was the application of his anatomical knowledge to the study of morbid anatomy, as a means of elucidating the problems of pathology.
Eponymously affiliated with the Wagstaffe Fracture (Wagstaffe-Le Fort fracture) and the Wagstaffe tubercle. Struck down by an obscure nervous malady in 1878, which slowly but steadily removed all his ability for physical activity and he never returned to surgical practice
---
Biography
Born 1843
1855-1859 Epsom College; one of the first one hundred boys to enter Epsom College when it opened in October 1855. Captain of both the cricket and rugby football teams in 1859
1861 – BA, Kings College, London
1862 – St. Thomas's Hospital Medical School
1864 – MRCS Member of the Royal College of Surgeons; Cheselden Silver Medal and the Treasurer's Gold Medal
1867 – 1st MB, University of London but never completed his Bachelor of Medicine examinations.
1868 – FRCS Fellow of the Royal College of Surgeons
1871 – Resident Assistant Surgeon at St Thomas's Hospital; Medical Officer to the Privy Council.
1874 – Consultant Surgeon at St Thomas's, and Sevenoaks Hospitals
1875 – Board of examiners in Anatomy and Physiology of the Royal College of Surgeons; Surgical Secretary to the Pathological Society of London.
1878 – Developed general spinal paralysis with severe attacks of lightning pains. He became bedridden, but with intellect unimpaired.
Unable to return to practical work he busied himself for some years in writing reviews for the British Medical Journal, translated Heiberg's Atlas of the cutaneous nerve supply of the human body (1885), and edited Mayne's Medical Vocabulary 6e (1889) and 7e
Died on January 22, 1910
---
Medical Eponyms
Avulsion fracture of the medial aspect of the distal fibula due to avulsion of the anterior tibiofibular ligament attachment (ATFL). See also: Tillaux-Chaput avulsion fracture – posterolateral tibia avulsion
In 1875 Wagstaffe reviewed 62 ankle fractures sustained between 1866-1868 following direct and indirect violence. He recorded 2 cases in which he could find 'no parallel instance to the two which are subjoined'. Wagstaffe original description:

I find in none of the standard works to which I have able to refer any mention of cases in which the fracture was of the character found in the two cases here recorded. The peculiar feature of these cases was the existence of a vertical fracture of the fibula in its lower end, with a displacement of the fractured portion in such a way that it was twisted round on its long axis.'

Wagstaffe 1875
---
Wagstaffe tubercle
Insertion site of anterior inferior tibiofibular ligament (AITFL) on the anteromedial portion of the fibula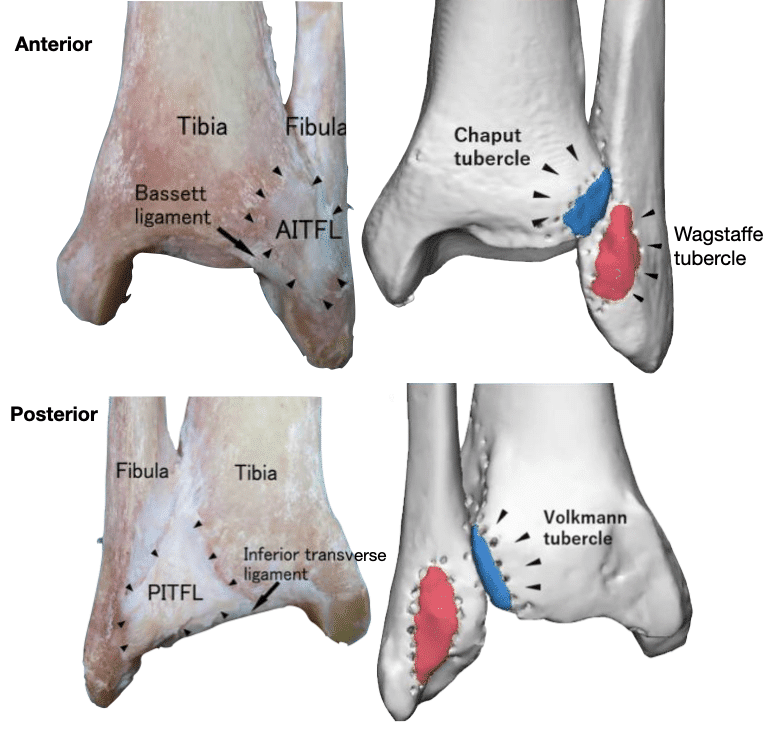 ---
Major Publications
---
Controversies
William Warwick Wagstaffe (Sr), not to be confused with his son: William Warwick Wagstaffe (Jr) (1886-1928)
---
References
Biography
Eponymous terms
---
[cite]
---
BA MA (Oxon) MBChB (Edin) FACEM FFSEM. Associate Professor Curtin Medical School, Curtin University. Emergency physician, Sir Charles Gairdner Hospital.  Passion for rugby; medical history; medical education; and asynchronous learning #FOAMed evangelist. Co-founder and CTO of Life in the Fast lane | Eponyms | Books | Twitter |