aka Ophthalmology Befuddler 027
A 56 year-old female presents with sudden onset loss of vision in her right eye. She a past medical history of hypertension, hyperlipidema and medication-controlled diabetes mellitus type 2. Her medications include aspirin, ramipril, atorvastation and metformin. On examination she has 6/60 vision in her right eye.
You perform fundoscopy and observe the following appearance: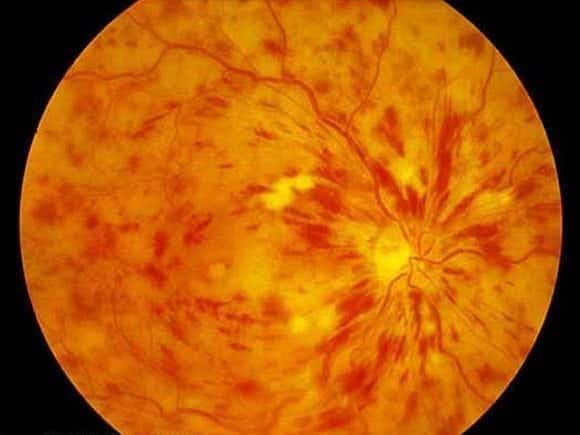 Questions
Q1. What is the likely diagnosis?
Answer and interpretation

Central retinal vein occlusion (CRVO)

Sudden painless loss of vision, in a patient with risk factors and a 'blood and thunder' retinal appearance.
---
Q2. What are the predisposing factors and associated conditions?
Answer and interpretation

There are lots:

glaucoma
old age
hypertension
diabetes mellitus
hypercoagulable state
atherosclerosis (vein is compressed by adjacent artery)
retrobular compressive lesions (e.g. thyroid disease, orbital tumour)
vasculitis
---
Q3. What features on history and examination should be looked for?
Answer and interpretation

History:

sudden and painless loss of vision
assess for risk factors/ underlying causes (see Q2)

Examination:

Visual acuity — variable depending on severity and duration since onset
A Marcus-Gunn pupil may be present if ischemic CRVO (relative afferent pupillary defect = RAPD)
Red reflex: may be abnormal

Fundoscopy: (Large areas of hemorrhage)

non-ischemic CRVO: dilated tortuous veins, retinal hemorrhages, cotton wool spots, retinal edema, disc swelling.
ischemic CRVO (more severe): classic 'blood and thunder' appearance from widespread hemorrhages that obscure most fundal details. Neovascularisation.
---
Q4. What is the management?
Answer and interpretation

Refer to an ophthalmologist — photocoagulation may be performed if there is neovascularisation.
Refer to a physician for ongoing work-up and treatment of underlying causes
Screen for risk factors (cardiovascular disease, diabetes, vasculitis, etc)
Consider low-dose aspirin (unproven)
---
Q5. How does branch retinal vein occlusion differ from this condition?
Answer and interpretation

A branch retinal vein occlusion only affects a sector of the retina corresponding to the distribution of the affected branch. Visual loss is limited to a segment of the visual field.
---
---