Description
Ashman phenomenon (1947) describes an aberrant ventricular conduction, usually of RBBB morphology, which follows a short RR interval and is preceded by a relatively prolonged RR interval.
Ashman phenomenon is typically seen with atrial fibrillation but can also occur with other supraventricular arrhythmias. Clinically, Ashman phenomenon by itself is asymptomatic and does not require any specific treatment.

Ashman phenomenon. Occurs when a long RR interval is followed by a short RR interval and terminated by the aberrant QRS complex

---
History
1947 – Gouaux and Ashman reported that in atrial fibrillation, when a relatively long cycle was followed by a relatively short cycle, the beat with a short cycle often has Right Bundle Branch Block morphology.
1983 – Fisch criteria for the diagnosis of Ashman phenomenon
relatively long cycle immediately preceding the cycle terminated by the aberrant QRS complex;
RBBB-form aberrancy with normal orientation of the initial QRS vector, a series of wide QRS supraventricular beats is possible;
irregular coupling of aberrant QRS complexes;
A short-long-short RR interval is even more likely to initiate aberration; and
lack of fully compensatory pause.
---
Mechanism
The refractory period of the His-Purkinje system is proportional to the RR interval of the preceding beat. So, when two beats are separated by a long RR interval, the subsequent refractory period will be relatively long.
If a premature supraventricular stimulus (short RR interval) follows a long RR interval whilst the His-Purkinje system is still refractory, then the conducted beat will appear abnormal. As the refractory period of the right bundle is slightly longer than the left, the aberrantly-conducted beat typically demonstrates a right bundle branch (RBBB) morphology.
Example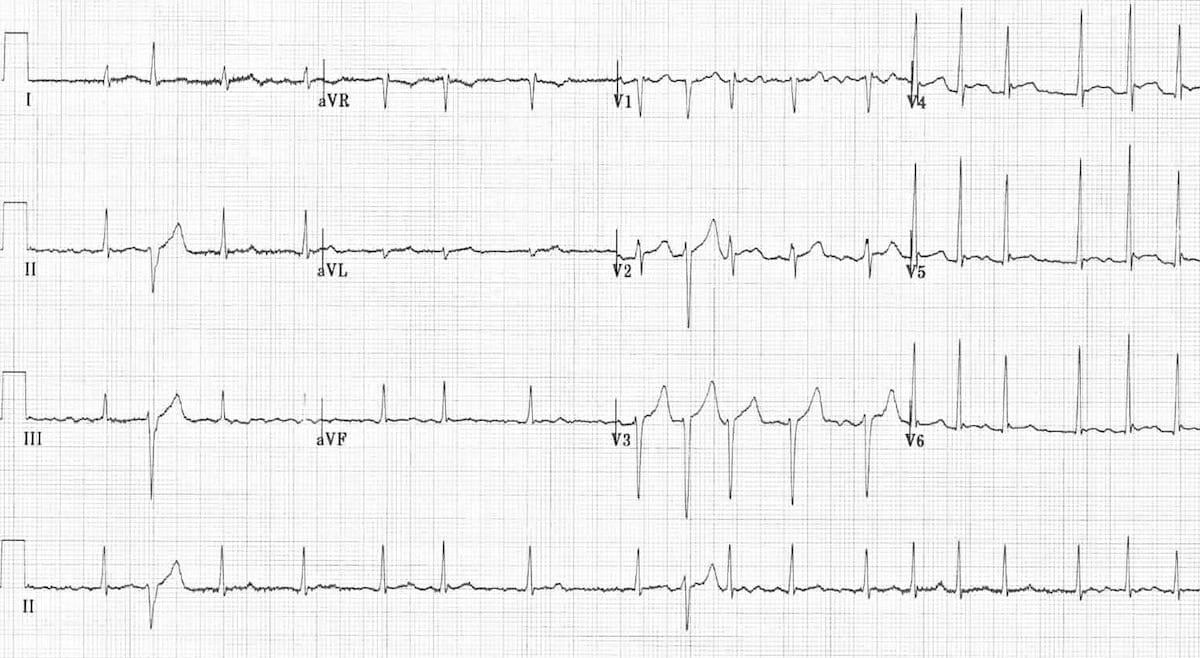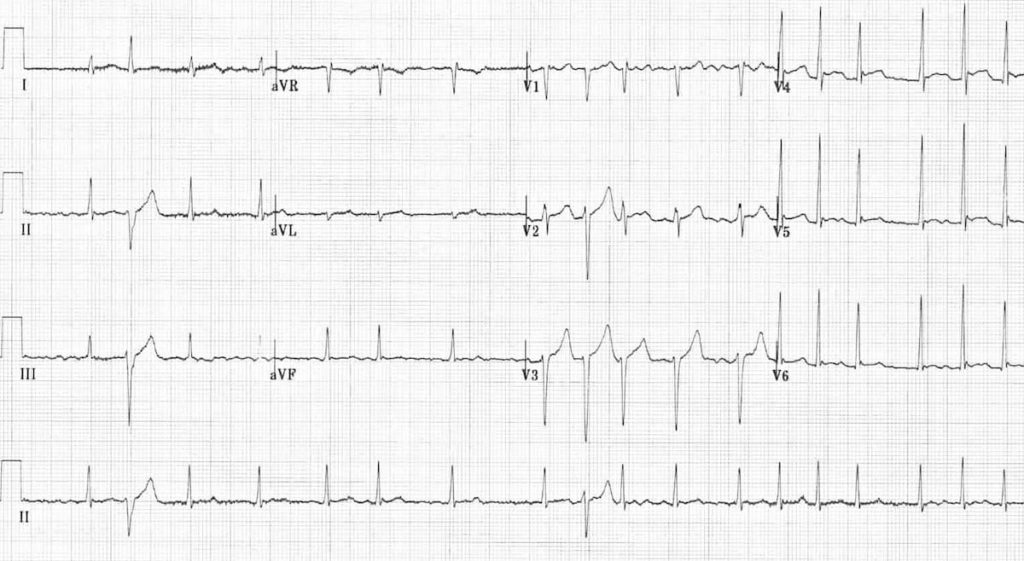 Associated Persons
---
Alternate Names
Ashman beat
Ashman aberrancy
---
References
Gouaux JL. Ashman R. Auricular fibrillation with aberration simulating ventricular paroxysmal tachycardia. Am Heart J. 1947 Sep;34(3):366-73. [PMID 20262631] [Ashman phenomenon]
Fisch C. Electrocardiography of arrhythmias: from deductive analysis to laboratory confirmation–twenty-five years of progress. J Am Coll Cardiol. 1983;1(1):306-16. [PMID 6826940]
Alraies MC, Eisa N, Alraiyes AH, Shaheen K. The long and short of it: Ashman's phenomenon. Am J Med. 2013 Nov;126(11):962-3. [PMID 24050488]
Lakusic N, Mahovic D, Slivnjak V. Ashman phenomenon: an often unrecognized entity in daily clinical practice. Acta Clin Croat 2010;49:99–100.