Questions
With respect to pregnancy.
a) Indicate how the following variables change in the third trimester (either increase or decrease or no change).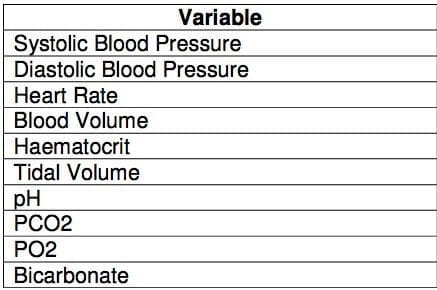 b) List 4 conditions specific to pregnancy which may result in right or left heart failure or both.
c) Outline the major differences in approach to cardiopulmonary resuscitation in pregnancy as compared to the non-pregnant adult.
---
Answers
Answer and interpretation

a. Indicate how the following variables change in the third trimester (either increase or decrease or no change).

b. List 4 conditions specific to pregnancy which may result in right or left heart failure or both.

Peripartum cardiomyopathy
Amniotic fluid embolism
Pre-eclampsia
Tocolytic pulmonary oedema
Pulmonary thromboembolism

c. Outline the major differences in approach to cardiopulmonary resuscitation in pregnancy as compared to the non-pregnant adult.

CPR in left lateral position (27 degree tilt)
Consideration for emergency caesarian section
Hands slightly higher on sternum for chest compressions
Additional personnel / equipment for emergency c-section and neonatal resuscitation
---