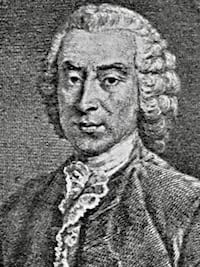 Claude Pouteau (1724–1775) was a French surgeon.
First to describe the fracture of the lower extremity of the radius with 'dorsal tipping of the distal fragment' in 1760
Early advocate of aseptic technique and hand-washing to reduce puerperal sepsis. Skilled lithotomist advocating a perineal approach, and slow/deliberate operation to reduce mortality (death rate 3/120)
Biography
Born 14 August 1724 Lyon
Trained in Paris under Jean-Louis Petit (1674–1750)
1744 – Assistant Surgeon at l'Hôtel-Dieu, Paris
1747 – Chief surgeon major of Charité de Lyon
1753 – Entered private practice treating limb fractures and dislocations
Died 10 February 1775 Lyon. Accidental death suffering a fractured skull following a fall on a staircase
Medical Eponyms
Key Medical Attributions
Skilled lithotomist (removal of stones from bladder/renal tract), an operation performed without anaesthesia. It was de rigueur to perform the operation with speed and flair (see Frère Jacques Beaulieu). However Pouteau claimed a low mortality rate of 2.5%, with his emphasis on cleanliness during the procedure; and a slow and deliberate approach. Pouteau took up to 5 minutes following initial incision to remove the stones.
Asepsis: One of the first in Europe to note that hand washing reduced 'puerperal sepsis' in women following child birth. He noted that hospital-gangrene was not only caused by air miasma but also by direct contact, secondary to dirty instruments or hands, or hospital-made bandages. He advocated strict hand-washing over 100 years before Semmelweiss. (Pouteau, Oeuvres Posthumes 1873;3:239-250)
Cautery: In case of bleeding Pouteau advocated cautery as preferable to ligature. "We can do without the bitter sadness of seeing a lighter wound become a lethal or incurable one…" (Pouteau, Oeuvres Posthumes 1873;3:237-238)
Controversies
Pouteau's memoirs were published posthumously in 1783. In the second volume is recorded his description of the fracture of the distal end of the radius with 'dorsal tipping of the distal fragment'. Unfortunately, this work was little known outside of France and Colles was probably unaware of the findings when he published his 1814 paper
Major Publications
References
--- eponym
the person behind the name