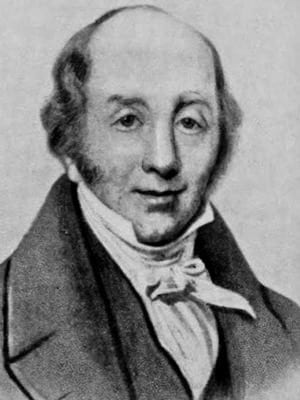 Abraham Colles (1773 – 1843) was an Irish surgeon and anatomist.
Inspired having stumbled upon an anatomy book swept away by flooding from the local doctor. Most important work – Treatise on Surgical Anatomy, (Dublin, 1811) with significant pathological descriptions still in use today

Eponymously associated with the Colles Fracture – describing the deformity 80 years prior to the discovery of x-ray. Advocated use of tin splints to stabilise fracture following closed reduction and the use of mercury in treatment of syphilis.
Biography
Born 23 July 1773, Millmount near Kilkenny
1795 – Bachelor of Arts, Trinity College Dublin. Given a license to practice by the college of surgeons.
1797 – MD, Edinburgh Medical School
1802 – President of the Royal College of Surgeons in Ireland (age 29)
1804 – Professor of surgery and professor of anatomy and physiology
Died 16 November 1843
Key Medical Attributions
Colles believed his most important work was Practical Observations on Venereal Disease, and on the Use of Mercury (London, 1837). He described the relationship between the syphilitic mother and child now known as Colles law.
Medical Eponyms
Colles fracture (1814) – Described fractures (1814) in a provincial journal. It was Smith in 1847 with his accurate review that endeared the eponym to Colles [Smith 1847;129]
Colles fascia (1811) – deep layer of the superficial perineal fascia. The middle fascia of the urogenital triangle the attachments of which served to confine within strict limits extravasation of urine from a ruptured urethra
Colles Space (1811) – Space located below the perineal fascia and containing the transverse muscles of the perineum, ischiocavernosus and bulbocavernosus, the scrotal or labial nerves and vessels and the bulbar portion of the urethra.
Colles ligament (1811) – small triangular fascia that springs from the pubic crest and ilio-pectineal line and passes upwards and inwards towards the Linea alba under cover of the internal pillar of the external abdominal ring.
Colles law (1837) – [A child born to a mother who has no signs of venereal symptoms, and presents with this disease at the age of a few weeks, will infect the healthiest nursemaid, but not its mother.] – However, his conclusion was wrong, as the mother would already have been infected with syphillis but not manifesting clinical symptoms at birth
Controversies
In 1705, Frenchmen Jean-Louis Petit and in 1760, Claude Pouteau both independently suggested (prior to Colles) that some carpal dislocations were in fact fractures of the end of the radius. Pouteau hypothesised the characteristic dorsal angulation of the distal fragment.
However, thanks to Smith, Colles received the distinction of having his name attached to the most common fracture of the wrist. Smith was well aware of Pouteau's work and even referred to Pouteau's statement regarding Colles' fracture that "there is no fracture the existence of which it is more easy to tell at a single coup d'oeil (look of the eye)" [Smith 1847;140]
Robert William Smith (of Smith fracture fame) had a reputation as a pathologist. Abraham Colles requested that Smith be called upon to perform his own autopsy. The autopsy was performed and later published by later published by William Stokes as 'Observations on the Case of the Late Abraham Colles'
Notable Quotables
Hayden GT in 1837, referenced Colles as completing the first surgery for an axillary aneurysm (performed by ligating the first part of the subclavian artery), however the patient died 13 days later. Colles blamed the patient moving about:
The perverseness and obstinacy of my patient, in this respect, were most deplorable, for she would, in despite all our entreaties and warnings, move about, perfectly reckless of consequences."
Be assured, that no man can know his profession perfectly, who knows nothing else; and that he who aspires to eminence in any particular science must first acquire the habit of philosophising on matters of science in general." – Colles A. A treatise on surgical anatomy. 1811:13
In this country, the name of an eminent surgeon, lately deceased, has been associated with this injury; we know it here as Colles's Fracture of the Radius." [Smith 1847;129]
Major Publications
References
--- eponym
the person behind the name