A 36-year-old male is involved in a motorbike accident while travelling at 60km/hr.
He is intubated on scene by the retrieval team for decreased GCS.
He has extensive injuries involving this head, thorax, abdomen and long bones.
We will focus on his abdomen.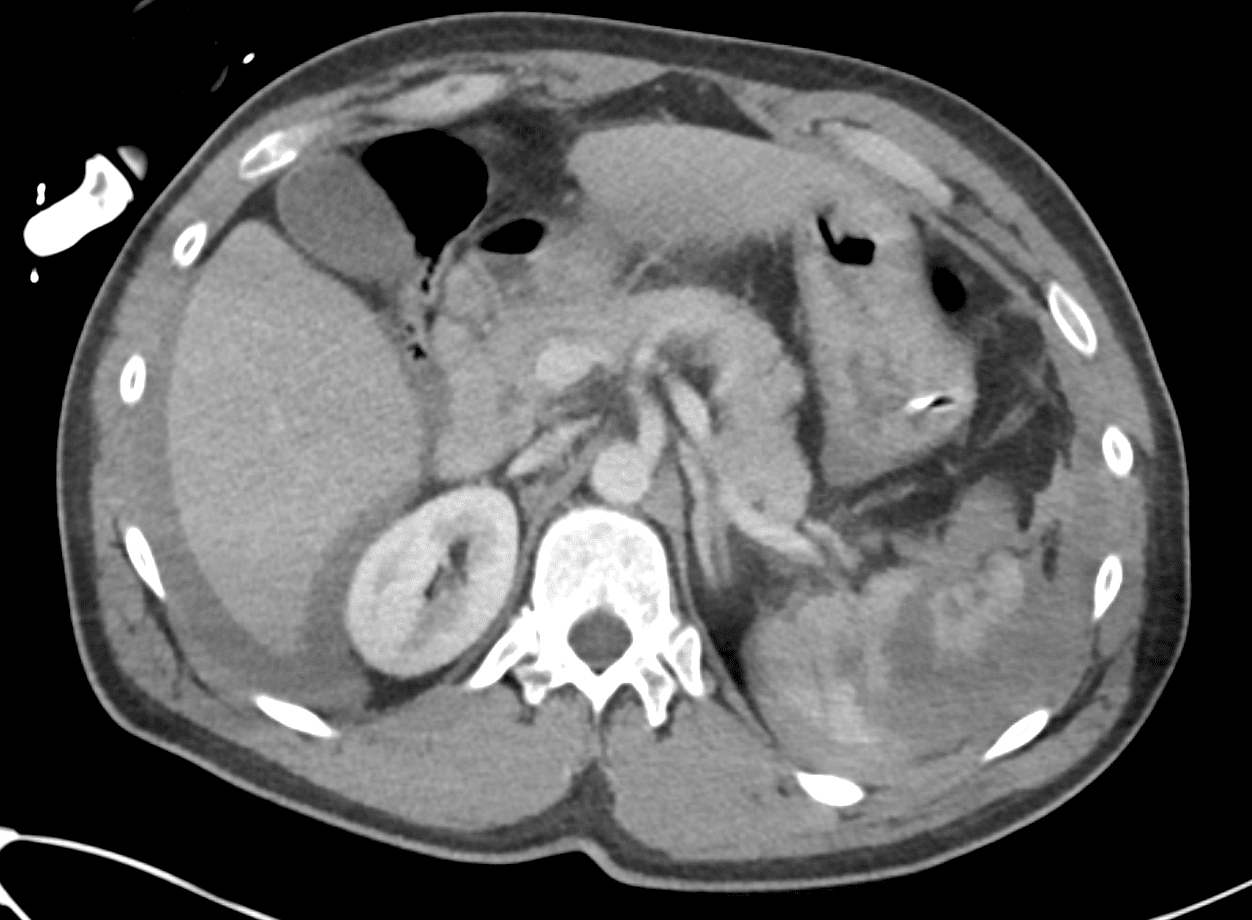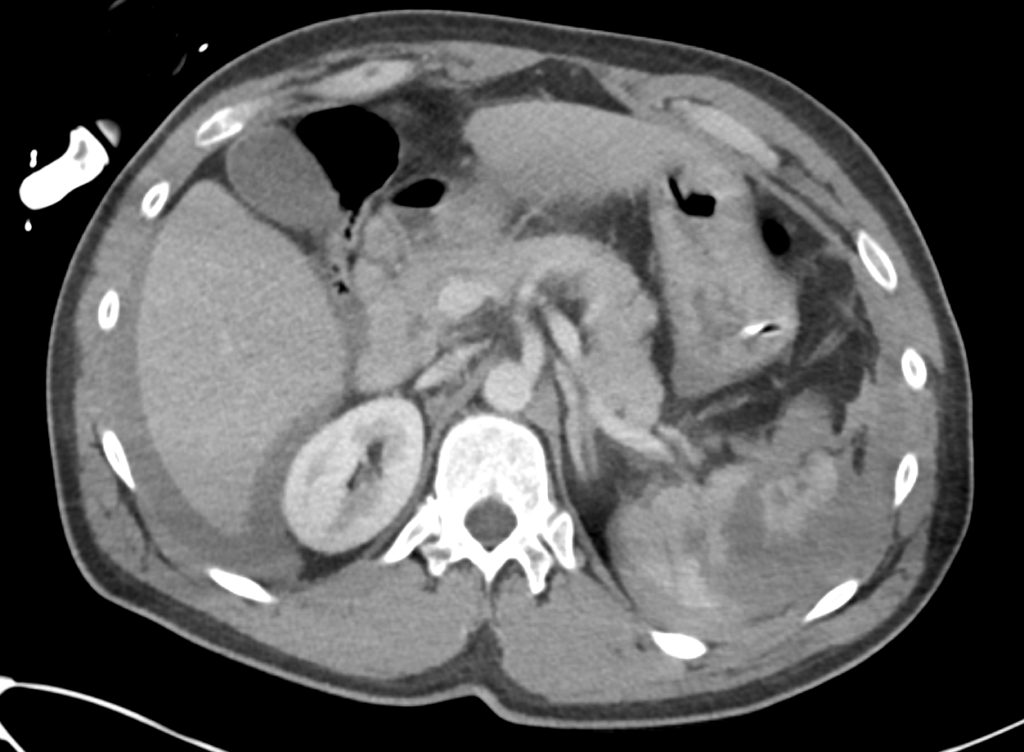 ---
Describe and interpret the CT images
CT INTERPRETATION

The spleen has multiple deep lacerations with injury extending into the hilum of the spleen with devascularisation of nearly 50 % of the parenchyma.

There is free fluid of high density seen in the abdomen (surrounding both the liver and the spleen).

In this context, this fluid is consistent with haemoperitoneum.

There is also a haematoma in the greater omentum.
CLINICAL CORRELATION

Grade 4 Splenic injury

The spleen is an extremely vascular organ, as a result, injury can lead to large volume intra-abdominal haemorrhage, which can rapidly cause haemorrhagic shock.

On this CT we see blood surrounding not only the spleen, but also the liver, and yet, there was no injury to the liver.

This is a reminder of why Morison's pouch (the pouch of Rutherford Morison) in the right upper quadrant, being the most dependent area, is the most sensitive area for identifying free fluid on EFAST scan.

This patient required urgent resuscitation and splenectomy. In the first 24 hours following injury he received 18 units PRBC, 9 units FFP, 15 units cryoprecipitate, 1 unit of platelets, TXA 2g and calcium chloride 20mmol.

Splenic injuries are graded 1 to 5, with 5 being the most severe.

Note – in this case: to technically call it a shattered spleen/grade 5 splenic injury in the latest 2018 revision of AAST grading, they mention active bleed extending from spleen into peritoneum or complete devascularisation od spleen. Active bleed is not demonstrated in the images as arterial blush or extravasation into peritoneum, so we would call it grade 4 splenic injury
---
One year later this patient has a CT abdomen for an unrelated reason.
What do we see if we look at the left upper quadrant?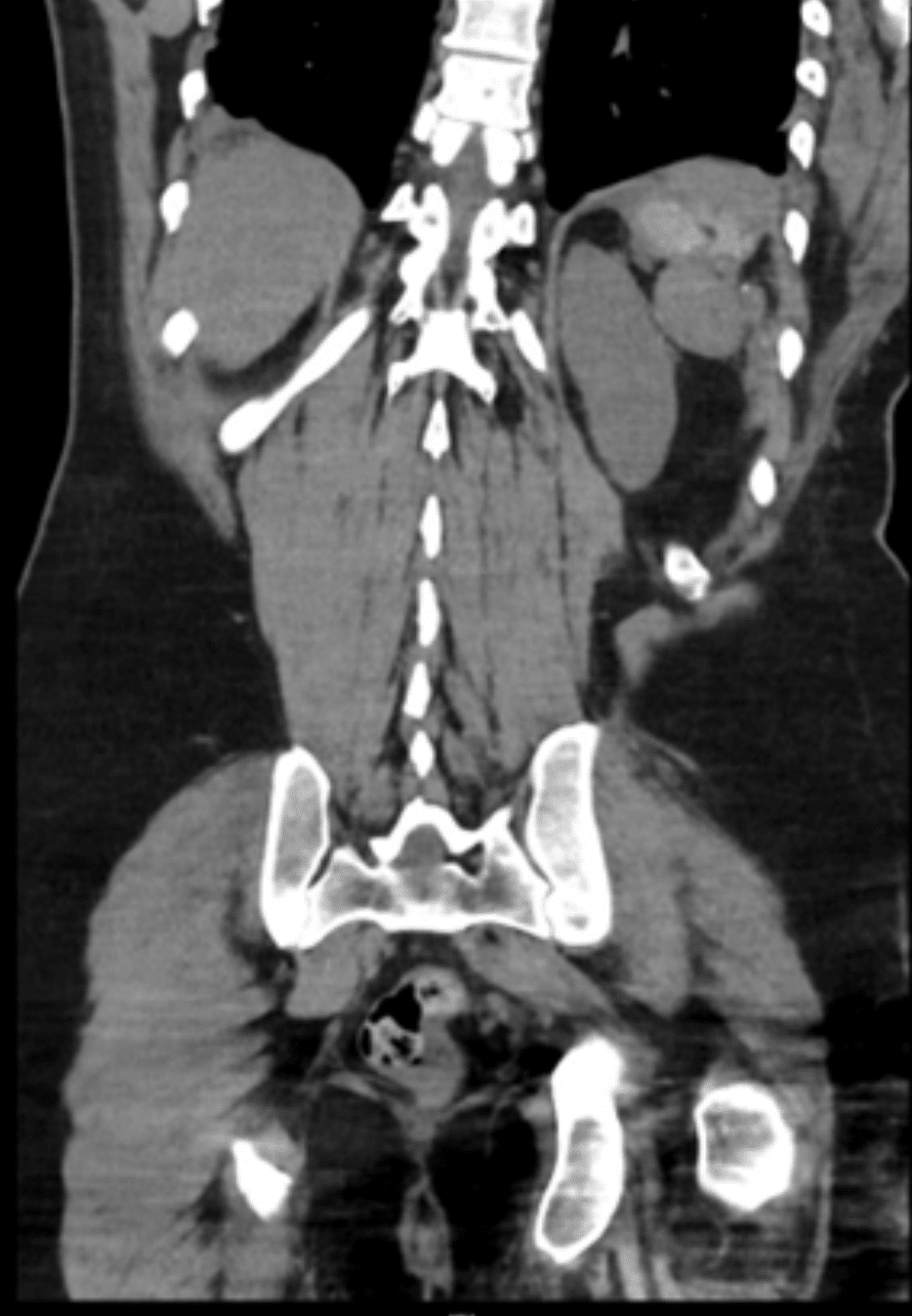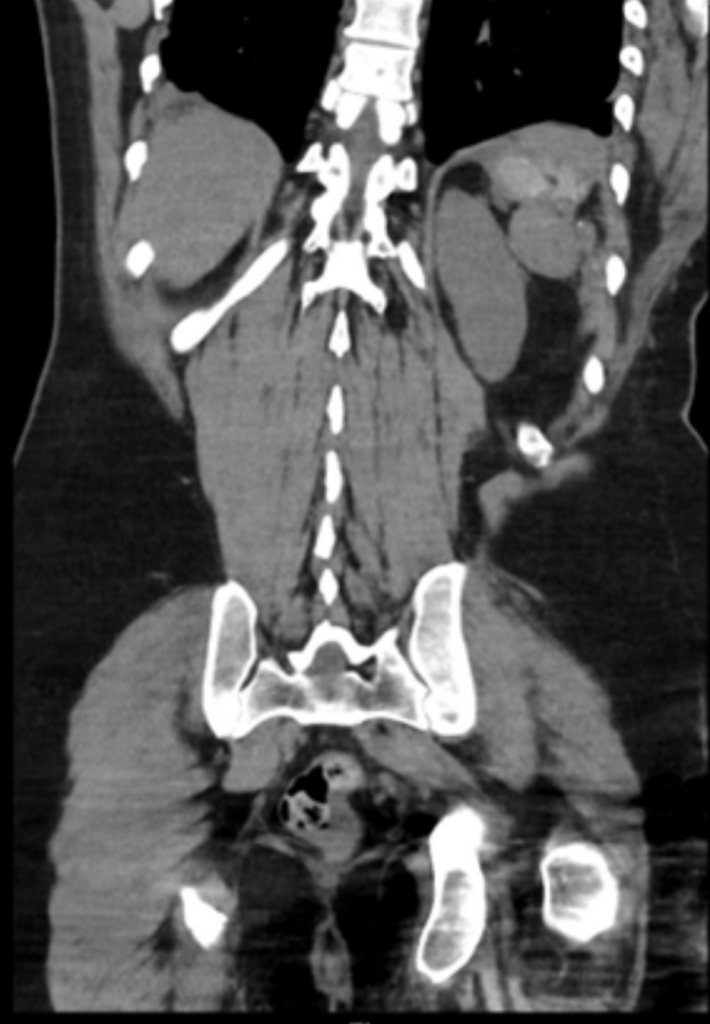 CT INTERPRETATION

This is a small amount of residual splenic parenchyma. This is not an uncommon finding following splenectomy in trauma. In this case the residual splenic tissue remains in the left upper quadrant. However, at the time of damage control surgery, it is possible for the splenic tissue to seed elsewhere within the abdomen and even within the thoracic cavity.
---
---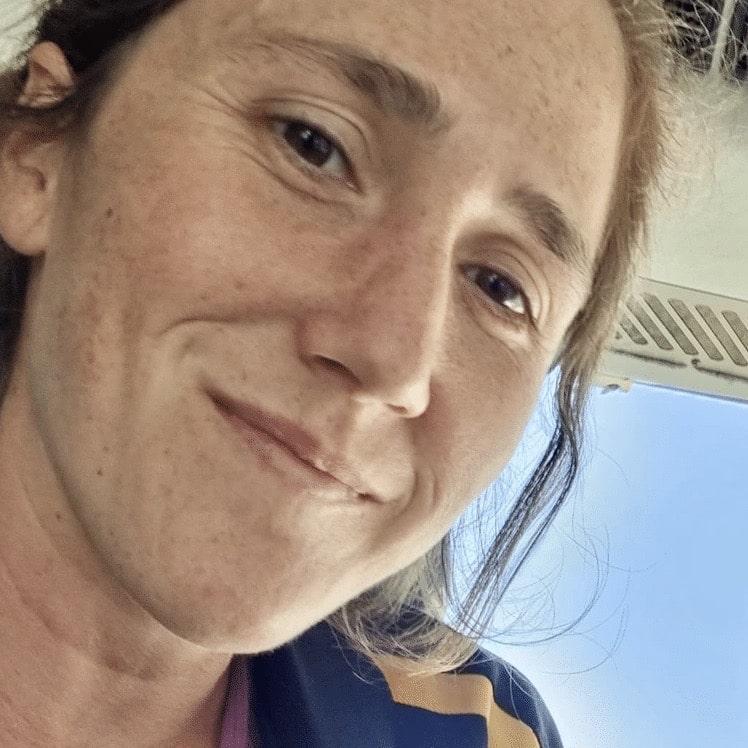 Emergency Medicine Education Fellow at Liverpool Hospital NSW. MBBS (Hons) Monash University. Interests in indigenous health and medical education. When not in the emergency department, can most likely be found running up some mountain training for the next ultramarathon.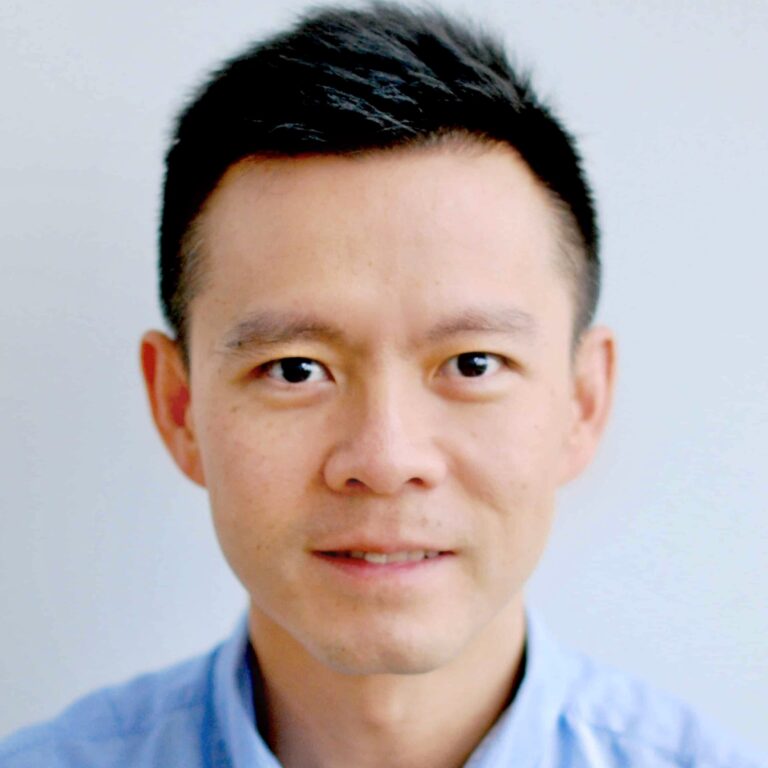 Dr Leon Lam FRANZCR MBBS BSci(Med). Clinical Radiologist and Senior Staff Specialist at Liverpool Hospital, Sydney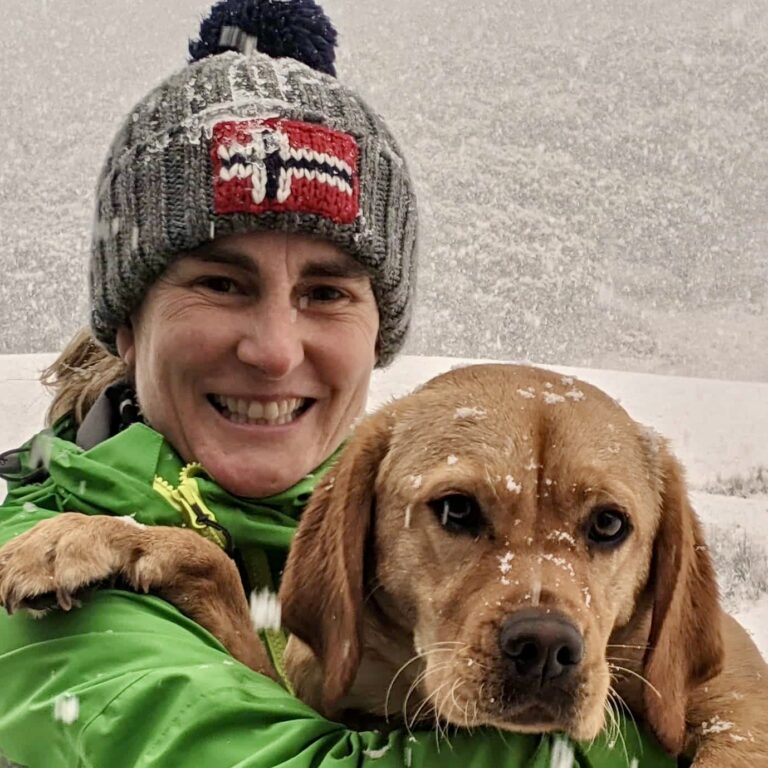 Sydney-based Emergency Physician (MBBS, FACEM) working at Liverpool Hospital. Passionate about education, trainees and travel. Special interests include radiology, orthopaedics and trauma. Creator of the Sydney Emergency XRay interpretation day (SEXI).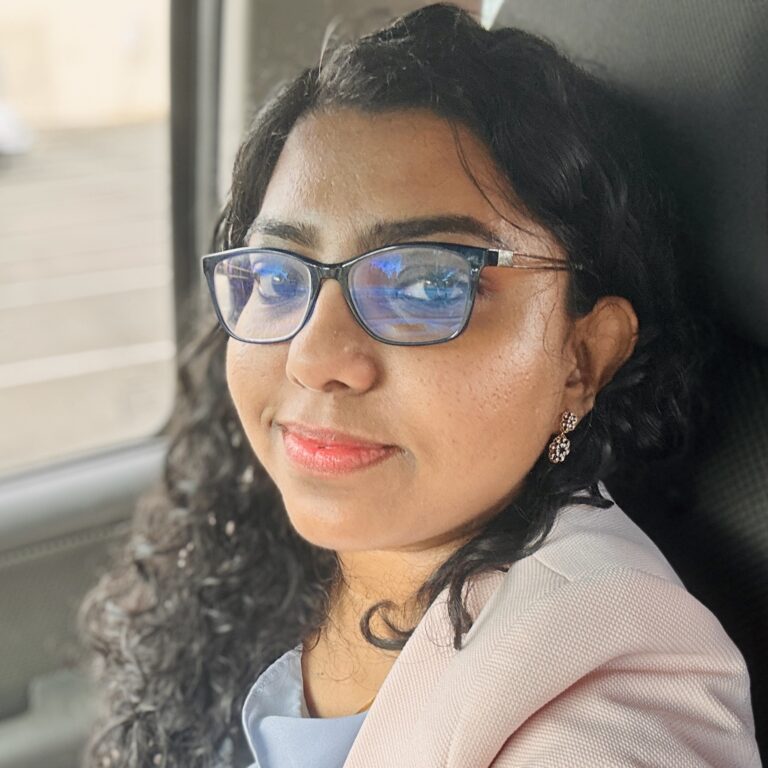 Provisional fellow in emergency radiology, Liverpool hospital, Sydney. Other areas of interest include paediatric and cardiac imaging.