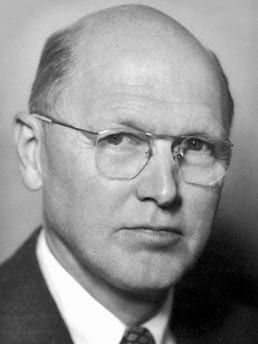 Dickinson Woodruff Richards, Jr. (1895-1973) was an American physician and Nobel Laureate.
Famously known for his work in development of cardiac catheterisation and physiology with André Frédéric Cournand and Werner Theodore Otto Forßman.
In 1931 Richards started to collaborate with Dr. Cournand for research into pulmonary physiology in patients with pulmonary disease and refinement of Dr. Forßmann's infamous cardiac catheterisation. Furthermore, his research was enhanced by this additional technique enabled the exploration of the dynamics of the cardiac functions— output, filling and ejection pressure, pulmonary and systemic blood flow.
D.W.R 's research was not limited to physiology of heart failure, quantifying the effects of cardiac drugs, and various forms of dysfunction in chronic cardiac and pulmonary diseases and their treatment. Dr. Andre Cournand honours D.W.R in a biographical memoir published in the national academy of sciences.
---
Biography
Born on October 30, 1895 in Orange, New Jersey, United States of America
1913 – Yale University studying English and Greek. Hugh Chamberlain prize for Greek entrance examinations with the highest mark ever obtained.
1917 – Bachelor of Arts, Yale University. He joined United States Army in September and served as an instructor in artillery.
1919 – Artillery officer in France.
1922 – Masters degree in Physiology, Columbia University under Professor Ernest L. Scott
1923 – Doctor of Medicine, College of Physicians and Surgeons. Internship and residency at Presbyterian Hospital.
1927 – Fellowship at the National Institute for Medical Research in London, United Kingdom
1928-1945 – Attending Physician at Presbyterian Hospital. During this time he began to collaborate with André Cournand at the Bellevue Hospital in New York – development of cardiac catheterisation and other physiological studies.
1935 – Medical adviser to Merck & Co. Inc, New Jersey, United States of America. Editor of the Merck Manual
1945 – Director of the First Medical Division (Columbia) at Bellevue Hospital
1947 – The Lambert Professor of Medicine at Columbia University, Dr. Cournand would visit frequently for the work they did together.
1950's – Editor of the AHA journal Circulation
1956 – Awarded the Nobel prize along with Dr. André Cournand and Dr. Werner Forßmann
1957 – Citation of the American Heart Association in 1957
1960 – John Phillips Memorial Award of the American College of Physicians
1962 – President of the Harvey Society and of the Association of American Physicians
1963 – Chevalier de la Legion d'honneur
1968 – Trudeau Medal, endowed professorship at Columbia University for his contribution to the Merck Manual
1970 – Kober Medal from the Association of American Physicians
Died February 23, 1973 in Lakevile, Connecticut, United States of America. The Dickinson W. Richards Memorial Lecture was established in his memory

---
Controversies
Indeed, as a member of the Bellevue Medical Board, Dick was outspoken and unyielding in his criticism of the city's neglect of its hospitals and in his efforts to bring to bear pressure to oblige the city to erect a new hospital building.

1Courand A 1989
---
Major Publications
---
References
---
[cite]
---
Resident Medical Officer currently working in Emergency Department at Sir Charles Gairdner Hospital. Pianist and avid Golfer  | LinkedIn |
BA MA (Oxon) MBChB (Edin) FACEM FFSEM. Associate Professor Curtin Medical School, Curtin University. Emergency physician, Sir Charles Gairdner Hospital.  Passion for rugby; medical history; medical education; and asynchronous learning #FOAMed evangelist. Co-founder and CTO of Life in the Fast lane | Eponyms | Books | Twitter |