Funtabulously Frivolous Friday Five 132
Just when you thought your brain could unwind on a Friday, you realise that it would rather be challenged with some good old fashioned medical trivia FFFF, introducing the Funtabulously Frivolous Friday Five 132
Question 1
What is the Asboe-Hansen sign, seen in toxic epidermal necrolysis (TEN)?
Reveal the funtabulous answer

The Asboe-Hansen sign (also known as "indirect Nikolsky sign"or "Nikolsky II sign") refers to the extension of a blister to adjacent unblistered skin when pressure is put on the top of the bulla. Named after Gustav Asboe-Hansen (1917-1989), a Danish physician

Nikolsky commonly occurs with Steven-Johnson Syndrome, Staphylococcal Scalded Skin Syndrome, TEN and Pemphigus vulgaris.
---
Question 2

Why do germs seem to spread in Winter?
Reveal the funtabulous answer

Drier air.

Lab experiments have looked at the way flu spreads among groups of guinea pigs. In moister air, the epidemic struggles to build momentum, whereas in drier conditions it spreads like wildfire. [Reference]
---
Question 3

What eponymous fractures cause a Dish-face sign?
Reveal the funtabulous answer

Le Fort fracture II and III

René Le Fort (1869-1951) was a French surgeon. He conducted a series of thorough, if slightly unethical, experiments on the heads of cadavers. As a result of this work he classified facial fractures as types I, II and III.

Le Fort I

Le Fort II

Le Fort III
---
Question 4
Pterygium is the Greek for what?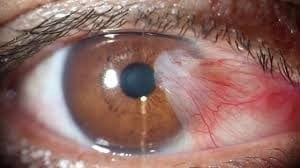 Reveal the funtabulous answer

A Little Wing

Sometimes referred to as a bat's wing but any small winged creature will do
---
Question 5
And finally the answer to the great modern medicine dilemma…. Is it less painful to remove a plaster slowly or fast?
Reveal the funtabulous answer

Fast

What is truly great about this study is the use of a pain scale out of 11 (its always an 11 in real life) and the use of medical students. If you don't believe the answer then utilise your own students.
---
FFFF
Funtabulously Frivolous Friday Five
Dr Neil Long BMBS FACEM FRCEM FRCPC. Emergency Physician at Kelowna hospital, British Columbia. Loves the misery of alpine climbing and working in austere environments (namely tertiary trauma centres). Supporter of FOAMed, lifelong education and trying to find that elusive peak performance.