Description
Fracture of the distal third of the radius with associated distal radio-ulna joint (DRUJ) disruption.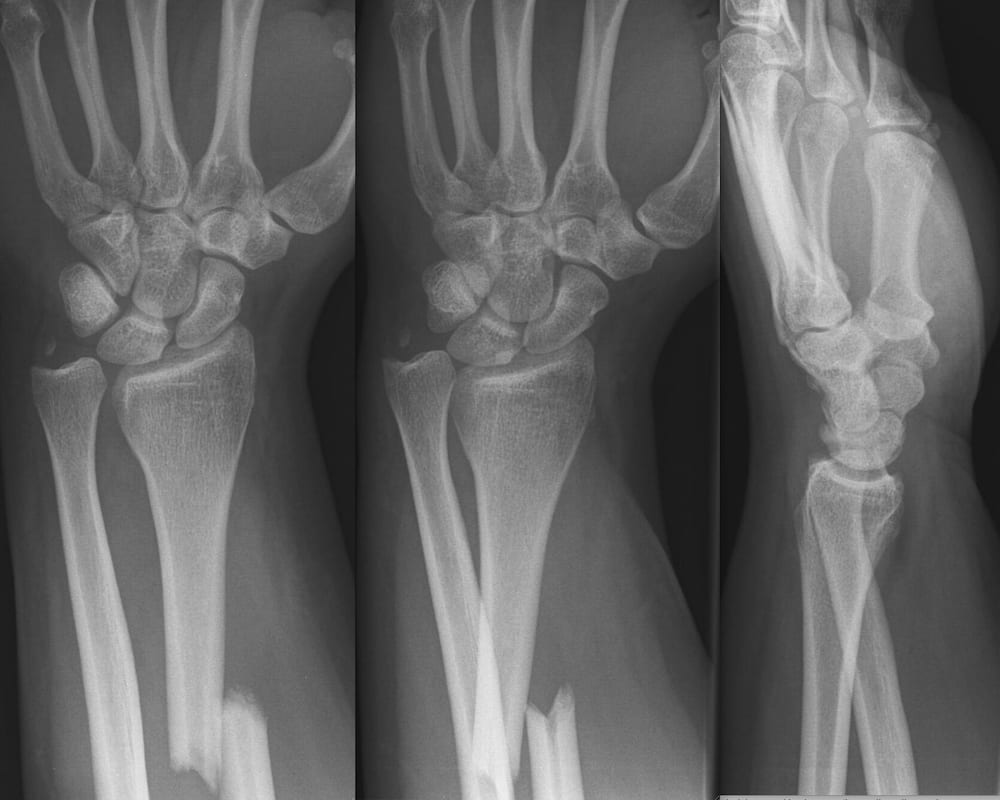 ---
History of the Galeazzi fracture
1822 – Fracture pattern first described by Sir Astley Cooper some 110 years prior to Galeazzi's publication. Copper describes cases of radius fracture with DRUJ disruption and ulna dislocation Compound dislocation of the ulna with fracture of the radius. In his Treatise on dislocations, and on fractures of the joints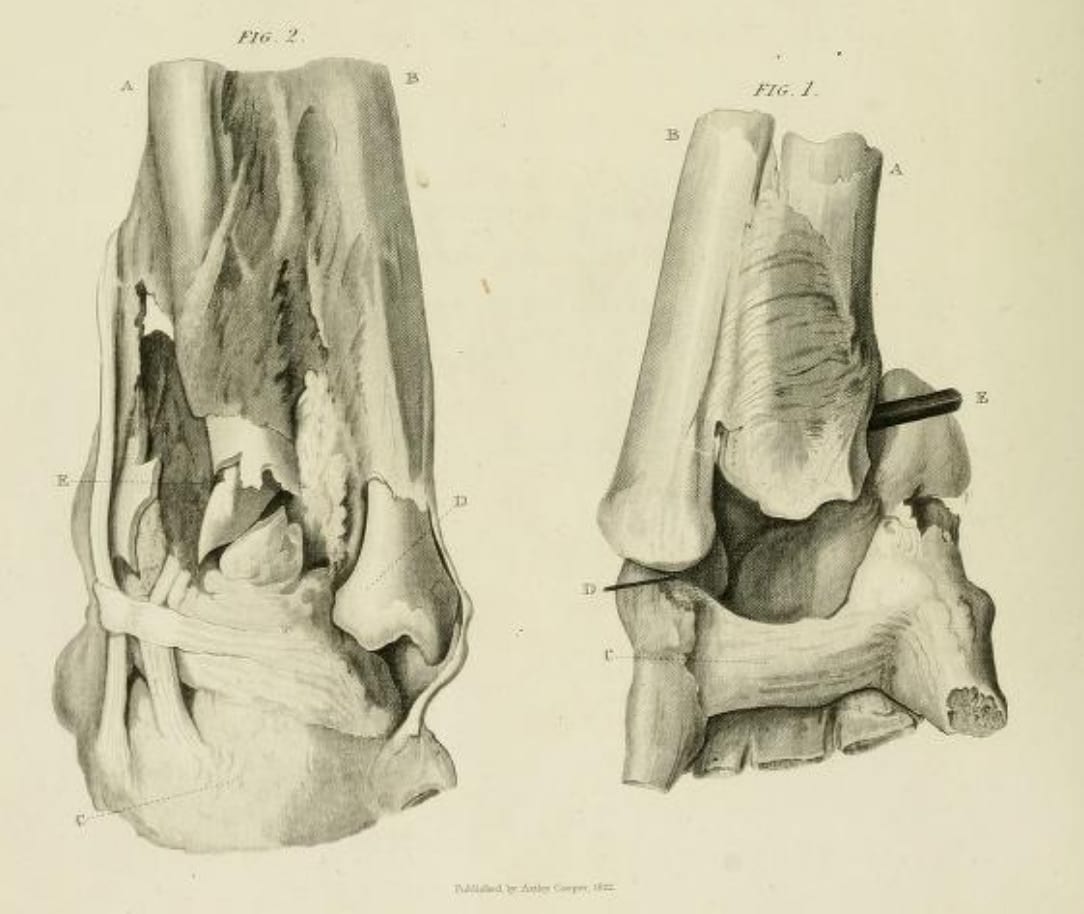 1912 – William Darrach (1876–1948) reported a 20 year old male presenting with an 8 week old injury with 'fracture of the radial shaft 2.5 inches above the lower margin with anterior bowing and a forward dislocation of the head of ulna'. He attempted closed reduction unsuccessfully prior to open reduction and splinting in pronation. Reviewed 18 months later, found patient unable to pronate/supinate – recommended subperiosteal excision of the distal end of the ulna for delayed cases of ulnar head dislocation (Darrach procedure) [1912; 56(5):801–803]
1922 – Homans and Smith attempted open reduction of the radius fracture and applied a splint, but found a tendency for angulation and delayed union in cases associated with a dislocation of the radioulnar joint. [1922; 187(11):401–406]
1925 – Further attempts at open reduction by Wilson and Cochrane (1925) and Milch (1926) with triangular fibrocartilage repair with a fascial graft – with poor outcomes
1934 – Riccardo Galeazzi described radial shaft fracture with associated DRUJ dislocation and published his experience of 18 cases. He reduced the radial shaft fracture by pulling on the thumb with the forearm in the supinated position, and the ulnar head by radially deviating the wrist, and maintained the reduction using a plaster of Paris cast.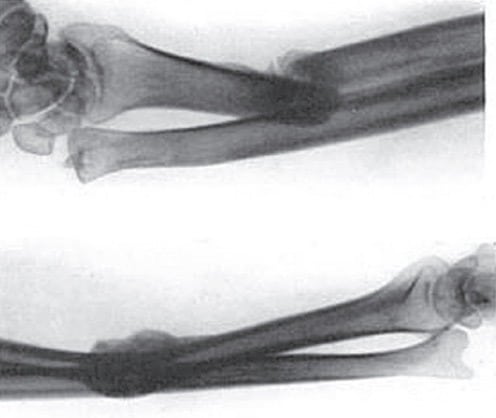 Das Phänomen kann mit einem Bogen verglichen werden, dessen Sehne im Augenblick des Abschnellens des Pfeiles sich notwendigerweise verkürzt und so eine Uberspannung der Bogenkurve hervorruft, wobei die Enden der Kurve den stärksten Druck aushalten müssen.
So wirkt demnach beim häufigsten Fall des von mir beschriebenen Syndroms, nämlich beim Fall auf die Hand, das Körpergewicht longitudinal auf die Ulna, und zwar verursacht durch die plötzliche und heftige Superposition der Radiusfragmente, die auf die Fraktur folgt.
Die Ulna, im Verhältnis zum Radius zu lang geworden, biegt sich zwangsläufig. Wenn der Knochen die Wirkung der Longitudinalkraft, die seine Biegung verursacht, nicht aushält, so bricht er. Leistet er aber erfolgreich Wiederstand, so ist er doch immerhin gezwungen, sich in entsprechender Weise an seinem unteren Ende zu verrenken.
The phenomenon can be compared to that of a bow, whose string is necessarily shortened in the moment of shooting the arrow, thus causing an overload on the bow, where it's ends must bear the strongest force.
As such, in most cases of the syndrome described by myself, namely the fall onto the hand, the bodyweight impacts longitudinally on the ulna, caused by the sudden and impactful superposition of the broken radial fragments.
The ulna stretches too long, relative to the radius, and bends necessarily. If the bone cannot sustain the effects of the longitudinal force, which is causing it to bend, it breaks. If however, it can resist, it is forced to dislocate itself at its lower end.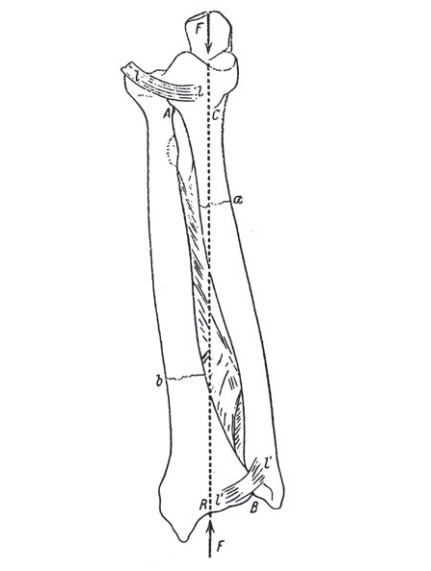 ---
Associated Persons
---
Alternative names
---
Controversies
Fracture pattern actually first described by Sir Astley Cooper in 1822 and published in 1824 some 110 years prior to Galeazzi's publication.
---
References
Historical articles
Eponym reviews
---
[cite]
---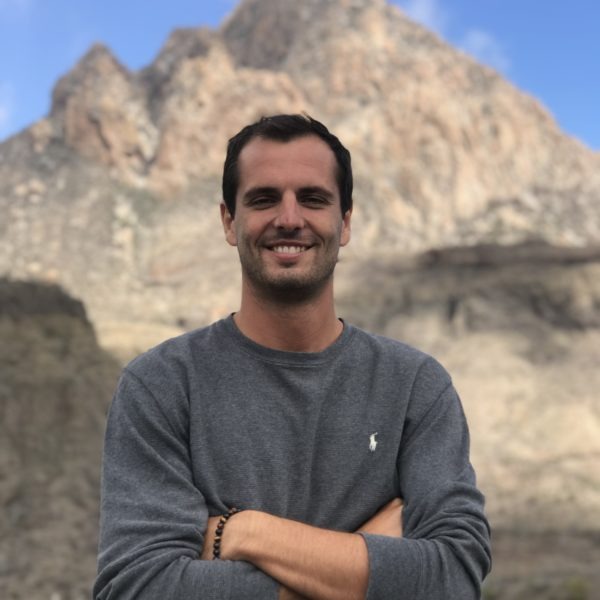 Resident medical officer in emergency medicine MB ChB (Uni. Dundee)  MRCS Ed. Avid traveller, yoga teacher, polylinguist with a passion for discovering cultures.
Dr Dean Fulford, reformed orthopaedic surgeon now Anaesthetics trainee | @footydeano | LinkedIn |