Recognising red flags
Presented here are cues you can use to structure your thinking about ominous signs in the headache history which should lead you to be suspicious of a secondary headache disorder. A mnemonic, SNOOPP, can be used to review the signs and symptoms which constitute red flags.
S – Systemic signs and symptoms
N – Neurologic symptoms
O – Sudden onset
O – Older (patient or presentation)
P – Progressive
P – Positional change, Precipitators, Papilledema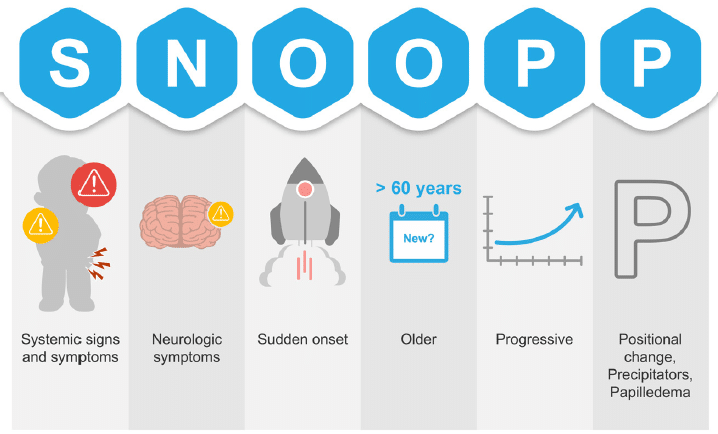 ---
(S) Systemic signs and symptoms
These signs might include weight loss, fever, chills, myalgia, and anorexia.
Systemic signs may occur secondary to medical conditions such as human immunodeficiency virus (HIV), cancer, vasculitides, infections (for example septic or aseptic meningitis and early encephalitis), and cerebrovascular disorders which may present with a headache.
(N) Neurologic symptoms
This might include focal changes such as reflex abnormalities, weakness, alterations of consciousness, confusion, or cranial nerve deficits.
We need to be alert for possible structural abnormalities such as stroke or tumor or disc derangement in the brain or upper spinal cord which could influence the exam and provoke headaches.
We should also consider bone tumours, metastatic cancer, and carcinomatosis.
(O) Onset
Was the headache gradual or sudden in onset?
In the case of a sudden onset headache, we must watch out for the most serious cause: a haemorrhage. A thunderclap headache also presents with a sudden onset headache.
(O) Older
This refers not only to the patient's age but also the headache circumstance.
First, is the patient over age 50 with a new headache? This might be giant cell arteritis or glaucoma.
Is this current headache a new presentation of headache (a change in their usual headache)? Or is it an old or typical headache circumstance for this person?
(P) Progressive
It is important to compare a current patients presentation to previous headaches to determine if it is getting worse.
(P) P word characteristics
Does a positional change induce the headache? This is something we see with cerebrospinal fluid leak and resulting intracranial hypotension.
Precipitators such as a Valsalva maneuver or certain activities such as bending or jumping sometimes indicate increased intracranial pressure.
Papilloedema is a significant finding in increased intracranial pressure.
---
This is an edited excerpt from the Medmastery course Headache Masterclass by Robert Coni, DO, EdS, FAAN. Acknowledgement and attribution to Medmastery for providing course transcripts.
References
Neurology Library: Secondary headaches
---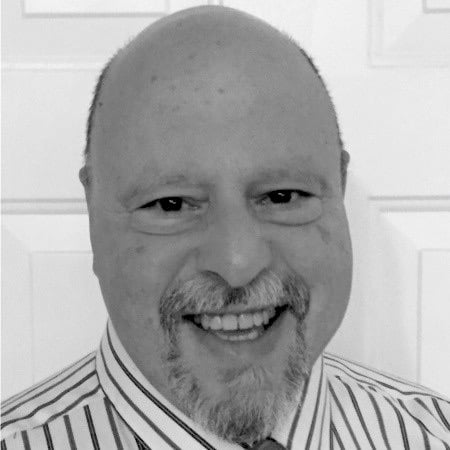 Robert Coni, DO, EdS, FAAN. Vascular neurologist and neurohospitalist and Neurology Subspecialty Coordinator at the Grand Strand Medical Center in South Carolina. Former neuroscience curriculum coordinator at St. Luke's / Temple Medical School and fellow of the American Academy of Neurology. In my spare time, I like to play guitar and go fly fishing. | Medmastery | Linkedin |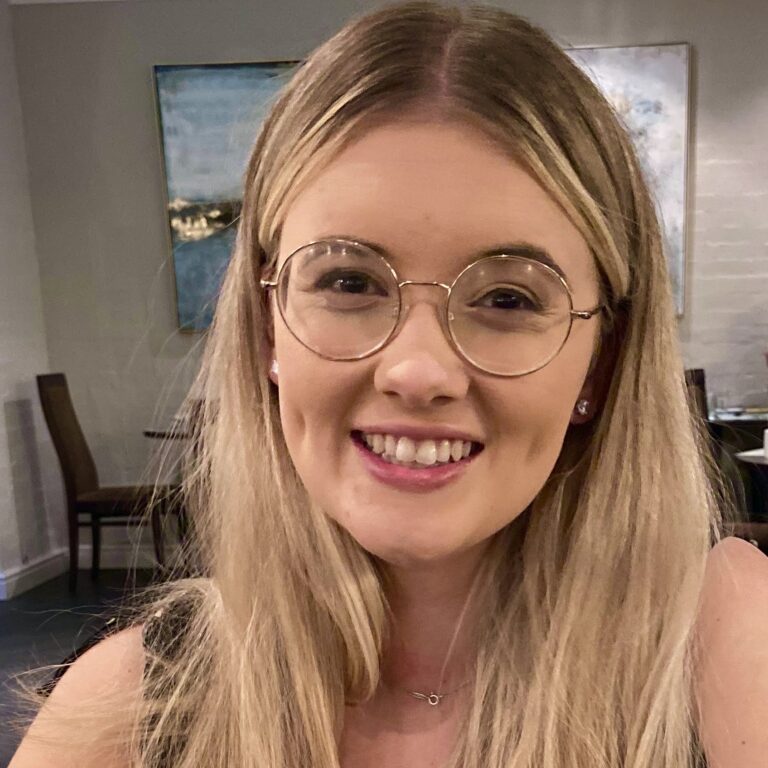 BMBS (The University of Nottingham) BMedSci (The University of Nottingham). Emergency Medicine RMO at Sir Charles Gairdner Hospital Perth, WA. Interested in Medical Education and Emergency Medicine. Swimmer and frequent concert attendee.