OVERVIEW
HIV = retrovirus infection -> infection of T-helper lymphocytes (CD4+) and progressively destroys them -> immunosuppression
40 million patients in the world
2 types: HIV 1 and HIV 2 (West Africa)
modes of transmission: sexual intercourse, mother to child (pregnancy, labour and breast feeding), contaminated blood and needles
AIDS = HIV with an AIDS defining illness
can be thought of as a multi-system disorder
respiratory failure is the commonest reason for admission to ICU
with the new era of HAART (highly active antiretroviral therapy) -> ICU admissions for PCP are declining
common procedures requiring anaesthesia = lymph node biopsy, splenectomy, partial colectomy, CVL's, gastrostomy tubes and diagnostic procedures.
CLINICAL FEATURES
Risk Factors
promiscuity
other STI's
IVDU
hemophiliacs
Haitian and central/west African people
CDC Classification of HIV
I – acute seroconversion illness
II – asymptomatic infection
III – persistent generalised lymphadenopathy
IV – symptomatic HIV infection
Manifestations by system:
RESP – PCP, aspergillosis, herpetic infections, candidiasis, CMV, Tb, normal bacterial pneumonia's, nocardia, lymphoma, Kaposi sarcoma
CVS – endocarditis, CCF, brainstem involvement -> arrhythmias, myocarditis -> DCM from cryptococcus, coxsackievirus B, CMV, aspergillus
GI – diarrhoea, vomiting, LOA, dysphagia -> fluid assess and check electrolytes
CNS – toxoplasmosis, cryptococcus, candida, mycobacterium, treponema, aspergillus, encephalitis, aseptic meningitis, HSV, multifocal leukoencephalopathy, lymphoma, polyneuropathy, HIV dementia
HAEM – anaemia, thrombocytopaenia, leucopenia
ENDO – CMV adrenalitis, exogenous corticosteroid administration -> adrenal suppression
OBSTETRICS – with no intervention there is a transmission rate of 30% during pregnancy and 20% through breast milk -> with antiretroviral and C/S the transmission rate can be decreased to 2%
PAIN – numerous aetiologies, HSV, arthralgia, peripheral neuropathy, drug-related pain
PROGRESSION OF ILLNESS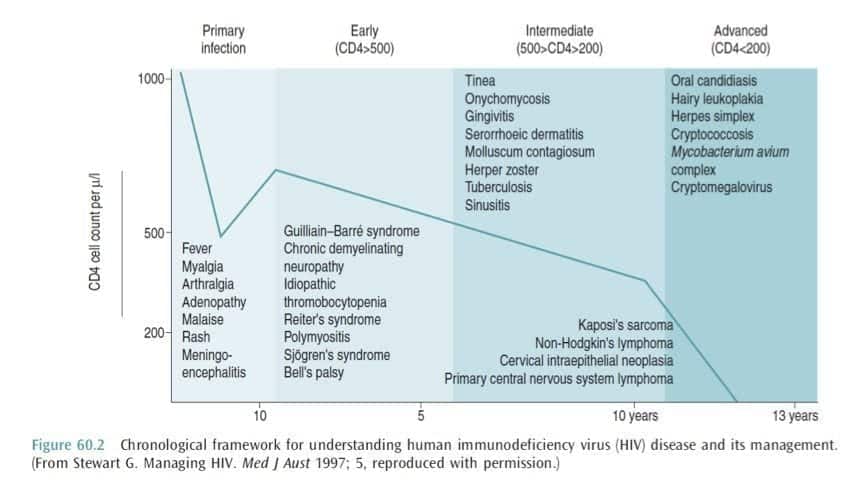 INVESTIGATIONS
HIV RNA Reverse Transcription and amplification by PCR (primary HIV infection diagnosis)
CD4 count
anti-HIV IgG antibodies
enzyme linked immunosorbent assay
as indicated on clinical grounds
MANAGEMENT
Outpatient Management
in the last 10 years our perceptions of HIV and AIDS has changed from fatal disease -> manageable chronic illness with the introduction of HAART (highly active antiretroviral therapy)
Antiretrovirals
1. nucleoside reverse transcriptase inhibitors (NRTI's – zidovudine)
2. nucleotide reverse transcriptase inhibitors (RTI's – tenofovir)
2. non-nucleoside reverse transcriptase inhibitors (NNRTI's – nevirapine)
3. protease inhibitors (PI's – saquinavir)
4. others: enfuvirtide
aims = achieve an undetectable viral load -> improve duration and QOL
ICU Management
HIV patients can present to ICU because of many reasons
mortality rates from ICU admission is dramatically improving
Immune Reconstitution Syndromes
HAART inhibits viral replication
-> increase in population of memory and naïve T cells
-> enhancement of lymphoproliferative responses
-> increased IL-2
-> reduction of some plasma proteins
immune reconstitution syndrome = SIRS like illness with no organism found (granuloma in lung or fever, lymphadenopathy) that develops 2-8 weeks after starting HAART
treatment: stop HAART -> reintroduction +/- steroids
Toxic effects of HAART
PI's -> pancreatitis, insulin resistance, hyperlipidaemia
NRTI's -> lactic acidosis by disruption of mitochondrial DNA replication
abacavir -> hypersensitivity and subsequent anaphylaxis if re-challenged
Respiratory Failure
can be caused by anything!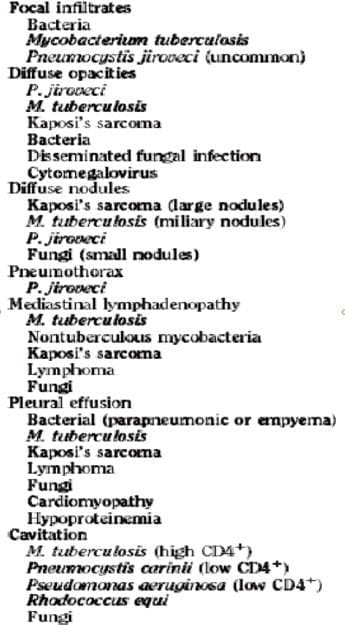 Diffuse Pulmonary Infiltrates: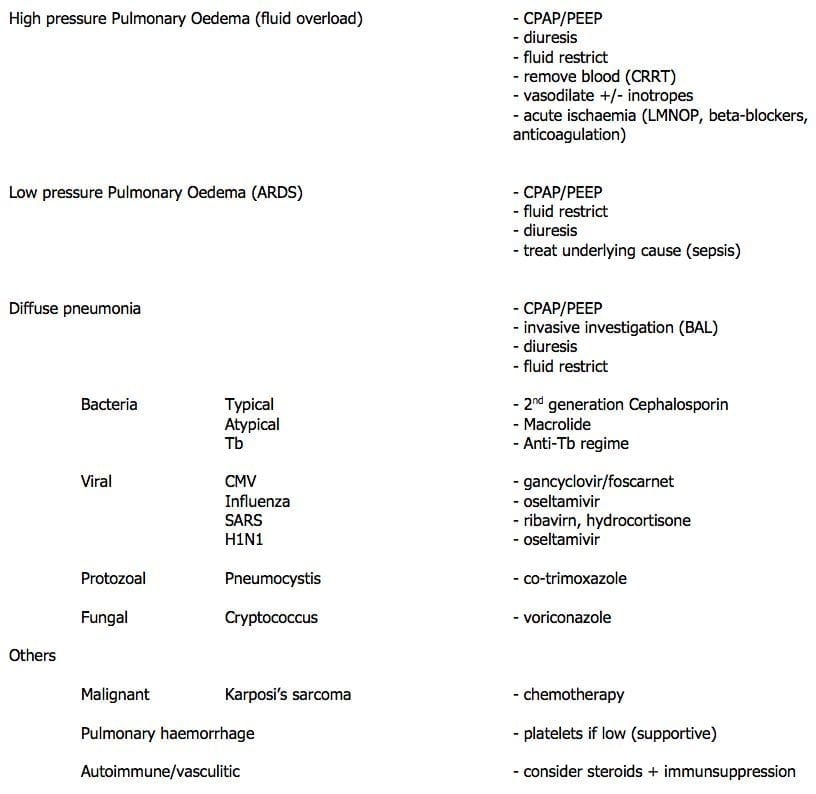 Pneumocystis jiroveci (PCP):
normally pneumocystis carinii (protozoa)
now is classified as a fungus that only infects humans
PCP with respiratory failure is a common reason with high mortality, however latest data shows that this decreasing with HAART
CXR: ALI, pneumatoceles -> pneumothorax
diagnosis: sputum PCR induced by inhalation of hypertonic saline or BAL
treatment:
-> trimethoprim-sulfamethoxazole or pentamidine
-> steroids are typically given to attenuate lung injury caused by inflammatory response to killed organisms
prognosis: with HAART long term survival is considerably longer
Hepatitis C
+ HIV is associated with higher mortality
with the introduction of HAART the prevalence of HCV associated cirrhosis increased by 4
cellular immunity from HIV infections leads to accelerated HCV reproduction
HCV also accelerates the progression of HIV disease
consult widely if dealing with these disorders!
Central Nervous System Pathology
Meningitis/Encephalitis
cryptococcal meningitis -> amphotericin B then PO fluconazole
toxoplasma encephalitis -> sulfadiazine or clindamycin or pyrimethamine
Lesions that cause mass effect
toxoplasmosis
primary CNS lymphoma
tuberculoma
brain abscess (strep, staph, salmonella, aspergillus, norcardia, cryptococcus, listeria)
Perioperative Management
PREVENTION OF TRANSMISSION
prevention of needle stick injuries (0.3% risk of transmission)
prevention of mucocutaneous transmission (0.03% risk)
vigilance
universal precautions
gloves
HME's
appropriate decontamination
MANAGEMENT OF INJURY
first aid
post-exposure prophylaxis within 2 hours
documentation (AIMS and Events Form)
ID and occupational health follow up
AIDS defining illnesses that present to ICU

pneumocystis jiroveci pneumonitis
oesophageal candidiasis
cryptococcal meningitis
toxoplasma encephalitis
CMV disease (retinal, oesophagus, bile ducts or colon)
cryptosporidiosis
mycobacterium avium complex
Kaposi sarcoma (angioproliferative tumour)
Lymphoma
Cervical and anal neoplasms
HIV related neurological disease (encephalopathy, myelopathy, peripheral neuropathy)
---
References and Links
LITFL
Journal articles
---