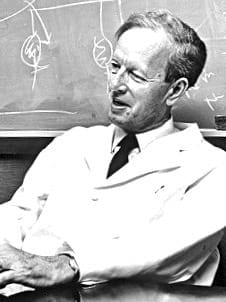 Jan Gösta Waldenström (1906 – 1996) was a Swedish physician.
First to describe the disease which bears his name, Waldenström macroglobulinemia. One of the first physicians to identify and classify the various forms of porphyria.
Jan Waldenström originated the concept of classification of gammopathies as 'monoclonal' vs. 'polyclonal' gammopathies in 1962.
Biography
Born 17 April 1906 Stockholm, Sweden. Son of Johann Henning Waldenström (1877-1972) Professor of orthopedic surgery
1941 – Professor of medicine, Uppsala University
1944 – Professor of internal medicine, Lund University
1944 – Chief physician, Department of Medicine in Malmö
Honorary member of the Royal Society of Medicine, London
Died 1 December 1996
Medical Eponyms
Waldenström macroglobulinemia (1944) – abnormal proliferation of lymphoplasmacytic cells producing IgM and progressive hyperviscosity
Waldenström uveoparotitis (1937) – bilateral iritis and parotitis similar to Heerfordt syndrome
Waldenström hyperglobulinaemia (1943) – autoimmune, chronic blood disease marked by relapsing, nonthrombocytopenic purpuric eruptions appearing over the lower limbs
Waldenström disease (1945) – acute thyrotoxicosis with muscular and cerebral complications, most commonly seen in elderly patients and associated with iodine deficiency
Waldenström hepatitis (1950) – a form of chronic active hepatitis
Major Publications
Waldenström JG. Acute thyrotoxic encephalo- or myopathy, its cause and treatment. Acta Medica Scandinavica, Stockholm, 1945;121:251-294. [Waldenström's disease]
Waldenström JG. Observations in acute porphyria. Acta med scand 1934;83:281-3
Waldenström JG. Studien über porphyrie. Acta med Scand.1937, suppl 82;1-254.
Waldenström JG. Some observations on uveoparotitis and allied conditions with special reference to the symptoms from the nervous system. Acta Medica Scandinavica. 1937;91:53-68.
Waldenström JG. Purpura hyperglobulinemica. Nord med. 1943;20:288.
Waldenström JG. Incipient myelomatosis or essential hyperglobulinemia with firbrinogenemia – a new syndrome? Acta med Scand. 1944;117:216-247.
Waldenström JG. Zwei interessante Syndrome mit Hyperglobulinämie. (Purpura hyperglobulinaemica und Makroglobulinämie). Schweizerische medizinische Wochenschrift. 1948;78:927-928.
Waldenström JG. The porphyrias as inborn errors of metabolism. The American Journal of Medicine. 1957;22:758-773.
Waldenström JG. Monoclonal and polyclonal gammopathies and the biological system of gamma globulins. Prog Allergy. 1962;6:320-48.
Waldenström JG. Reflections and recollections from a long life with medicine. Haematologica series. A publication of the Ferrata-Storti Foundation. Rome,1994:1-137.
References
--- eponym
the person behind the name