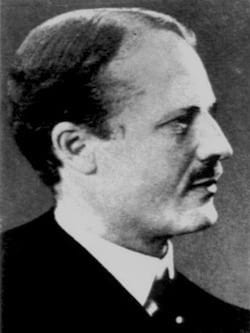 Johan Henning Waldenström (1877-1972) was a Swedish Orthopaedic surgeon.
Waldenström specialised in bone and joint tuberculosis, in particular the juvenile femoral head necrosis and epiphysiolysis capitis femoris
In 1909, Henning Waldenström described a condition of the hip-joint in 10 children under the age of 9 years which he called 'the upper tuberculous focus in the collum'.
1910 he provided a more detailed report of the disease in his dissertation 'Die Tuberkulose des collum femoris im Kindersalte ihre Beziehungen zur Huftgelenkentzundung'; expanded the number of cases to 12 and maintained a tuberculous cause.
Much to the chagrin of Waldenström, the condition later became known as Legg-Calvé-Perthes disease
Biography
Born 14 August 1877 Uppsala, Sweden. Son of Physician Johan Anton Waldenström (1839-1879)
Studied medicine in Uppsala and Stockholm
Surgical assistant at Serafimer hospital under John Berg, the father of Swedish surgery
1906 – Father to Jan Gösta Waldenström (1906-1996) who first described macroglobulinemia in 1944
1910 – Pediatric orthopedic surgeon, Stockholm
1929 – Founding member of Société Internationale de Chirurgie Orthopédique et de Traumatologie (SICOT)
1936 – Professor of orthopedic surgery Karolinska Institute, Stockholm. Specialised in surgery of the spine.
Died 1972
Key Medical Attributions
Significant contribution to the histological examination of amyloid deposition in spleen and liver. Waldenström biopsied the spleens and livers of 10 patients with generalized amyloidosis and noted in all of them the gradual, occasionally complete disappearance of deposits of amyloid. In subsequent articles, he added the results of histologic studies, revealing the disappearance of amyloid which had been present before [1928;63:479-530]
Medical Eponyms
Major Publications
Waldenström H. Der obere tuberkulöse Cullumherd. Zeitschrift für Orthopädische Chirurgie 1909; 24: 487–512.
Waldenström H. Die Tuberkulose des collum femoris im Kindersalte ihre Beziehungen zur Huftgelenkentzundung, Stockholm. 1910
Waldenström H. Uber das Entstehen und Verschwinden des Amyloids beim Menschen. Klin. Wschr. 1927;47:2235-47
Waldenström H. On the Formation and Disappearance of Amyloid in Man. Acta Orthopaedica Scandinavica. 1928;63:479-530
Waldenström H. The definite form of the coxa plana. Acta Radiol 1:384–394.
Waldenström H. On coxa plana. Osteochondritis deformans coxae juvenilis. Leggs disease, maladie de Calvé, Perthes krankheit. Acta Chir Scand. 1923;55:577–590.
Waldenström H. The First Stages of Coxa Plana. Acta Orthopaedica Scandinavica. 1934;5:1-4, 1-34
Controversies
If you are looking for information on macroglobulinemia or other Waldenström eponyms – best to pop over to Henning's son – Jan Gösta Waldenström
References
--- eponym
the person behind the name