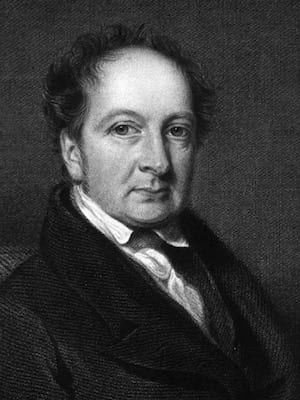 John Cheyne (1777 – 1836) was a Scottish surgeon and physician.
Eponymously affiliated with Cheyne-Stokes Respiration (1818) and wrote extensively on laryngotracheitis and hydrocephalus in children.
Biography
Born 3 February 1777 Leith
1792-1795 Medical school, University of Edinburgh. His father being a surgeon, Cheyne was able to commence medical studies at 15 and graduate at 18…
1795-1799 Surgeon with an artillery corps. Served at the Battle of Vinegar Hill
1799-1810 Worked as a surgeon with his father
1811 – Worked in Meath Hospital, Dublin
1813-1819 – Professor of Medicine at the Royal College of Surgeons in Ireland
1820 – Physician General to British forces in Ireland. Lecturer in War Medicine
Died 31 January 1836
---
Key Medical Attributes
1812 – distinguished subarachnoid haemorrhage from intracerebral haemorrhage, and provided likely the first illustration of subarachnoid haemorrhage.
1818 – Described aorta steatomatous
1818 – Described Cheyne-Stokes breathing
---
Medical Eponyms
Cheyne-Stokes Respiration (1818)

Abnormal pattern of breathing which oscillates between hyperventilation and apnoea seen in the end stages of illness
---
Major Publications
---
Controversies
Cheyne was tutored at the University of Edinburgh by Alexander Munro (1733-1817), who described the interventricular foramen
Hippocrates described Cheyne-Stokes breathing over two millennia earlier as 'respiration throughout like that of a man recollecting himself, and rare, and large'.
Cheyne suffered from depression towards the end of his life and wrote 'Essays on the partial derangement of themind' as a therapeutic exercise
---
References
--- eponym
the person behind the name
Emergency Medicine Trainee based in Perth, Western Australia. A wise man once told me "just work...harder"