Negotiating Autonomy at the Point of Care
Learning better together: Negotiating Autonomy at the Point of Care
Clinical supervision in our busy workplaces is hard.
We balance patient safety, learning opportunities, and the workloads of senior and junior staff.
The conversations we have to navigate this balancing act can affect patient outcomes, and how we feel about each other and our work. But these conversations don't always happen, and may not always go well.
Sometimes the feeling of "I'm scared', comes out as, "I don't think we need to intubate the patient"…. In a given clinical circumstance, a supervisor might label that assessment as incompetence rather than recognise and address the underlying fear- that might exist for any number of reasons.
These are the IFF moments of clinical supervision conversations, Identity, Feelings, Facts. Sometimes the words we use are not the best guide to how we are actually thinking or feeling but they COULD be.
Understanding whether our words convey Identity, Feelings or Facts and matching responses to those we are talking with will bring our clinical supervision conversations to the next level.
Vic, Jenny and Eve take us through a case study of potential IFF moments and encourage reflection on your own. Learn how to notice the IFF moments, name them and reshape the conversation to benefit learners, teachers, and patients.
The presentation
Victoria Brazil is an emergency physician and medical educator from the Gold Coast, and at Bond University medical program. Victoria's main interests are in connecting education with patient care – through healthcare simulation, technology enabled learning, faculty development activities, and seeing a few patients in ED. Victoria is an enthusiast in the social media and #FOAMed world (@SocraticEM), and she is co-producer of Simulcast (Simulationpodcast.com)
Jenny Rudolph (@GetCuriousNow) is a life-long athlete and behavioural scientist who brings the joy of practice to mastery learning in healthcare education, especially feedback, debriefing, and speaking up. She researches, teaches, and writes about using 'good judgment' in difficult conversations. She serves as the Executive Director of the Center Medical Simulation which is dedicated to improving quality and safety in healthcare through experiential education.
Eve Purdy is an emergency medicine resident from Canada, also completing a Masters in Anthropology, including research in relationships between teams in trauma. She is an active writer, blogger (CanadiEM, ALiEM and ICEnetblog) and researcher.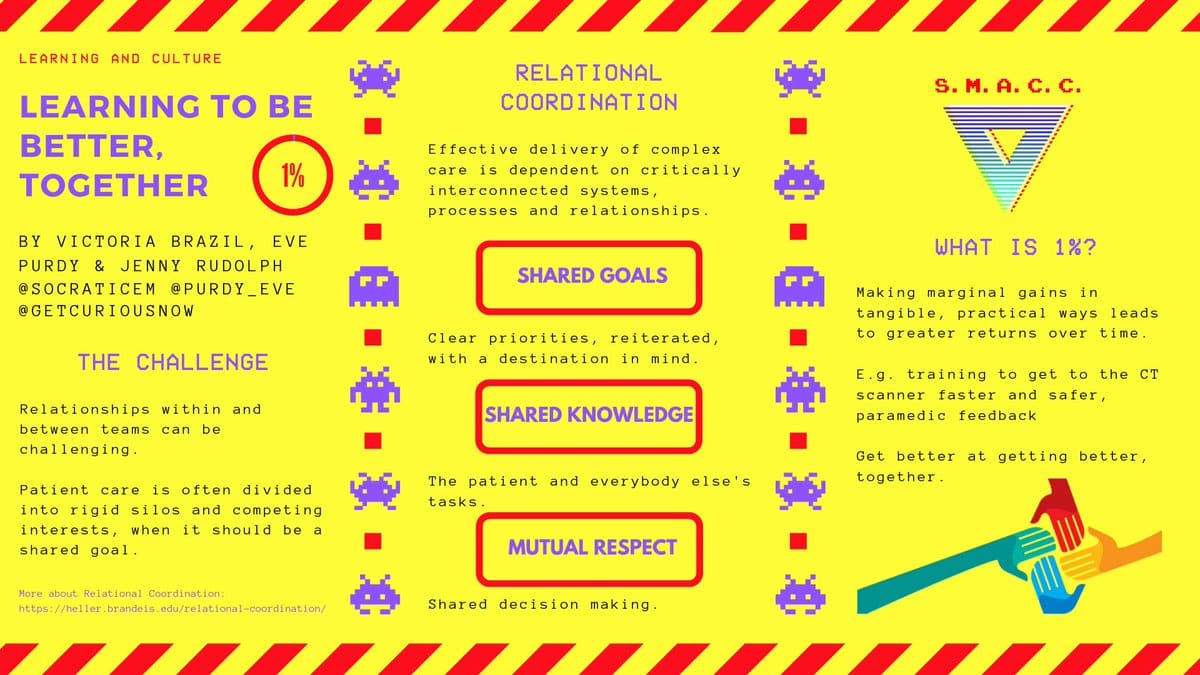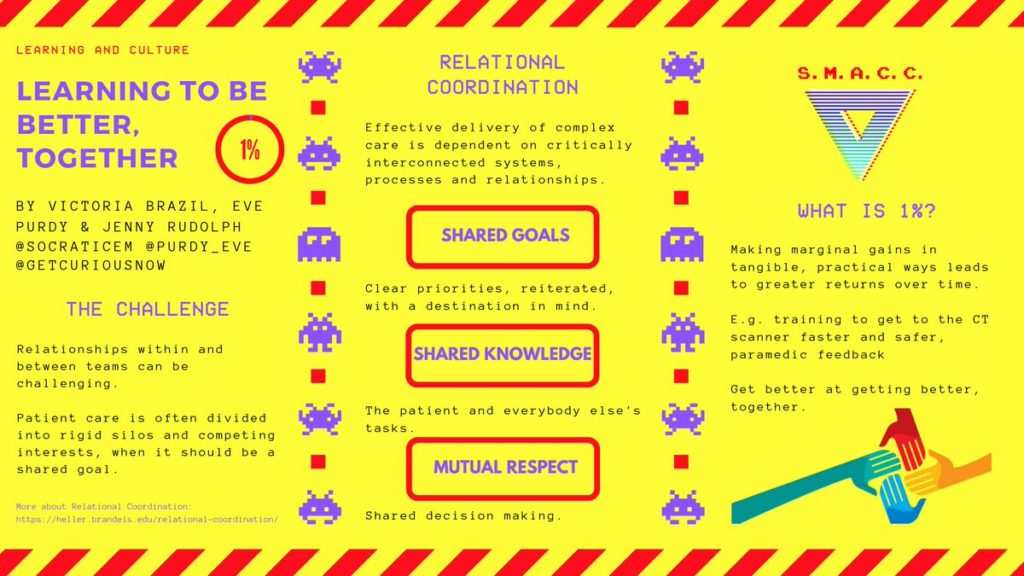 The Coda Community
Coda is a community tackling the most urgent healthcare challenges, that need action, now. Join the Coda community or online at Facebook, Twitter, Instagram, or Linkedin
CODA22: Melbourne from 3-6 April 2022, will be an unparalleled healthcare event guaranteed to inspire your practice
More SMACC…
Oliver Flower, staff specialist in Intensive Care Medicine at Royal North Shore Hospital, Sydney | CODA |