aka Ruling the Resus Room 010
If you're a doc or nurse in Australasia and you take care of critically ill patients chances are you'll be familiar with the Oxylog 3000. This is the workhorse many of us use to ventilate transported patients, whether it be to the CT scanner and back, or half way across the continent.
You may be familiar with it, but can you 'own' it?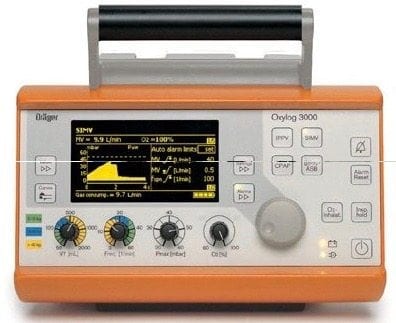 Own the Oxylog 3000 – Guides
George Douros, an Emergency Physician from the Austin Hospital in Melbourne has created these useful charts to help you 'own the Oxylog® 3000' (partly inspired by Scott Weingart's 'Dominating the Vent Part 1' and 'Dominating the Vent Part 2'. The charts can easily be cut in half, stuck together and attached to the machine or be used as posters to jog your memory.
Guide for Pressure Controlled ventilation
Guide for Volume Controlled ventilation
---
Oxylog Baby Steps
If you're not quite ready to own the Oxylog yet, start with Jo Deveril and the basics and 'borrow the Oxylog 3000' first!
If you're a little hesitant about playing with knobs when the oxylog's attached to a real person there is a pretty cool online simulator that you can play around with on the Drager website.
As much as we love the Oxylog® 3000, we suggest you read Take a big breath in… and hold it so you don't get caught out by the lack of an oxygen disconnect breakthrough alarm…
Thoughts on Plateau Pressure
There have been a few comments about how to measure plateau pressure using the Oxylog 3000. Here is a diagram from the user manual showing exactly what plateau pressure is (in volume-controlled ventilation IPPV (CMV) mode):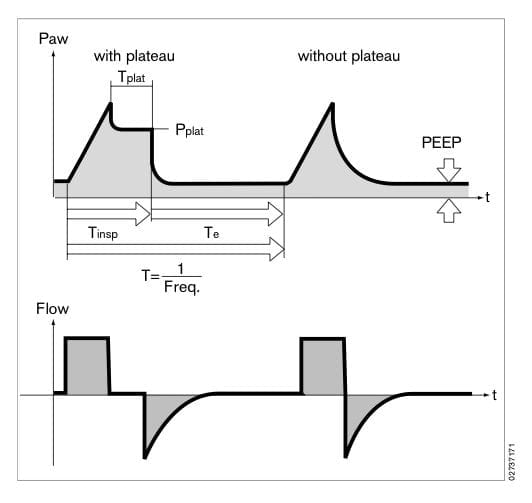 ---
Videology
Borrow the Oxylog

So this video is for Oxylog knobophobes who can't get off square 1. As well as showing you how to turn the machine on, the video is packed with FACTS FACTS FACTS:

WHAT happens if you drop an Oxylog 3000 on your foot.
WHY you shouldn't leave an Oxylog 3000 in a taxi.
HOW to position your genitalia when pressing the inspiratory hold key.
---
Related links