The wait is over, RAGE Session Two is here!
---
RAGE Session Two is 80 min 19 sec long and includes:
Introduction, including some bad news… (starts 00:00 min)
'What's bubbling up?' (starts 00:58 min) — shout outs and interesting discoveries from the world of FOAM and elsewhere featuring codeine in kids, post-intubation sedation, adenosine versus verapamil for SVT and how to do a good vagal manoeuvre, the ETM Twitter fiasco, the FOAMcc Google Plus Community and smaccGOLD.
the RAGE team discussing a case of submassive pulmonary embolism and the role of thrombolysis (starts 22:14 min)
the RAGE team's discussion on 'Humans in the resus room: 'when your back-up gets your back up'' (starts 51:50 min)
'A blast from the past' on WW2 hero and chain-smoking legend Edgar Patz, the only man to complete an entire Masters degree unconscious! (starts 73:00 min)
'Wise Words' featuring the art of observation, the immortal John Hunter and the infinitely wise Sir William Osler (starts 77.55 min)
Show notes for RAGE Session Two:
What's bubbling up?
Submassive Pulmonary Embolus and Thrombolysis
FOAM:
Journal articles:
Humans in the Resus Room: 'When your Back-Up gets your Back Up'
Blast from the Past
Words of Wisdom
---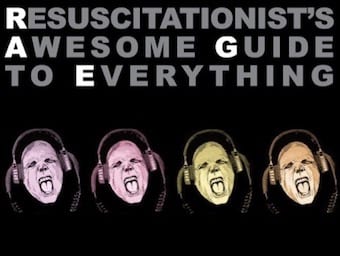 Thanks again for listening to the RAGE!
---