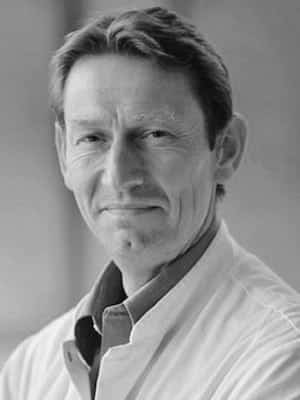 Robbert Jan de Winter (1958 – ) is a Dutch professor of cardiology.
Eponymously associated with de Winter T waves (2008), which describes an ECG sign of proximal left anterior descending artery occlusion.
He is a professor of clinical cardiology, with a special interest in acute coronary syndromes. Currently, he has published over 460 journal articles (11 000+ citations) on the pathophysiology, diagnoses, and treatment of coronary artery disease, with over 20 years of involvement in clinical trials.
Biography
Born 23 August 1958
1980 – Biophysics degree, University of Leiden, The Netherlands
1987 – MSc in Biophysics, University of Leiden, The Netherlands
1988 – Medical Degree, University of Amsterdam, The Netherlands
1988-90 – General internal medicine training, Spaarne Hospital, Haarlem, The Netherlands
1990-94 – Clinical cardiology training, Academic Medical Centre (AMC), Amsterdam, The Netherlands
1992 – Research fellow in laboratory and experimental internal medicine, AMC
1995 – Fellowship in interventional cardiology, AMC
1997 – PhD, University of Amsterdam, The Netherlands. Doctoral Thesis: "Biochemical and inflammatory markers of acute myocardial ischemia".
2002 – Fellow of the European Society of Cardiology (ESC)
2009-present – Professor in clinical cardiology (acute coronary syndromes), Faculty of Medicine of the University of Amsterdam, The Netherlands.
Editorial board, Netherlands Heart Journal and ESC Journal of Acute Cardiac Care
---
Medical Eponyms
---
Major Publications
---
References
European Cardiovascular Research Institute. Rob de Winter. 2017.
University of Amsterdam. Dr RJ de Winter. 2008 Sep. eponym
the person behind the name