Róbert Bárány (1876-1936) was an Austro-Hungarian otologist.
1914 Nobel Prize in Physiology and Medicine for his "work on the physiology and pathology of the vestibular apparatus."
Bárány built on theories of Flourens, Purkinje, Ewald, Mach, Retzius, Breuer and others, to clarify the physiology and pathology of human vestibular apparatus. Bárány's main contribution was the clinical application of these experimental data to humans, which led to the development of methods of investigating the human equilibrium system.
---
Biography
Born on April 22, 1876. From a Hungarian family, born in Vienna, Austria
1900 – Completed medical studies, Vienna University
1903 – Demonstrator at the Otological Clinic under Ádám Politzer (1835 – 1920)
1913 – Appointed Professor Extraordinarius
1914 – Surgeon in the Austrian army. Volunteered for military service to test his ideas on the treatment of brain wounds. Captured, and detained as a Russian prisoner of war in the fortress of Przemysl. Whilst imprisoned he was nominated for the Nobel Prize in Physiology and Medicine for his "work on the physiology and pathology of the vestibular apparatus." Prince Carl of Sweden persuaded the Czar to release him and he received his prize in Sweden in 1915.
1916 – Released from prisoner-of-war camp and collected his 1914 Nobel Prize. During his trip to Sweden Bárány was invited to take the chair of otology at the University of Uppsala
1917 – Emigrated to Sweden; Privatdozent and titular professor, University of Uppsala
1926 – Professor ordinarius, University of Uppsala
Died on April 8, 1936 in Uppsala, Sweden
---
Medical Eponyms
Bárány bogengänge ohr (1907)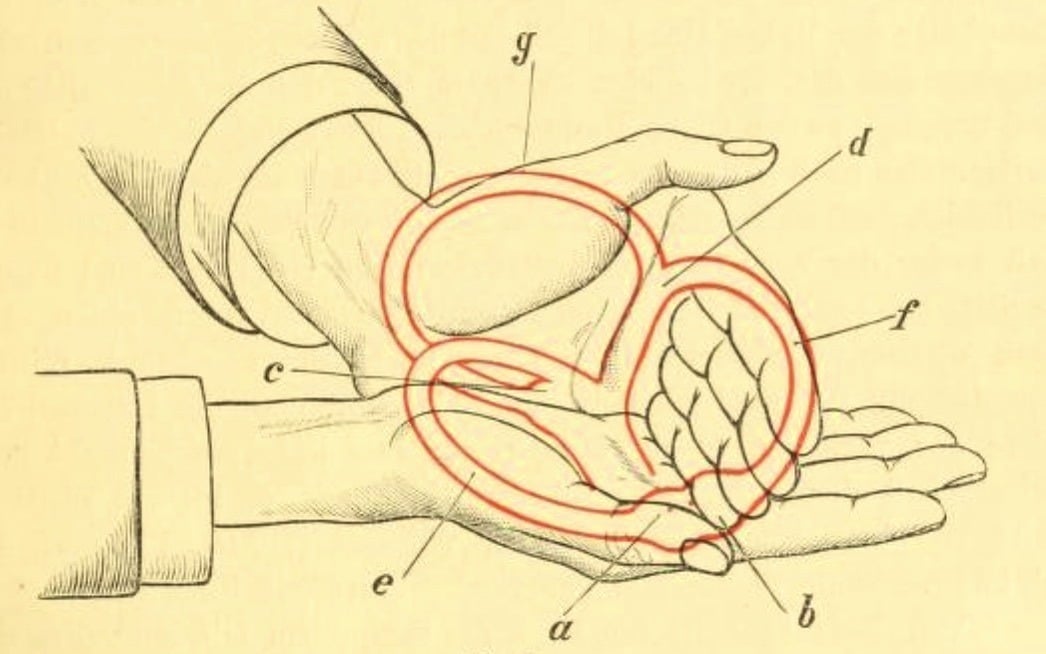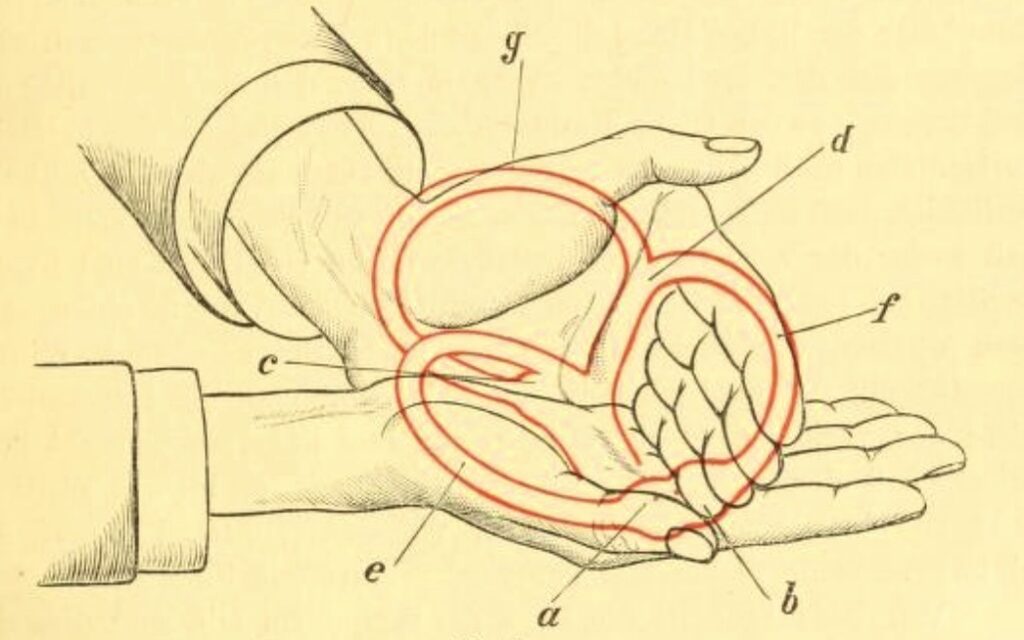 Stellung der Hände, welche schematisch die Stellung der drei Bogengänge der rechten Seite zueinander angibt.
a. Ampulle des horizontalen Bogenganges, b. Ampulle des vorderen vertikalen Bogenganges, c. Ampulle des hinteren vertikalen Bogenganges, d. die gemeinsame Mündung beider Vertikalkanäle, e. die Kuppe des horizontalen Bogenganges, f. die Kuppe des vorderen vertikalen Bogenganges, g. die Kuppe des hinteren vertikalen
Bárány R. Physiologie und pathologie (funktions-prüfung) des bogengang-apparates beim menschen. 1907:1
Position of the hands to show the relative position of the three semicircular canals (right side)
(a). Ampullae of horizontal semicircular canal, (b). Ampullae of anterior vertical semicircular canal, (c). Ampullae of posterior vertical semicircular canal, (d). the union of two vertical canals. Arches of horizontal (e), anterior vertical (f) and posterior vertical (g) canals respectively
Bárány R. Physiology and pathology (functional test) of the semicircular canals apparatus. 1907: 1
---
Bárány chair (1907)
A rotating chair used by Bárány (1907) whilst researching the role of the inner ear in the sense of balance. In his 1910 paper he summarises the use of this rotating chair when studying rotational-induced nystagmus. A modern version of the Bárány chair is still used today, predominantly to in aerospace training to teach pilots about spatial disorientation. Bárány used the device in research into the role of the inner ear in the sense of balance.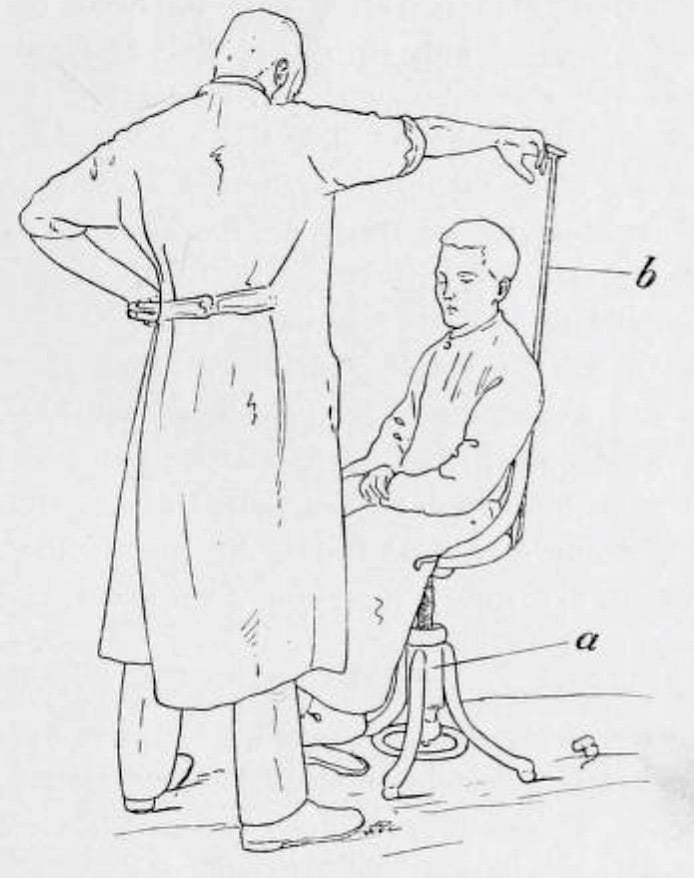 Bei der klinischen Untersuchung des Drehnystagmus mußte ich mich, da mir bisher eine Drehscheibe nicht zur Verfügung stand, mit der Beobachtung des Nachnystagmus beim Anhalten nach Drehung begnügen. Ich bediente mich bei meinen Untersuchungen des in Fig. 7 abgebildeten Drehstuhles. Derselbe besitzt ein Gewinde ohne Ende. Der Patient nimmt auf dem Drehstuhle Platz, der Arzt ergreift die senkrecht stehende, an der Rückenlehne befestigte Stange und setzt den Drehstuhl in Bewegung. Die Geschwindigkeit der Drehung soll eine gleichmäßige sein und bei einiger Übung gelingt es auch, stets mit derselben Geschwindigkeit zu drehen. Mit der Stoppuhr gemessen betrug die Zeit für 10 Drehungen bei meinen Untersuchungen in der Regel 20 — 22 Sekunden. Ich habe mich in der großen Mehrzahl der Fälle auf die Untersuchung des horizontalen und rotatorischen Nachnystagmus nach 10 maliger Drehung beschränkt.
Bárány R. Physiologie und pathologie (funktions-prüfung) des bogengang-apparates beim menschen. 1907: 17
During the clinical examination of vertigo, since I had not previously had a turntable, I had to be content with observing the nystagmus elicited by movement. I used the swivel chair shown in Fig. 7 for my examinations. It has an endless thread. The patient takes a seat on the swivel chair, the doctor grabs the vertical bar attached to the backrest and sets the swivel chair in motion. The speed of the rotation should be even and with some practice you can always turn at the same speed. Measured with the stopwatch, the time for 10 rotations in my examinations was usually 20-22 seconds. In the vast majority of cases, I limited myself to examining the horizontal and rotational post-nystagmus after 10 rotations.
Bárány R. Physiology and pathology (functional test) of the semicircular canals apparatus. 1907: 1
---
Bárány past pointing test (1906)
Assesses for imbalance in the output of the peripheral vestibular system, indicating defective functioning of the vestibular nerve or cerebellar dysfunction.
Procedure: patient is instructed to extend the arms and place the index finger of one hand on the index finger of the examiner or a static target. Eyes are then closed and arms raised above head (or lowered to knees) whilst still extended, then quickly returned to the perceived starting position.
In a normal exam the patient can easily return the finger to starting position. In an abnormal exam the patient will deviate from the starting position in the direction of their nystagmus due to a compensatory vestibulospinal reflex elicited in order to maintain position.
---
Bárány caloric test (1906)
A test of the functioning of the vestibular system using the phenomenon that when the auditory canal is irrigated with warm, or cold, water vertigo and nystagmus ensue.
Bárány was the first to recognise and understand the mechanism behind this; irrigation of the auditory canal with warm water warms the endolymphatic fluid in the horizontal semicircular canal due to its physical proximity. As the endolymphatic fluid is warmed it results in a decrease in the specific gravity and a tendency to rise. This forms a convection flow within the semicircular canal which activates the inner ear's motion sensors resulting in the perception of vertigo and resultant nystagmus. A reverse flow will occur when irrigated with cold water, resulting in nystagmus in the opposite direction.
Like all good medical discoveries, Bárány discovered this by chance, A patient whose ears he was syringing said to him:
Doctor, I only get giddy when the water is not warm enough. When I do my own ears at home and use warm enough water I never get giddy." I then called the nurse and asked her to get me warmer water for the syringe. She maintained that it was already warm enough. I replied that if the patient found it too cold we should conform to his wish. The next time she brought me very hot water in the bowl. When I syringed the patient's ear he shouted: "But Doctor, this water is much too hot and now I am giddy again." I quickly observed his eyes and noticed that the nystagmus was in an exactly opposite direction from the previous one when cold water had been used. It came to me then in a flash that obviously the temperature of the water was responsible for the nystagmus.
The caloric test is still used by neuroscientists and neuro-otologists today. The fact the test can be performed without the subject having to move their head allows for isolated assessment of unilateral vestibular apparatus and proves useful in neuroimaging such as functional MRI that require the subject to be immobile.
---
Other eponyms
The Bárány Society: Founded in 1960 by Dr. C.S. Hallpike and Professor C.O. Nylén, the Bárány Society is an international interdisciplinary society that facilitates contact between scientists and clinicians involved in vestibular research.
Bárány's alarm apparatus (1908): A noise-producing apparatus that is placed in one ear to eliminate hearing in this ear while the other ear is being investigated.
---
Major Publications
---
Controversies
Although nominated for his Nobel Prize in 1914 he did not receive it until over a year later. During the selection process in 1914, the Nobel Committee for Physiology or Medicine decided that none of the year's nominations met the criteria as outlined in the will of Alfred Nobel. According to the Nobel Foundation's statutes, the Nobel Prize can in such a case be reserved until the following year, and this statute was then applied.
When it was finally announced that the 1914 Nobel prize has been awarded to Bárány, he at that time incarcerated in a prisoner-of-war camp in Russia. After the personal intervention of Prince Carl of Sweden, he was released to receive the prize in 1916
He was reproached by Austrian colleagues at the Faculty of Medicine in Vienna for having only made incomplete references to the discoveries of other scientists on whose theories his work was based. In 1921 a report was published that dismissed these claims.
---
References
Biography
Eponymous terms
---
[cite]
---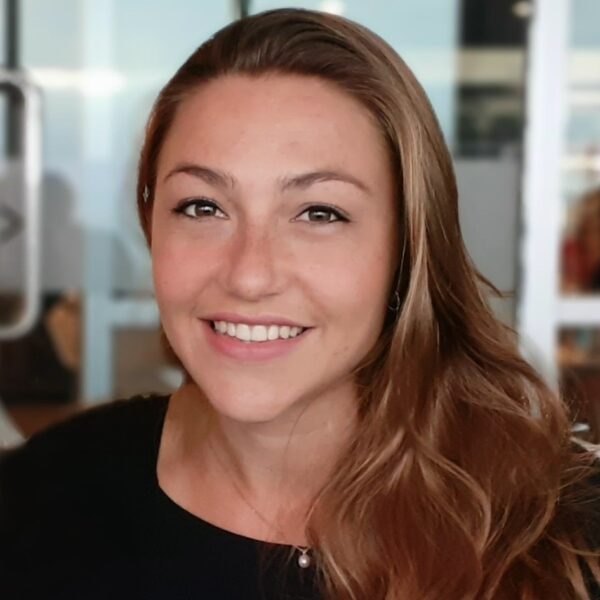 Studied at Univerisity of Cambridge - BA MB BChir. British doctor working in emergency medicine in Perth, Australia. Special interests include primary care and emergency medicine.
BA MA (Oxon) MBChB (Edin) FACEM FFSEM. Associate Professor Curtin Medical School, Curtin University. Emergency physician, Sir Charles Gairdner Hospital.  Passion for rugby; medical history; medical education; and asynchronous learning #FOAMed evangelist. Co-founder and CTO of Life in the Fast lane | Eponyms | Books | Twitter |