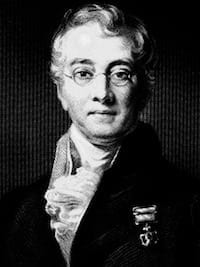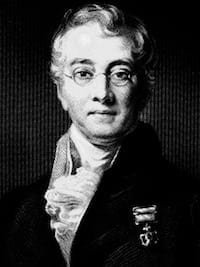 Sir Charles Bell (1774 – 1842) was an Scottish anatomist, physiologist, neurologist and surgeon.
Bell was a prolific medical writer, anatomical researcher and a skilled artist, especially war injuries and anatomical drawings.
Most noted for discovering a difference between sensory nerves and motor nerves in the spinal cord (1807) and for describing Bell's palsy.
Published and illustrated a System of Dissections whilst still at medical school.
---
Biography
Born 12 November 1774 Doune, Perthshire
1799 – Graduated medicine, University of Edinburgh
FRCS Fellow of the Royal College of Surgeons, Edinburgh
1809 – studied gunshot wounds at Haslar Hospital after the Battle of Corunna
1824 – Professor of anatomy and surgery at the Royal College of Surgeons and Edinburgh Royal Infirmary
1828 – London University and King's College
1833 – Knighted by King William IV
1834 – gold medal of the Royal Society
1835 – Chair in Surgery at Edinburgh University
Died 29 April 1842
---
Key Medical Attributions
Demonstrated the relationship between the special sense organs and those circumscribed brain areas where the nerve tracts from the sense organs ended
Demonstrated the motor and sensory functions of the anterior and posterior spinal nerve roots
---
Medical Eponyms
Bell's palsy (1827)
Bell's disease
Bell Phenomenon – upward deviation of the eye on attempted eyelid closure.
Law of Bell-Magendie
Bell's nerve
---
Controversies
Career was marred by disputes with the Edinburgh Medical Faculty and he moved to London to teach anatomy.
Left London University surgical position in 1830 'dissatisfied by the bureaucratic rules' he was forced to comply with.
Bell was one of the first to recognise the different functions of the anterior and posterior nerve roots, and argued extensively with Magendie over whose experiments were more definitive.
Bell criticized Alexander Monro secundus for publishing on the interventricular foramen (of Munro)…presuming to describe something which was already well known and for inaccuracies. Bell Stated ''there is scarcely a book which we can consult without finding the circumstance of the universal communication betwixt the Ventricles particularly mentioned.''
---
Major Publications
---
References
--- eponym
the person behind the name