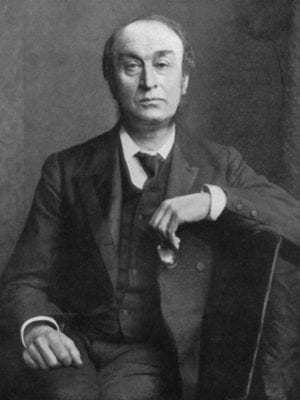 Sydney Ringer (1835-1910) was a British clinician, physiologist and pharmacologist.
He was best known for his extensive work on inorganic salt solutions and the effect on the heart.
Ringer's 'discovery' of his solution (Ringer's solution) arose after his lab assistant mistakenly substituted tap water from the New River Water Co. for distilled water whilst experimenting on frog hearts. The replaced water had a calcium concentration 38.3 PPM ~1M
Ringer noted that a solution perfusing a frog's heart must contain sodium, potassium and calcium salts in a definite proportion if the heart is to be kept beating.
Biography
1834 – Born in Norwich, England. His father died young, leaving his mother to bring up their three sons 
1854 – With the generous help of friends and relatives, he began his formal medical studies at University College, London
1860 – Obtained a Bachelor of Medicine degree from University College Hospital, London
1863 – Gained a higher degree of Doctor of Medicine and MRCP (Membership of the Royal College of Physicians)
1861 – 1900 – Physician and physiologist at University College Hospital, London
1869 – 1897 – Wrote  A Handbook of Therapeutics which ran through 14 editions and was translated into 10 languages
1870 – Elected Fellow of the Royal College of Physicians of London (FRCP)
1882 – 'Discovery' of Ringer's solution 
1889 – Elected to Fellowship of the Royal Society (FRS)
1910- Died on October 14th from a cerebrovascular lesion, aged 76
Key Medical Attributions:
The ability of a small volume of Ringer solution to sustain an excised frog heart-nerve preparation enabled Otto Loewi and Sir Henry Hallett Dale to propose the chemical transmission of nerve impulses (1936 Nobel Prize in Physiology or Medicine).
A mixture containing 100cc saline [0.75% NaCl], 5cc sodium bicarbonate [0.5%], 5cc calcium chloride [1 in 1082, i.e. approximately 0.1% Ca], with 1 cc potassium chloride [1%] makes an excellent artificial circulating fluid, for with this mixture the heart will continue beating perfectly.
[This solution equates to approximately (mm): total Na 133, KCl 1.34, NaHCO3 2.76 and CaCl2 1.25, a 'recipe' hardly bettered since.]
Medical Eponyms
Ringers Solution (1882) solution of salts dissolved in water to create an isotonic solution relative to the body fluids of an animal.
Ringers Lactate (1932) – Alexis Frank Hartmann modified Ringer's solution by adding sodium lactate to it with the idea of combating acidosis in his young patients.
Interesting Fact
He was a very quiet and reserved man in private life having little time for social activities. His lifestyle was 'early to bed and early to rise' and much of his scientific work was done in the mornings before commencement of his clinical duties.
Major Publications
References
Bateman BT, Alston TA. Commonly used eponyms in anesthesia. J Clin Anesth. 2009 Feb;21(1):67-71 [PMID 19232946]
Maltby R. Notable Names in Anaesthesia. The Choir Press; pp 176-180 (2013)
Giuca MS, Desai SP. Eponyms in the operating room: careers of six European physicians. Bull Anesth Hist. 2010 Jul;28(2):17, 20-5. [PMID 22849202]
DeWolf WC.Sydney Ringer (1835-1910). Invest Urol. 1977 May;14(6):500-1. [PMID 323186]
Moore B. In Memory of Sidney Ringer [1835-1910]. Biochem J. 1911; 5(6-7): i.b3–xix. [PMC1276368]
Lee JA. Sydney Ringer (1834-1910) and Alexis Hartmann (1898-1964). Anaesthesia. 1981 Dec;36(12):1115-21. [PMID 7034584]
Miller DJ. Sydney Ringer; physiological saline, calcium and the contraction of the heart. J Physiol. 2004 Mar 16; 555(Pt 3): 585–587. [PMC1664856]
--- eponym
the person behind the name