Disturbing news is coming from Enlightenment Boulevard where the UCEM Council Executive has recently received reports of the death of Santa Claus. The coup de grâce came when this photographic evidence was revealed:
This dreadful news has shocked UCEM insiders, coming so soon after UCEM's attempt to cancel Christmas. Such drastic measures were deemed necessary after UCEM's 'Preventative Health for Utopian Care' Christmas task-force publicized the myriad dangers of the festive season. Indeed, PHUC Christmas task-force leader Egerton Y. Davis IV was nearly the first person since Oliver Cromwell in the 1640s to ban Christmas.
You will recall, however, that Christmas gained a last minute reprieve. Santa, although still reeling from his new found status as a 'public health' pariah, pledged to change his nasty health habits. His promises to provide an example for the world to follow convinced UCEM to let Christmas proceed.
So, what happened?
Details as yet are scanty. Rumours abound, with many possible mechanisms suggested by conspiracy theorists. Was Santa shot by a disgruntled father who overheard his children singing along to 'I saw saw mummy kissing Santa Claus'?
Did he bring the wrong present?
Did he burn to death after trying to go down one too many chimneys?
Did he fail to wear a seatbelt?
Professor Staghorn, head of UCEM's Inquisitorial Disciplinary Committee, has begun to put the pieces of the puzzle together. It seems that Santa's death may lack the glamour of a Hollywood-style killing. It is likely that many factors were at play.
First, mounting evidence suggests that Santa Claus may not have kept his pledges to avoid tobacco and alcohol:
Together with his addiction to energy dense sugary and fatty foods, as well as chronic sleep deprivation, these factors must have compounded his ongoing battle with weight gain, dyslipidemia, hypertension, and diabetes. Dementia may have also started to set in, with abdominal obesity a known risk factor for the condition. More troubling are reports that Santa was subjected to domestic violence because of his ongoing sexual dysfunction. It appears that coming once a year was simply unacceptable to Mrs Claus. This must have accelerated Santa's descent into alcoholism. Confirmation of all these problems comes from the most reliable of sources: Santa's own GP.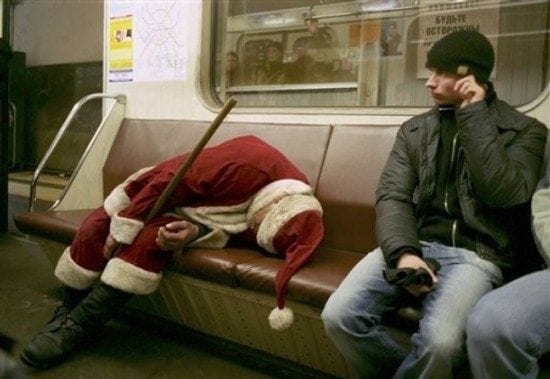 It also seems that Santa was under increasing physical stress. The application of new European Working Directives to Lapland's reindeer meant that Santa had to go on a recruiting drive. Sadly, some of these new recruits simply didn't cut the mustard. Increasingly Santa was having to help pull the sleigh himself.
There are also rumors that he was suffering a relapse of his 1993 epsiode of sepsis, the consequence of a particularly savage reindeer bite. Indeed, UCEM microbiologists have confirmed that full eradication of Streptococcus rudolfus is almost impossible to achieve.
So, while Santa's exact mechanism of death is not yet known, it is clear that the writing was well and truly on the wall. May he rest in peace. However, the show must go on and auditions for a new Santa Claus have already begun.
Those hoping for a fit and healthy new Santa may be disappointed:
Chris is an Intensivist and ECMO specialist at the Alfred ICU in Melbourne. He is also a Clinical Adjunct Associate Professor at Monash University. He is a co-founder of the Australia and New Zealand Clinician Educator Network (ANZCEN) and is the Lead for the ANZCEN Clinician Educator Incubator programme. He is on the Board of Directors for the Intensive Care Foundation and is a First Part Examiner for the College of Intensive Care Medicine. He is an internationally recognised Clinician Educator with a passion for helping clinicians learn and for improving the clinical performance of individuals and collectives.
After finishing his medical degree at the University of Auckland, he continued post-graduate training in New Zealand as well as Australia's Northern Territory, Perth and Melbourne. He has completed fellowship training in both intensive care medicine and emergency medicine, as well as post-graduate training in biochemistry, clinical toxicology, clinical epidemiology, and health professional education.
He is actively involved in in using translational simulation to improve patient care and the design of processes and systems at Alfred Health. He coordinates the Alfred ICU's education and simulation programmes and runs the unit's education website, INTENSIVE.  He created the 'Critically Ill Airway' course and teaches on numerous courses around the world. He is one of the founders of the FOAM movement (Free Open-Access Medical education) and is co-creator of litfl.com, the RAGE podcast, the Resuscitology course, and the SMACC conference.
His one great achievement is being the father of three amazing children.
On Twitter, he is @precordialthump.
| INTENSIVE | RAGE | Resuscitology | SMACC