aka Ophthalmology Befuddler 023
A 38 year-old professional fisherman presents to your emergency department after returning to shore from a 3 week trip. Over the past week he has had progressively worsening left eye symptoms and is now feeling quite unwell.
He has been having fevers, has a constant headache and his left eye has become swollen. He reports a history of double vision but now he has trouble seeing anything out of his left eye. Any movement of the eye causes significant pain.
His eye looks like this:
Questions
Q1. What is the likely diagnosis?
Answer and interpretation

Orbital/ post-septal cellulitis

Features present in the image include:

eyelid edema and erythema
chemosis and an engorged conjunctiva
proptosis
---
Q2. What features should be assessed when taking the history?
Answer and interpretation

History:

Symptoms — red eye, pain, blurred vision, double vision, eyelid swelling, nasal congestion, sinus headache/ pressure, tooth pain, periorbital pain or hypesthesia.
Consider possible underlying causes — trauma, surgery, ENT or systemic infection, diabetes mellitus, and immunosuppression
---
Q3. What  features should be looked for on examination?
Answer and interpretation

Examination:

Visual acuity: may be reduced in severe cases due to optic nerve stretch or compression
External exam:
eyelids: eyelid edema, erythema, warmth, tenderness
conjunctiva: chemosis and injection
proptosis
other: purulent discharge and decreased periorbital sensation may be present
Extraocular eye movements: restricted ocular motility with pain on attempted eye movement.
Pupils: RAPD may be present in severe cases due to optic nerve stretch or compression
Fundoscopy: retinal venous congestion and optic disc edema in severe cases.
General exam: Fever; and in severe and progressive disease altered mental state and meningism may occur. Look for evidence of an underlying cause or predisposition (see Q2).
---
Q4. What causative organisms are usually responsible for this condition in the different settings in which it can occur?
Answer and interpretation

Adults: Staphylococcus species, Streptococcus species, Bacteroides
Children — Staphylococcus species, Streptococcus species, Haemophilus influenzae (rarely in vaccinated children)
Post-traumatic: Gram-negative bacteria
Dental abscess: mixed, aggressive aerobes and anaerobes
Immunocompromised or diabetes mellitus: consider fungi, e.g. mucormycosis/zygomycosis, aspergillosis.
---
Q5. What investigations are required when considering this diagnosis?
Answer and interpretation

Laboratory: FBC, blood cultures, wound swabs, consider the need for lumbar puncture.
CT scan of the orbits and sinuses: confirms the diagnosis and helps to exclude cavernous sinus thrombosis, orbital or subperiosteal abscesses, paranasal sinus disease and foreign bodies
---
Q6. What is the appropriate management?
Answer and interpretation

Referral to ophthalmology for admission to hospital. An infectious diseases consult is often appropriate

Consider consultant the following:

neurology — if suspected CNS infection
ENT — if drainage of the sinuses is needed
oral/maxillofacial surgeons — if emergency dental extraction is needed

Based on the Australian Therapeutic Guidelines, at least 3 days of:

cefotaxime 2 g (child: 50 mg/kg up to 2 g) IV 8-hourly
or ceftriaxone 2 g (child: 50 mg/kg up to 2 g) IV daily
AND flucloxacillin 2 g (child: 50 mg/kg up to 2 g) IV, 6-hourly.

Followed by:

amoxycillin+clavulanate 875+125 mg (child: 22.5+3.2 mg/kg up to 875+125 mg) orally, 12-hourly to complete a total of 14 days antibiotics.

Further anaerobic cover may be required (e.g. metronidazole), for instance, if a dental cause is suspected. If MRSA is suspected consult an infectious disease specialist and consider treatment with vancomycin.

Other treatments may be required:

analgesia
Nasal decongestant spray as needed for up to 3 days.
Erythromycin ointment qid — for corneal exposure and chemosis if there is severe proptosis.
canthotomy/cantholysis — may be required if the orbit is tight, optic neuropathy is present or the IOP is severely elevated.
abscess drainage



Your next patient is a small child who is systemically well. He has developed redness and swelling around his right eye over the past few days: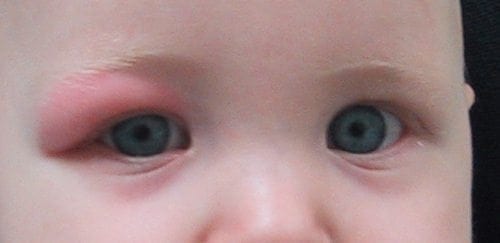 ---
Q7. What is the likely diagnosis?
Answer and interpretation

Periorbital/ pre-septal cellulitis
---
Q8. What are the clinical features of this condition, and how is it distinguished from the goggle-eyed fisherman's diagnosis?
Answer and interpretation

Periorbital (or preseptal) cellulitis is a soft-tissue infection of the eyelids that does not extend past the orbital septum posteriorly. It causes eyelid and periorbital edema, redness, and discomfort.

The ocular exam should be essentially normal:

normal visual acuity
FROEM without significant discomfort
absence of proptosis

Sometimes the clinical distinction is unclear and imaging is necessary (e.g. CT orbits and sinuses).
---
Q9. What organisms cause this condition in children <5 years of age?
Answer and interpretation

Much the same as for orbital cellulitis:

Staphylococcus aureus
Streptococcus pneumoniae
Streptococcus anginosus/milleri group
Haemophilus influenzae type b (Hib) in the unvaccinated
---
Q10. What is the antibiotic treatment of this condition?
Answer and interpretation

Systemically well children <5 years of age:

amoxycillin+clavulanate 22.5+3.2 mg/kg po q12h for 7 days
OR cephalexin 12.5 mg/kg orally, 6-hourly for 7 days

Older children or adults or children with an infected wound or stye, etc:

flucloxacillin 500 mg (child: 12.5 mg/kg up to 500 mg) orally, 6-hourly for 7 days – (cephalexin and clindamycin are options in the setting of penicillin hypersensitivity)

If systemically unwell it is best to treat and investigate for orbital cellulitis.
---
---