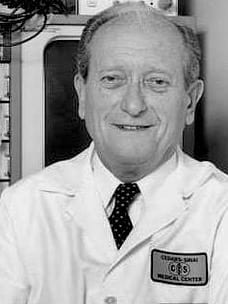 Vilem (William) Ganz (1919-2009) was a Slovakian-born American cardiologist.
Co-invented the Swan-Ganz catheter with Jeremy Swan at Cedars-Sinai Medical Center in 1970. Swan was his immediate boss at the time, he approached him after his idea of 'sailing' through the heart without causing arrhythmia by irritating the endocardium and float the catheter to the pulmonary artery. Ganz and Swan worked with the Edwards Laboratory to develop the Swan-Ganz catheter. Ganz's work with Arnost Fronek at Charles University also recognised him as a pioneer of thermodilution technique to measure blood flow.
Ganz had two sons with his wife Magda. Dr. Peter Ganz (Cardiologist) and Dr. Tomas Ganz (Intensivist). Ganz grew up in extreme poverty, his father passed away from a stroke when he was only 5 months old. Ganz's mother was not educated, but they were able to make ends meet by taking in lodgers at the time.
---
Biography
Born on January 7, 1919 in Košice, Czechoslovakia
1937 – Began medical studies at Charles University, Prague. 1938 Munich agreement made Kosice part of Hungary and Vilem was made a foreigner in Prague and had to return to his hometown, renamed Kassa at the time. He was drafted into Hungarian forced-labor camp
1944 – Escaped Nazi persecution at Auschwitz by using false documents to travel to Budapest where he met his wife Magda
1947 – Graduated at the top of his class, completing his medical studies at Charles University, Prague. Here Vilem worked with Arnost Fronek to engineer vascular catheters and pioneered the thermodilution method for measuring blood flow5
1966 – Migrated to Los Angeles, United States of America. Worked with Jeremy Swan and Edwards Laboratory to develop the Swan-Ganz catheter
1970 – Swan and Ganz publish report Catheterization of the heart in man with use of a flow-directed balloon-tipped catheter.
Died on November 11, 2009
---
Medical Eponyms
Pictured below is the "extruded polyvinyl-chloride catheter 1.7mm in outer diameter" with the balloon tipped catheter and "attached to a strain-gauge catheter." The pulmonary artery was accessed via "antecubital-vein cutdown" during the inception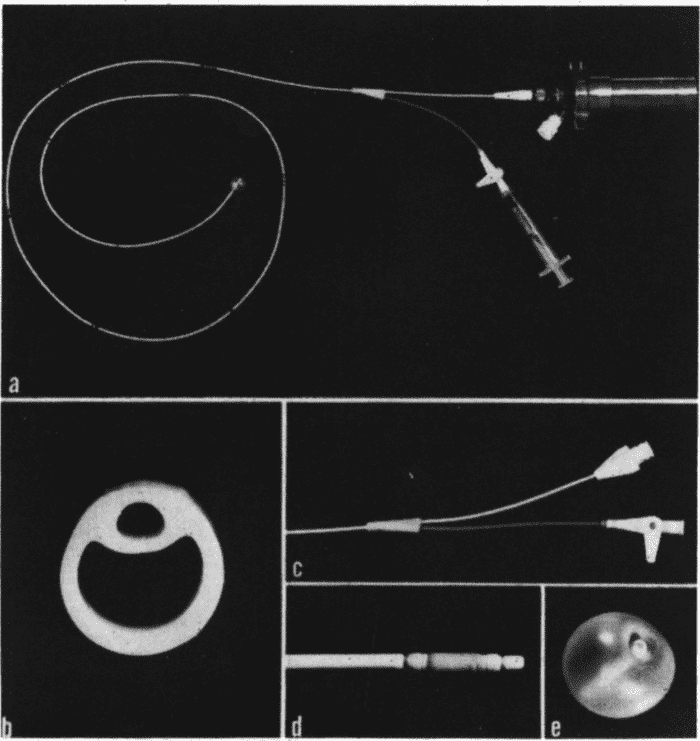 ---
Key Medical Attributions:
---
Major Publications
---
Controversies
He claimed that the "sail-boat" idea was apocryphal and that the use of the balloon was driven by both the need to float the catheter and, most important, to cover the sharp tip of the catheter to reduce the mechanical irritation to the endocardium that caused arrhythmia during passage.6
---
References
Maltby R. Notable Names in Anaesthesia. The Choir Press; pp 209-213 (2013)
Nickson C. History of the Pulmonary Artery Catheter. LITFL
Bateman BT, Alston TA. Commonly used eponyms in anesthesia. J Clin Anesth. 2009 Feb; 21(1); 67-71
Swan HJ, Ganz W, Forrester J, Marcus H, Diamond G, Chonette D. Catheterization of the heart in man with use of a flow-directed balloon-tipped catheter. N Engl J Med. 1970 Aug 27;283(9); 447-51.
Ganz V, Hlavova A, Fronek A, Linhart J, Prerovsky I. Measurement of blood flow in the femoral artery in man at rest and during exercise by local thermo-dilution. Circulation. 1964; 30; 86-9.
Ganz Y, Ganz P. William Ganz and His Legacy. Annals of Internal Medicine. 2019 May; 170(10); 734-735
Ganz W, Tamura K, Marcus HS, Donoso R, Yoshida S, Swan HJ. Measurement of coronary sinus blood flow by continuous thermo-dilution in man. Circulation. 1971; 44; 181-95.
Ganz W, Buchbinder N, Marcus H, Mondkar A, Maddahi J, Charuzi Y, et al. Intracoronary thrombolysis in evolving myocardial infarction. Am Heart J. 1981; 101; 4-13.
Bibliography. Ganz, William. WorldCat Identities
---
Cite this article as:
Abdullah Shehzad and Mike Cadogan, "William Ganz," In:
LITFL - Life in the FastLane
, Accessed on March 20, 2023,
https://litfl.com/william-ganz/
.
---
eponym
the person behind the name
Resident Medical Officer currently working in Emergency Department at Sir Charles Gairdner Hospital. Pianist and avid Golfer  | LinkedIn |
Associate Professor Curtin Medical School, Curtin University. Emergency physician MA (Oxon) MBChB (Edin) FACEM FFSEM Sir Charles Gairdner Hospital.  Passion for rugby; medical history; medical education; and asynchronous learning #FOAMed evangelist. Co-founder and CTO of Life in the Fast lane | Eponyms | Books | Twitter |