OVERVIEW
used in a wide range of malignant and non-malignant disorders
can be autologous or allogeneic
autologous = donor and recipient are the same person (avoids GVHD)
allogeneic = genetically different but from the same species (GVHD and doesn't need to be stored, but a limited amount of GVHD may have an anti-tumour effect)
don't take an entirely nihilistic approach to these patients if marrow recovery is imminent.
however, prolonged ventilation and/or dialysis in these patients results in a poor prognosis.
hematopoietic stem cells are obtained from either marrow aspiration or from peripheral blood by apheresis using a blood cell separator following stimulation of the marrow with hematopoietic growth factors +/- chemotherapy.
PRINCIPLES
tumour must be responsive to chemotherapy +/- radiotherapy
the limitation of chemotherapeutic agents used must related to bone marrow toxicity and not other organs
must have a source of un- or minimally contaminated hematopoietic stem cells (autologous or allogeneic)
appropriate hematopoietic supportive therapy must be available during the marrow aplastic period
high quality clinical and laboratory must be available for the collection and preservation of hematopoietic stem cells.
strong MDT commitment
well-documented clinical protocols and effective implementation
GENERAL OVERVIEW OF COMPLICATIONS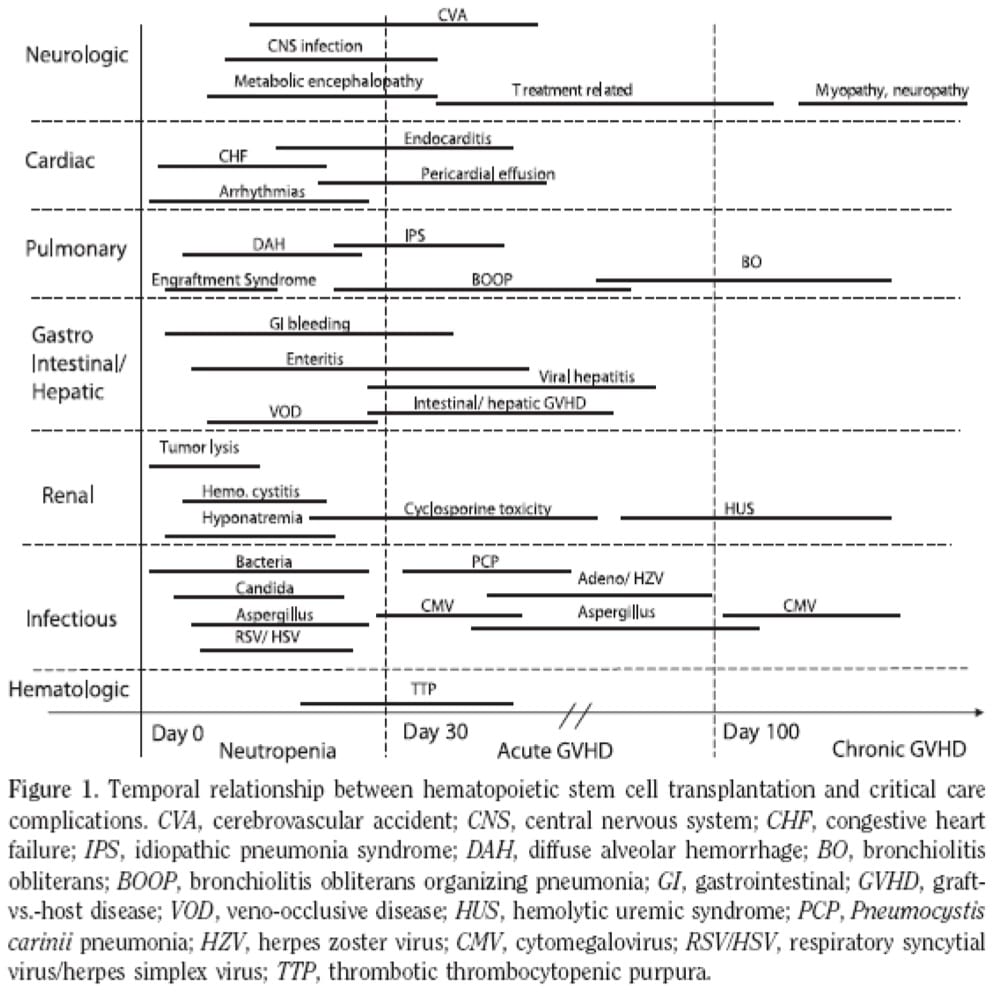 NEUROLOGICAL COMPLICATIONS
> with allogeneic transplantation
risk factors: high dose chemotherapy, immunosuppression, GVHD, thrombocytopaenia
CVA
median day of presentation = 28
usually haemorrhage (intracerebral, SAH) from thrombocytopaenia
other causes: infarction from infection or thrombosis, non-bacterial endocarditis and embolism
high mortality (70%)
standard management
CNS Infections
aspergillosis (main cause), CMV, HSV, toxoplasma, Candida, Cryptococcus, bacterial meningitis
prognosis is extremely poor
Metabolic Encephalopathy
> in allogeneic transplantation
altered mental status, seizures, Wernicke encephalopathy (altered mental status, ataxia, ophthalmoplegia)
causes: hypoxaemia, electrolyte abnormalities, metabolic acidosis, sepsis, hepatic failure, medications (sedatives and analgesics), thiamine deficiency
supportive care
Treatment related neurological complications
OKT3: aseptic meningitis (can decrease risk with corticosteroids)
cranial radiation
imipenem: seizures
corticosteroids: myopathy, psychosis
cyclosporine A: encephalopathy, leukoencephalopathy, generalised cerebellar dysfunction, hemiparesis, quadriplegia, seizures.
Graft vs Host Disease
acute GVHD: encephalopathy associated with other organ dysfunction
chronic GVHD: polyneuropathy, polymyositis, MG
treatment: intensification of immunosuppressive therapy
CARDIAC COMPLICATIONS
Pulmonary oedema
commonest cardiac indication for ICU admission
risk factors: low EF, fluid overload, ARF, veno-occlusive disease, severe sepsis, anaemia and high dose chemotherapy
Pericardial tamponade
rare
usually related to: cyclophosphamide toxicity, viral syndrome, chronic GVHD, renal failure, bacterial infection (rarely)
Endocarditis
rare (1.3%)
clinical features are subtle: left sided murmurs, indwelling CVC's, disruption of skin and mucosal barriers by high dose chemotherapy and GVHD
organisms: Staph aureus, Strep viridans, fungal, aseptic
Arrhythmia
electrolyte abnormalities
hypoxaemia
sepsis
MOF
PULMONARY COMPLICATIONS
many reasons
bilateral pulmonary infiltrate differential =
(1) Pneumonia
(2) Engraftment syndrome
(3) Bronchiolitis obliterans +/- organizing pneumonia (BOOP)
(4) Diffuse alveolar haemorrhage
(5) Idiopathic pneumonia syndrome
organisms causing infection are temporally distributed:
-> early (< 30 days): bacteria, candida, aspergillus, HSV, RSV
-> mid (30-100 days): CMV, PCP, adenovirus, HZV, aspergillus
-> late (> 100 days): CMV
GASTROINTESTINAL COMPLICATIONS
GVHD of Intestine
clinical features: abdominal pain, N+V, diarrhoea, bleeding, may have peritonism, often associated with hepatitis and a skin rash (acute GVHD)
CT: bowel wall oedema
treatment: intensification of immunosuppressive therapy
Intestinal Pseudo-obstruction
supportive and minimizing aggravating factors
Veno-occlusive Disease of Liver
common
may be mild -> rapidly fatal (in 40%)
pathogenesis: thrombosis of the small central hepatic venules due to endothelial cell damage by high dose chemotherapy
clinical features: during first 21 days following transplant, weight gain, tender liver, jaundice
investigations: transaminitis, hyperbilirubinaemia, Doppler U/S showing reversal or diminished portal flow.
management: supportive, fluid restriction, diuresis, paracentesis, avoid infections and hepatotoxic medications, oral ursodeoxycholic acid (lowers bilirubin) possibly thrombolytics
GI Bleeding
diffuse mucosal bleeding of the small intestine, mucosal ulcers and necrosis
causes: chemotherapy induced, GVHD, adenovirus, CMV
management: supportive, endoscopy (rarely required), surgery
Enteritis
mild to self limiting -> severe dehydration, hypotension and ARF
causes: GVHD, bacterial infection (clostridia), viral infections (rotavirus, adenovirus, CMV, HSV, HZV)
treatment: supportive, octreotide (decrease secretory hormones), rotavirus (oral immunoglobulins)
Intestinal Perforation
causes: CMV ulcers, corticosteroids, GVHD
treatment: standard care
Pancreatitis
rare
causes: medications (cotrimoxazole, corticosteroids, cyclosporine A), infections (CMV and adenovirus), GVHD, biliary sludge
treatment: standard
Other Liver Disease
viral hepatitis: adenovirus, HSV, HZV, CMV, Hep B and C
acute GVHD: rarely producers fulminant liver failure
fungal infection: liver involvement of Candida and Aspergillus
RENAL COMPLICATIONS
if develops the need for dialysis -> mortality 90%
Tumour Lysis Syndrome
rare as tumour burden is reduced prior to transplantation
clinical features: hyperuricaemia, hyperkalaemia, hyperphosphataemia, hypocalcaemia, renal failure
treatment: IVF, allopurinol, rasburicase, phosphate binders, dialysis
Infusion of Stem Cells
haemolysis -> haemoglobinuria -> proximal ATN -> ARF
treatment: hydration, alkalinsation
Haemorrhagic Cystitis
risk factors: cyclophosphamide, busulfan, irradiation, viral infections
prevention: IVF, diuresis, irrigation of the bladder, mesna
Veno-occlusive Renal Disease
clinical features: day 10-21 post transplant, hepatorenal syndrome
risk factors: mismatched graft, age > 25 years, pre-existing renal failure, sepsis, amphotericin B
Drug Nephrotoxicity
cyclosporine A: intensive renal arteriolar vasoconstriction
nitrourea
methotrexate
cyclophosphamide
amphotericin B
acyclovir
foscanet
aminoglycosides
tacrolimus
INFECTIOUS COMPLICATIONS
Viral
CMV: pneumonitis is the most lethal -> ganciclovir/foscarnet, Ig's
RSV: URTI -> LRTI -> nasal wash/BAL, aerosolized ribavirin, Ig's
HSV-6: pneumonitis, marrow suppression, encephalitis -> ganciclovir/foscarnet
HZV: pneumonia, hepatitis, skin rash, encephalitis, DIC -> high dose acyclovir
Bacterial
risk factors: neutropenia, mucositis, skin breakdown, GI problems, IV catheters
organisms: gram negatives (Pseudomonas, Klebsiella), gram positives (MRSA, Strep viridans, enterococci)
Fungal
invasive pulmonary aspergillus: lungs to haematogenous dissemination -> CXR: halo sign and air crescent sign, sputum, BAL, voriconazole/caspofungin
candida: fluconazole or caspofungin (evidence of endophthalmitis or resistant organisms)
PCP: rare now c/o co-trimoxazole prophylaxis -> requires a BAL
SUMMARY
Acute (< 30 days)
neutropenia
acute tumour lysis
infection: bacterial, fungal and viral
respiratory: engraftment, haemorrhage
cardiovascular: CHF, arrhythmias, tamponade
gastrointestinal: GIH, enteritis, veno-occlusive disease of liver
nervous: CVA, encephalopathy
other: haemorrhagic cystitis
Early (30-100 days)
graft failure
infection: bacterial, viral, fungi
Late (>100 days)
myopathy
neuropathy
HUS
infection: CMV
infertility
second malignancy
cataracts
PROGNOSIS
critical illness during engraftment period (< 30 days post BMT) -> mortality 33%
acute GVHD (moderate to severe) -> mortality 90%
more than two organ systems and need for mechanical ventilation/RRT are associated with very poor outcome
---
References and Links
LITFL
---