44 yo man has routine CXR after possible faint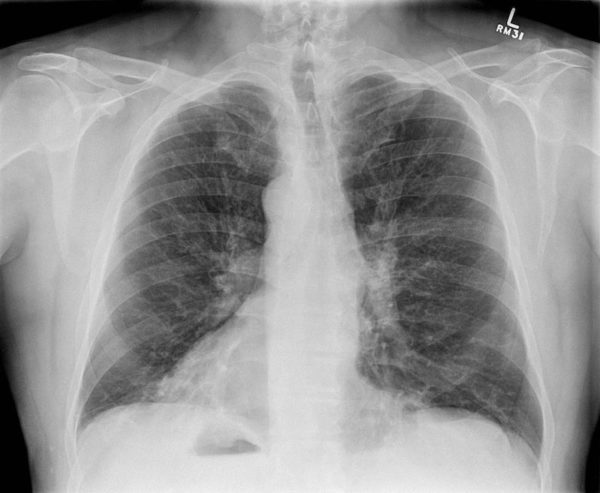 ---
Describe and interpret this CXR
CHEST X-RAY INTERPRETATION

There is dextrocardia.

* The stomach gas bubble is also on the right side, suggesting situs inversus*

There are coarse, thickened bronchial markings and small ring shadows, most notable in the upper lobes, consistent with bronchiectasis
---
CLINICAL IMPLICATIONS


Kartagener syndrome describes Primary Ciliary Dyskinesia (PCD), bronchiectasis and situs invertus.

*Other features include chronic sinusitis, infertility*

Diagnosis of PCD is with nasal brushings and biopsy to assess ciliary beat frequency with video microscopy; a poor man's test is with the saccharin test – time for saccharin to be tasted in the mouth after deposition of droplet of saccharin on the inferior turbinate of the nose.
---
CLINICAL PEARLS


About 30% of those with PCD will have situs inversus with, or without, dextrocardia as the cilia determine the side of the organs.

Random organ siting occurs, hence the situs inversus.

---
---