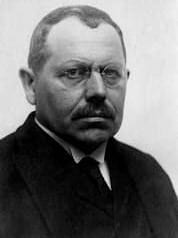 Fritz de Quervain (1868 – 1940) was a Swiss surgeon.
A true General surgeon who published his work prolifically, wrote a widely used major textbook on surgery and designed an innovative operating table and autoclave for sterilisation.

Major interest in the epidemiology of many diseases and perhaps can be described as one of the fathers of modern clinical research
Worked extensively in disease of the thyroid and defining subacute thyroiditis (De Quervain subacute struma). Evaluated cases of complete testicular feminization the commonest form of male pseudohermaphroditism

He described the chronic tendonitis that bears his name (De Quervain disease)
Biography
Born May 4, 1868, Sion, Valais, Switzerland
1892 – Qualified in medicine from the University of Bern
1893-1894 – Surgical assistant to Emil Theodor Kocher at Inselspital – Universitätsspital Bern
1895 – Surgical resident La Chaux-de-Fonds in the canton of Neuchâtel
1910 – Chair of surgery University of Basel
1918 – Succeeded Kocher as professor of surgery at Inselspital – Universitätsspital Bern
1920 – President of the Schweizerische Gesellschaft für Chirurgie
1938 – Retired
Died January 24, 1940 of acute pancreatitis
Key Medical Attributions:
One of the earliest clinicians to appreciate that post operative pneumonia was often really a pulmonary infarct due to embolism
Published over 300 papers, many of which were devoted to thyroid disease from the epidemiology of thyroid disease to technical procedures relating to thyroidectomy
Introduced iodised table salt in the treatment of thyroid disease.
Medical Eponyms
De Quervain disease (1894)
De Quervain thyroiditis Subacute, non-bacterial inflammation of the thyroid gland, often after viral infection of respiratory tract. Self-limiting granulomatous inflammatory disorder, which is thought to be virally induced in genetically predisposed individuals. Characterized by thyroid pain and thyrotoxicosis, as well as by systemic symptoms like fever, hepatic cytolysis, and an elevated ESR. Often mistaken for an upper respiratory tract infection.
Controversies
The term "de Quervain tenosynovitis" may be a misnomer. In fact, de Quervain credits Dr. Kocher with the first description of the disease and first surgical treatment. [PMID 9316729]
A similar tenosynovitis had been described previously by Tillaux (the "aïe" crepitant) and by Grais in 1893 as 'wasp disease'.
Major Publications
De Quervain F. Spezielle Chirurgische Diagnostik für Studierende und Ärzte – 1910
De Quervain F. Clinical Surgical Diagnosis for students and practitioners – 1913 [English Archive text]
De Quervain F. Über eine Form von chronischer Tendovaginitis. Correspondenz-Blatt für Schweizer Aerzte, Basel, 1895, 25: 389-394.
De Quervain F. On a form of chronic tendovaginitis. (Translated article: Cor-Bl.f.schweiz. Aerzrte 1895:25:389-94). J Hand Surg Br. 2005 Aug;30(4):388-91. Epub 2005 Apr 2. [PMID 15978320]
De Quervain F. Über acute, nichteitrige Thyroiditis. Archiv für klinische Chirurgie, Berlin, 1902;67:706—14.
De Quervain F. Ein Fall von Pseudohermaphrodismus masculinus. Schweizerische Medizinische Wochenschr. 1923;53:563.
References
Bon R, Rabitti PG. Tiroidite di De Quervain: concetti attuali e nostra casistica. De Quervain's thyroiditis: current concepts and a report of four cases. Italian Journal of Medicine (2011) 5, 49—54
Serpell J. (2015) Fritz de Quervain. In: Pasieka J., Lee J. (eds) Surgical Endocrinopathies. Springer, Cham
--- eponym
the person behind the name