Funtabulously Frivolous Friday Five 346
Just when you thought your brain could unwind on a Friday, you realise that it would rather be challenged with some good old fashioned medical trivia FFFF, introducing the Funtabulously Frivolous Friday Five 346
Question 1
What are Maydl's, Littre's, Amyand's and pantaloons types of?
Reveal the funtabulous answer

They are all types of hernia

So it turns out there are a few more than indirect and direct inguinal, femoral, umbilical and Spigelian on the list.

Pantaloon is only really diagnosed during the operation when the surgeon discovers both an indirect and direct inguinal hernia.

Maydl's hernia. Two small bowel loops within a single hernial sac, that is, there are two efferent and two afferent loops of bowel, forming a "W" shape. Often resulting in strangulation of the middle section, if not all, bowel within the hernial sac. If not acted on promptly has a high rate of complications.

Named after Austrian surgeon, Karel Maydl (1853-1903). First described in 1895 in his article Ueber retrograile Incarceration der Tuba und des Processus vermiforiuis in Leisten- und Schenkelhernien

Littre's hernia is one containing a Meckel's diverticulum. Named after French physician and anatomist, Alexis Littre (1658-1726). First described in Observations sur une nouvelle espèce de hernie in 1700

Amyand hernia: rare inguinal hernia with the appendix in the hernial sac. Named after French surgeon, Claudius Amyand (c1680–1740)

Amyand performed the first appendicectomy on 6 December 1735 at St George's Hospital, London on Hanvil Anderson, an 11-year-old boy with an inguinal hernia and a faecal fistula discharging in the groin. At operation, the appendix was found in the hernia sac and the fistula was traced to a perforation of the appendix by a pin. Amyand excised the appendix in an operation lasting almost half an hour. The case was reported in the Philosophical Transactions of the Royal Society in 1736

Amyand hernia further classified with the Losanoff-Basson classification

Reference:
---
Question 2
D-day was undoubtedly pivotal in the downfall of Nazi Germany. But the date was pushed back and back because the allies had no solution to the violent seasickness their soldiers were experiencing on the English channel.
Which country had the solution?
Reveal the funtabulous answer

Australia through indigenous medicine.

In the previous century, Victorian Government Botanist Baron Sir Ferdinand Jacob Heinrich von Mueller had found that Indigenous communities used the corkwood tree as medicine for seasickness among other uses.

In collaboration with Canadian researchers, an operation was developed to collect and air-mail great quantities of corkwood and develop a secret 'Allie' medicine in Europe. Correspondence from soldiers spoke of this 'mystery pill' and some became so relaxed that they drifted to sleep on the rough journey across the English Channel to only awake upon arrival.

The soft corkwood tree, Duboisia myoporoides, is found in South Eastern NSW across to Northern Queensland, Australia. It contains scopolamine and hyoscyamine and after WWII, a multi-million dollar industry in Queensland was established for ophthalmic eye drops.

Reference:
---
Question 3
It's the usual day in abdominal pain alley; 56yr old female presents with three days of colicky RUQ pain, two days vomiting, now a bit bilious, one day of fever and in severe pain. You've got this, probably cholecystitis. You order your confirmatory ultrasound, but the tech is sick. Your friendly radiologist has just organised a CT for you instead. The radiologist rings back excitedly that you have a case of Bouveret syndrome; not wanting to sound uneducated, you simply respond, 'great, I'll get right on that.'
What is Bouveret syndrome?
Reveal the funtabulous answer

Bouveret syndrome is a rare form of gastric outlet obstruction caused by a large gallstone passing through a bilioduodenal fistula.

So while a gallstone ileus is pretty rare, you are indeed having a bad day if you get a stone burst through to the stomach and cause an outlet obstruction. 0.3-0.5% of all patients with gallstones with have a gallstone ileus and of them only 1-3% will have Bouveret syndrome.

Bouveret's Syndrome was named after the publication of his book on the gastric diseases (Traité des maladies de l'estomac in 1893, updated 1895 then published in Revue de médecine, Paris 1896) that consisting in obstruction of the stomach or duodenum by a gallstone that has migrated through a biliogastric or bilioduodenal fistula.

Non-contrast-enhanced CT of the abdomen shows the presence of gas in the left intrahepatic bile duct and CBD – pneumobilia. Case courtesy of Dr Ivelin Vaskov, Radiopaedia.org. From the case rID: 66358

The gallbladder cannot be well defined, no wall is seen, presence of free intramural, pericholecystic fat stranding findings consistent with Gangrenous cholecystitis. There is a cholecystenteric fistula between the body and the 2nd portion of the duodenum with impacted stone measuring about 45mm in diameter – Bouveret syndrome

Dont have a CT – no worries… remember Rigler's triad? Pneumobilia, ectopic gallstone and signs of obstruction.

Case courtesy of Dr Ivelin Vaskov, Radiopaedia.org. From the case rID: 66358

Reference:
---
Question 4
Well, you may as well continue your score of the bizarre. Your next patient has a painful cord-like mass going on the anterior of their chest and down to their abdomen. The skin looks a little red, and the pain is accentuated when the ipsilateral arm is raised.
What do they have, and can you name the eponymous disease?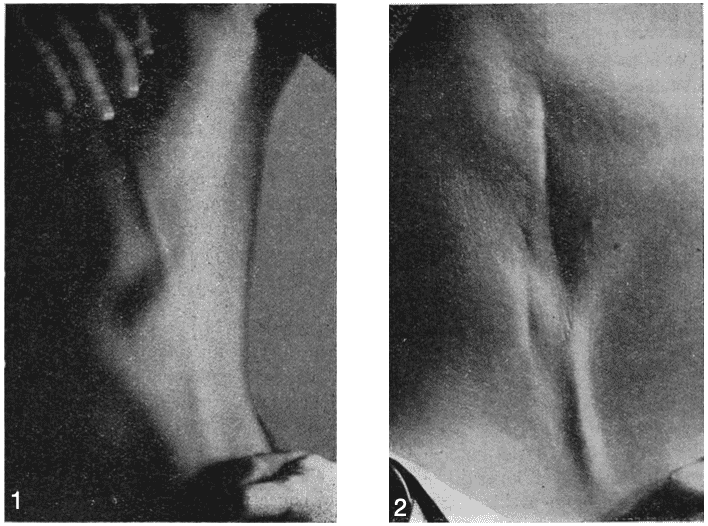 Reveal the funtabulous answer

Rare, benign condition characterized by thrombophlebitis of the subcutaneous veins of the breast and anterolateral chest wall. Treatment with anti-inflammatories usually results in significant improvement.

The same condition can occur in the dorsal vein of the penis (which was my actual case, called Penile Mondor's disease), but we are a bit more up-market on FFFF (sometimes).

History of Mondor disease

1869 – Charles Hilton Fagge (1838-1883) reported the occurrence of superficial thrombophlebitis of the breast which he thought to be related to scleroderma

1939 – During the session of the Academy of Surgery on December 6, Henri Mondor described a clinical entity of which it was impossible "to give a precise name". He provided the title of "Subacute subcutaneous tronculitis of the anterolateral chest wall"

His work was based on four observations, but he described more precisely the case of a 30-year-old woman referred by her attending physician for a "small hard cord under the left breast" which occurred "following a fall on the edge of a crate".

En relevant un gros sein tombant de femme grasse et en tendant ainsi de bas en haut les
téguments de la région sous-mammaire, on voit se dessiner, nettement, sur la paroi thoracique une sorte de relief linéaire qui descend à peu près verticalement, sur 20 à 25 centimètres environ de longueur, allant du sein au rebord costal inférieur. À la palpation, on sent un cordon induré de 2 à 3 millimètres de diamètre qui fait sous le doigt la saillie d'un petit crayon; ce cordon est à peine douloureux, il donne la sensation que donnerait, avec son diamètre approximatif et à peu près sa consistance, une sonde urétérale, ou mieux une plume d'oie fixée, faufilée sous la peau et au plus près de celle-ci.

By raising a large drooping breast of a fat woman and thus stretching from bottom to top the integuments of the sub-mammary region, one sees clearly emerging on the chest wall a kind of linear relief which descends almost vertically, about 20 to 25 centimeters in length, going from the breast to the lower costal edge. On palpation, one feels a hard cord 2 to 3 millimeters in diameter which protrudes under the finger like a small pencil; this cord is barely painful, it gives the sensation that, with its approximate diameter and roughly its consistency, a ureteral catheter would give, or better a fixed goose feather, threaded under the skin and as close as possible to it .
---
Question 5
Semmelweis was ridiculed for his beliefs in hand washing but did you know there is a Semmelweis reflex? Can you describe it?
Reveal the funtabulous answer

The Semmelweis reflex is a metaphor for the reflex-like tendency to reject new evidence or new knowledge because it contradicts the established norms, beliefs, or paradigms.
---
…and Finally
Well worth a watch is Hayden Richards' latest Comms Lab: Breaking Bad News:
---
FFFF
Funtabulously Frivolous Friday Five
Dr Neil Long BMBS FACEM FRCEM FRCPC. Emergency Physician at Kelowna hospital, British Columbia. Loves the misery of alpine climbing and working in austere environments (namely tertiary trauma centres). Supporter of FOAMed, lifelong education and trying to find that elusive peak performance.
Associate Professor Curtin Medical School, Curtin University. Emergency physician MA (Oxon) MBChB (Edin) FACEM FFSEM Sir Charles Gairdner Hospital.  Passion for rugby; medical history; medical education; and asynchronous learning #FOAMed evangelist. Co-founder and CTO of Life in the Fast lane | Eponyms | Books | Twitter |