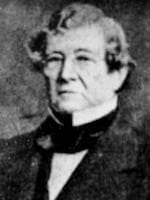 John Rhea Barton (1794 – 1871) was an American Orthopedic Surgeon.
Eponymously associated with Barton fracture. Considered a pioneer of modern osteotomies. Recorded to have performed an intertrochanteric osteotomy, without anaesthesia, in only seven minutes.

Talented ambidextrous surgeon. Performed first hip arthroplasty in 1826 – Pennsylania Hospital, Philadelphia. His widow endowed the first surgical chair in the United States, the John Rhea Barton Professor of Surgery at the Perelman School of Medicine, University of Pennsylvania

Biography
Born April 1794, Lancaster, Pennsylvania
1813 – Appointed as an apprentice to Philip Syng Physick, known as 'The Father of American Surgery'
1818 – Graduated from medical training at Pennsylvania Hospital
1820 – Surgeon at Philadelphia Almshouse
1823 – Surgeon at Pennsylvania Hospital
1838 – First described the Barton fracture
Died January 1 1871, Philadelphia
Medical Eponyms
Barton fracture (1838)
Barton Bandage – a figure-eight bandage to support an injured jaw
Barton bran dressing – applied to compound fractures to reduce serous extravasation
Key Medical Attributions
Barton is best appreciated as the pioneer of corrective osteotomy for joint ankylosis
1824 – First account published in America of an operation for imperforate anus
1826 – Performed first subtrochanteric osteotomy on an ankylosed hip
1827 – Performed a femoral osteotomy between the greater and lesser trochanters to secure motion in an ankylosed hip. This was hailed the first successful arthroplasty.
1834 – Wired a fractured patella in the same year as Lister
1839 – First account published in America regarding the use of a seton to 'cure' a recto-vaginal fistula.
Controversies
In the original description, Barton discussed the posterior marginal fracture only.
Barton was criticized by Joseph François Malgaigne (1806-1865) in 1859, and later Lewis Atterbury Stimson (1844-1917) in 1883, for not using autopsy specimens. They hypothesised that Barton had most likely observed Colles-type fractures and paid tribute to Lenoir, a member of Dupuytren's study group, who demonstrated this fracture type during autopsy.
Major Publications
References
--- eponym
the person behind the name