Description
Osler node: Painful, red, raised lesions usually found on the palms and soles. Caused by immune complex deposition and the resulting inflammatory response.
Associated with a number of conditions, including infective endocarditis, SLE, and disseminated gonococcal infection. To be differentiated from painless Janeway lesions
---
History
1885 – Sir William Osler (1849 – 1919), in a series of three Gulstonian lectures on malignant endocarditis described the cutaneous manifestations of severe infectious endocarditis as
haemorrhages…upon the skin, serous and mucous surfaces…in which a minute necrotic or suppurative centre can sometimes be seen.

Osler 1885
1888 – Osler attention drawn to the ephemeral spots of a painful nodular erythema by Dr. JA Mullen of Hamilton, Ontario whose description he found admirable and later quoted in his 1909 publication
The spots came out at intervals as small swollen areas, some the size of a pea, others a centimetre and a half in diameter, raised, red, with a whitish point in the centre. I have known them to pass away in a few hours, but more commonly they last for a day, or even longer. The commonest situation is near the tip of the finger, which may be slightly swollen.

Mullen JA, 1888
1908 – Osler presented to the Association of Physicians of Great Britain and Ireland in July 1908 (published 1909). He reported on ten patients with chronic infectious endocarditis, including seven with cutaneous lesions.
One of the most interesting features of the disease (chronic endocarditis) and one to which very little attention has been paid is the occurrence of ephemeral spots of a painful nodular erythema, chiefly in the skin of the hands and feet, des nodosités cutanées éphémères of the French. The blood-cultures and the presence of the painful erythematous nodules and the occurrence of embolism furnish the most important aids.

Osler. Quarterly Journal of Medicine. 1909
Osler went on to explain how nodules of this character occurred in seven of the cases, and in three at least they were of importance in determining the diagnosis.
…the presence of these spots appeared to me to clinch the diagnosis. They are not beneath but in the skin and they are not unlike an ordinary wheal of urticaria. The pad of the finger and toe , the thenar and hyperthenar eminences, the sides of the fingers, and the skin of the over part of the arm are the most common localities. In one case they were present in the skin of the flank. I have never seen them haemorrhagic, but always erythematous, sometimes of a very vivid pink hue, with a slightly opaque centre.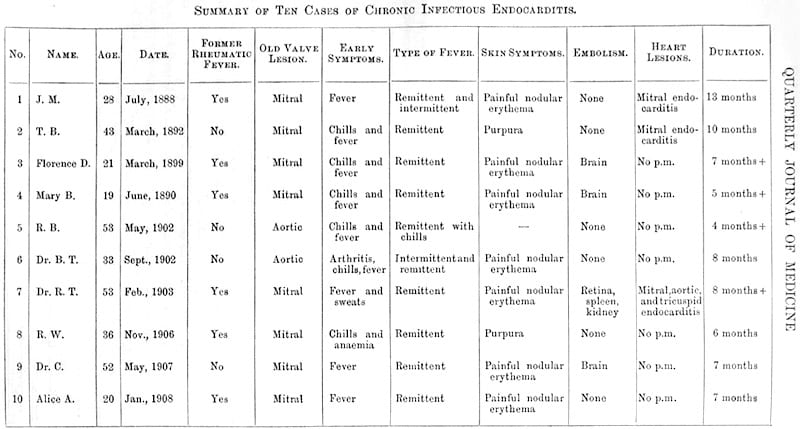 ---
Associated Persons
---
References
---
eponymictionary
the names behind the name
Doctor in Australia. Keen interest in internal medicine, medical education, and medical history.
Associate Professor Curtin Medical School, Curtin University. Emergency physician MA (Oxon) MBChB (Edin) FACEM FFSEM Sir Charles Gairdner Hospital.  Passion for rugby; medical history; medical education; and asynchronous learning #FOAMed evangelist. Co-founder and CTO of Life in the Fast lane | Eponyms | Books | Twitter |