Class
Antiarrhythmic
Pharmacodynamics
Inhibits Na/K ATPase
At therapeutic doses digoxin is a positive inotrope, shortens AP duration, and at low doses has predominately parasympathomimetic effects
Multiple direct and indirect cardiovascular effects with both therapeutic and toxic consequences (see below)
In addition, it has undesirable effects on CNS and gut
Cardiac effects
Mechanical effects cause positive inotropy via a two-step process:

Na/K ATPase inhibition increases intracellular Na
This increase consequently reduces Ca expulsion by the Na/Ca exchanger

The net result is increased intracellular Ca, which:

Increases contractility
Increases stroke volume/CO per beat
Electrical effects are a mixture of direct and autonomic actions
Direct effects cause a shortened AP duration, likely due to increased K conductance caused by increased intracellular Ca
Autonomic effects are a mixture of parasympathetic and sympathetic systems

At low therapeutic doses, cardioselective parasympathomimetic effects predominate
This involves baroreceptor sensitisation, central vagal stimulation, facilitation of muscarinic transmission at nerve ending-myocyte synapse. Cholinergic innervation is greater in the atria, therefore these actions affect atria and AV node more than ventricular/purkinje fibres
Slow HR allows greater stroke volume
Other organ system effects
Effects on other organs: smooth muscle and CNS

GIT: anorexia, nausea/vomiting/diarrhoea
CNS: vagal and chemoreceptor trigger zone stimulation

Interactions with K, Ca, Mg

K and digoxin inhibit each other's binding to Na/K ATPase, therefore:

Hyperkalaemia reduces enzyme-inhibiting actions of digoxin
Hypokalaemia facilitates these actions

Ca facilitates toxic actions of digoxin by accelerating overloading of intracellular Ca stores that appear to be responsible for digitalis-induced abnormal automaticity:

Hypercalcaemia therefore increases risk of digitalis-induced arrhythmia

Effects of Mg are opposite to those of calcium
Pharmacokinetics
Bioavailability 65-80%
Large volume of distribution, widely distributed to all tissues including CNS
25% plasma protein bound
Half-life 36-40 hours in normal renal function
2/3 excreted unchanged in urine
Renal clearance is proportional to creatinine clearance
Clinical uses
Adverse effects
Digoxin can cause virtually any arrhythmia, due to a combination of enhanced automaticity and decreased AV nodal conduction.
Most common cardiac manifestations of toxicity:
AV junctional rhythm
PVCs
Bigeminy
VT
2nd degree AV block
Bradycardia, R on T
Other adverse effects include:
Hyperkalaemia
GIT:

Anorexia
Nausea/vomiting/diarrhoea

CNS:

Disorientation
Hallucinations
Yellow/green vision
CTZ
Precautions/contraindications
Drugs that increase effect of digoxin:

Amiodarone
Macrolide antibiotics (due to increased bioavailability)
Quinidine
K depleting drugs (increases likelihood of digitalis toxicity)
Ca channel blockers

Drugs that decrease effect of digoxin:
Patients in heart failure are more prone to digoxin toxicity:

Poor renal function from low cardiac output
Potential dehydration and other drug interactions (e.g. ACE-I, diuretics, Ca channel blockers)
Hypokalaemia from other heart failure medications especially diuretics
Poor cardiac reserve/output
Further Reading
References
Katzung BG. Basic & Clinical Pharmacology. 14th ed. United States of America: McGraw-Hill Education; 2018. 217-219, 1044-1045 p.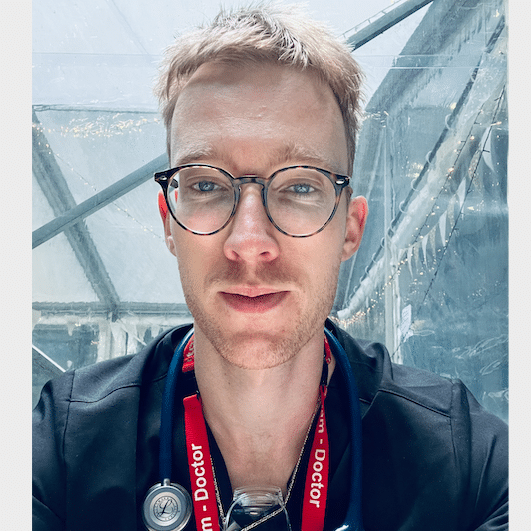 MBBS (UWA) CCPU (RCE, Biliary, DVT, E-FAST, AAA) Adult/Paediatric Emergency Medicine Advanced Trainee in Melbourne, Australia. Special interests in diagnostic and procedural ultrasound, medical education, and ECG interpretation. Editor-in-chief of the LITFL ECG Library. Twitter: @rob_buttner